Il faut se rendre à l'évidence l'été est bel et bien fini, voici l'automne. et bien sur une nouvelle saison = de nouvelles couleurs de vernis, je vous présente donc 5 nouvelles couleurs disponibles dans ma boutique Etsy
We must face the facts summer is truly over, here is the fall. and of course a new season = new nail colors, so I present to you 5 new colors available in my Etsy shop.
Pour commencer voici Chestnut, un marron chocolat avec de toutes petites flakies vertes. Sur les photos il est difficile de les voir mais ce sont elles qui donnent au vernis tous ces reflets. Deux couches sans top coat.
First, here is Chestnut, a chocolate brown with tiny green flakies. In the pictures it is hard to see them but they are the ones that give the nail all these reflections. Two coats without top coat.
Ensuite Golden Pink, qui comme son nom l'indique est un rose doré. Ce n'est pas un rose vif, plutôt un vieux rose avec des reflets dorée très intenses. Deux couches sans top coat.
Then Golden Pink, which as its name suggests is a golden pink. This is not a bright pink, rather an old rose with intense golden reflections. Two coats without top coat.
Red Maple est un rouge corail très vif parsemé de reflets roses. C'est une couleur bien vive qui donne un peu de pep's a cette collection. Deux couches sans top coat.
Red Maple is a very bright red coral with pink highlights. It is a very bright color that gives a little pep's in this collection. Two coats without top coat.
Acorn est un beige caramel très doux mais avec d'intenses reflets dorés. Il est proche de Quartz mais les couleur est plus chaude et les reflets sont dorés. Deux couches sans top coat.
Acorn is a very sweet caramel beige but with intense golden highlights. It is close to Quartz but the color is warmer and reflections are golden. Two coats without top coat.
Et pour finir Aqua Medley Remix qui est une nouvelles version de l'un de mes premiers vernis. c'est un vert menthe au reflets dorés. Deux couches sans top coat.
And finally Aqua Medley Remix is a new version of one of my first nail polish. this is a mint green with golden hues. Two coats without top coat.
Tous ces vernis sont disponibles dans ma boutique etsy, mais je ne vends qu'aux USA à cause de la régulation américaine qui interdit l'envoi de matière dangereuses (vernis compris) par avion. Je suis désolée pour celles qui s'intéressent à mes vernis, ce n'est vraiment pas ma décision mais je n'ai pas le choix.
All these polish are available in my etsy shop, but I only sell in the USA because of the U.S. regulation which prohibits the shipment of hazardous materials (including polish) by air plane. I'm sorry for those who are interested in my polish, it really is not my decision but I do not have a choice.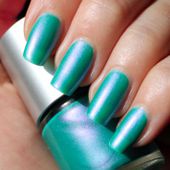 09/15/2013: Water Lily is restocked 09/12/2013: I just listed 4 new Sweet Glitter Polish 09/10/2013: Indian Ocean is restocked