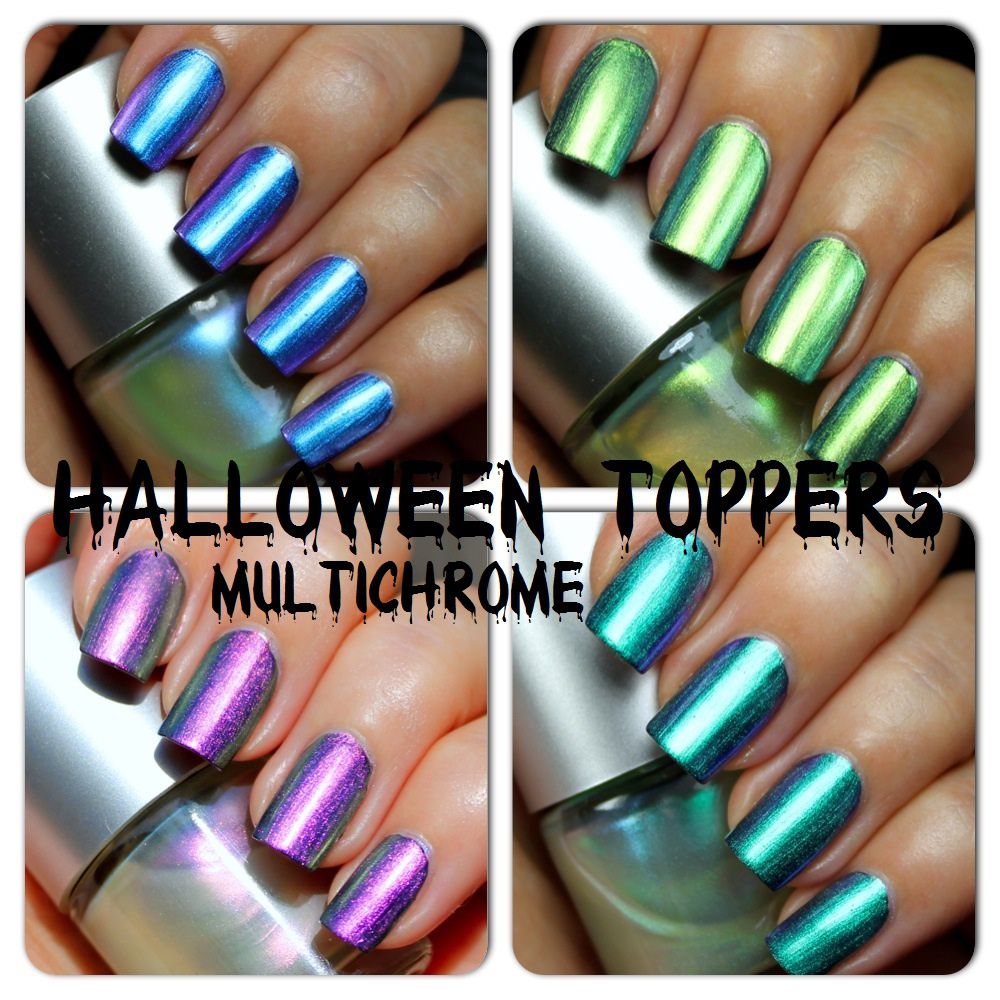 Je voulais faire quelque chose de différent pour Halloween. J'avais déjà cette idée de faire des vernis multichromes à utiliser en top coat depuis quelques mois (et apparemment c'est la mode en ce moment, IloveNP, Dance Legend...), mais il a fallut trouver des pigments appropriés, les tester, voir l'évolution de la formule dans le temps... Finalement ils sont prêts pour Halloween. Donc pas de paillettes orange ou de vernis noir, juste de jolis reflets à marier avec n'importe qu'elle couleur. Sur mes photos ils sont posé sur une base noire (une seule couche) mais je vous montre aussi d'autre possibilités d'associations.
I wanted to do something different for Halloween. I already had this idea to make multichromic polish to use as a topper for a few months (and apparently it is the new trend now, IloveNP, Dance Legend...), but I had to find suitable pigments, test them, see the evolution of the formula over time ... Finally they are ready for Halloween. So no orange glitter or black lacquer, just nice reflections to associate with any color. On my pictures they are layered over a black base (one layer), but I also show you other possibilities of associations.
Pour commencer mon préféré, Casper ! C'est un multichrome Bleu/Violet/Rose. Il rend vraiment bien sur une base noire ou bleue foncée, mais il est également très joli sur des bleus plus clairs (comme vous pouvez le voir sur la dernière photo).
I will start with my favorite, Casper! This is a Blue/Purple/Pink multichrome. It looks really good over a black base or dark blues, but it is also very nice on lighter blue colors (as you can see from the last picture).
Ensuite il y a Little Miss Pumpkin, un multichrome Violet/Rose/Doré. C'est celui qui est le plus versatile, il donne des nuances de couleurs vraiment différentes selon la couleur de base, il tranforme n'importe quel vernis de sublimes reflets, que ce soit du rouge, du violet ou du rose (voir la dernière photo).
Then there is Little Miss Pumpkin, a Purple/Pink/Gold multichrome. This is the one that is the most versatile, it gives really different shades of colors according to the base color, it transforms any nail polisqh giving it sublime reflections, whether red, purple or pink (see the last picture).
Il y a aussi Scarabean, un multichrome Doré/Vert/Bleu. Il est sublime sur une base noire mais je le trouve encore plus joli sur une base verte foncé. Il est également vraiment pas mal sur une base grise.
There is also Scarabean a Gold/Green/Blue multichrome. It is sublime on a black base but I find it even more beautiful on a dark green base. It is aslo really pretty over a gray base.
Et pour finir mon deuxième favoris, Wicked, un multichrome Vert/Violet/Rose, une couleur unique. Il est incroyable sur n'importe quelle teinte de vert, et je pense qu'il doit être également parfait sur une base bleue.
And to finish my second favorite, Wicked, a Green/Purple/Pink multichrome, a very unique color. It is amazing on any shade of green, and I think it would be perfect on a blue base.
Comme je l'ai déjà dit ce sont des vernis à reflets, ils sont fait pour être portés sur une couleur de base, vous pouvez les porter seuls mais vous n'obtiendrez pas l'effet voulu. Cette collection est disponible dans ma boutique etsy pour une durée limitée (probablement jusqu'à la mi novembre). Comme toujours je suis désolée pour les naillistas non US, mais je ne livre qu'aux USA à cause de la réglementation américaine sur les transport de matières dangereuses.
As I already said they are nail toppers, they are made ​​to be worn over a base color, you can wear alone, but you will not get the desired effect. This collection is available in my etsy shop for a limited (probably until mid November) period. As always I'm sorry for non-US naillistas, but I only ship within USA due to U.S. regulations on the transportation of dangerous goods.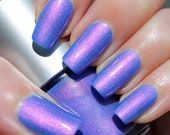 09/26/2013: Indian Ocean is restocked, the fall collection is up and I also added more Golden Apple and Water Lily because stocks were low. A new