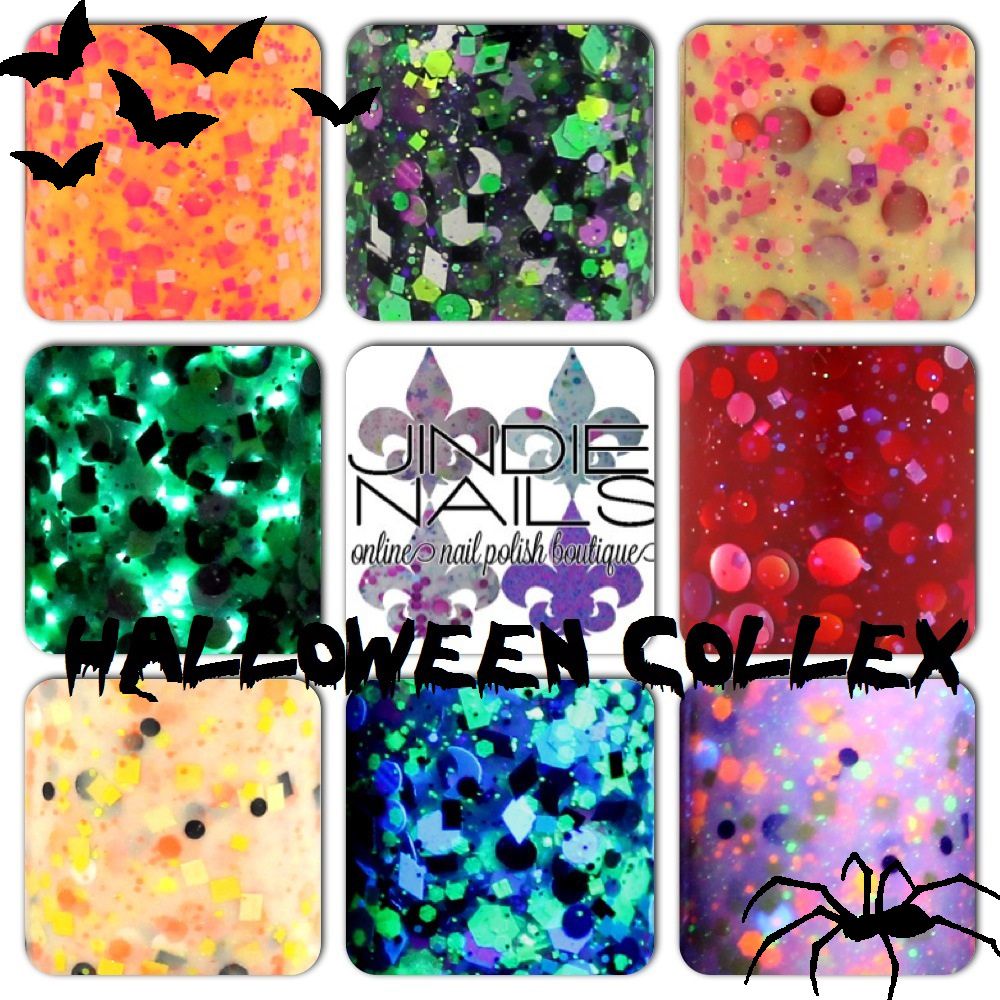 Je suis toute excitée à l'idée de vous présenter la nouvelles collection de Jindie Nails pour Halloween. Je les avais pré-commandé et je les ai reçu un peu avant tout le monde pour pouvoir vous faire une review de ces petites merveilles. Je n'ai pas traîné, j'avais le temps vu que je ne suis pas autorisée à allée au travail à cause du Governement Shutdown ici aux USA. Bref cette collection est composée de 5 vernis, et je dois vous dire qu'elle est incroyable, je ne pensais pas les aimer autant mais ils sont tous superbes. Pour tous j'ai mis 3 couches avec une couche de top coat, sauf pour Be-Wear the polish (le pailletté) que j'ai porté en superposition par dessus 2 pastels Lime Crime. Pour tous la formule est parfaite, pas de fishing de paillettes sauf peut-être pour Blood Bath & Beyond pour lequel les grosses paillettes rondes sont un peu capricieuses. Trêve de blabla...
I am so excited to introduce you the new Jindie Nails Halloween collection. I pre-ordered them and I received them a little bit before everyone else in order to prepare a review of these marvels. I did not loss time, and I had time because I'm not allowed to go to work because of Governement Shutdown here in the U.S. Anyway this collection is composed of 5 polish, and I must there are all amazing, I do not think I will like them all as much but they are all superb. For all I put three coats with a layer of top coat, except for Be-Wear the polish (the glitter bomb) I wore it over two pastels from Lime Crime. The formula is perfect, no glitter fishing except perhaps for Blood, Bath & Beyond for which large round glitter are a bit capricious. Enough talking...
On commence par mon préféré, car j'adore les vernis dans les tons pêche, les vernis fluos et j'adore les paillettes fluos, particulièrement les roses. Pink Punkin' est un mélange de tout ça car c'est un vernis pêche fluo avec des paillettes fluos roses et blanches (des hexagones, des rectangles et même des étoiles). Il est super flashy, il est fluorescent à la lumière noire, c'est une petite merveille !
Let's starts with my favorite, because I love peach polish, neon polish and I love neon glitter, especially the pink ones. Pink Punkin' is a mix of all this because it is a peach neon polish with neon pink and white glitter (hexagons, rectangles and even stars). It is super flashy, it is fluorescent under black light, it is a marvel!
Ghosts of Candy Corn Past est un vernis à base blanche crelly (un mix en crème et jelly) avec des paillettes jaunes, blanches, oranges et noires de pleins de formes différentes. Et à la lumière noire il est magique on dirait un ciel étoilé, certaines paillettes quasiment invisible à la lumière naturelle brillent de milles feux, c'est magnifique !
Ghosts of Candy Corn past is a crelly white base polish (mix cream and jelly) with yellow, white, orange and black glitter of different shapes. And it is magical under black light, it looks like a starry sky, some glitter almost invisible under natural light shine a thousand lights, it's beautiful!
There are no Seasons in Indie est celui que je pensais aimer le moins, il a une base verdâtre pastel avec une multitude de paillettes roses, rouges, violettes... là aussi de toutes les formes. Au final une fois sur mes ongles je ne voulais plus l'enlever, il est trop beau et là aussi à la lumière noire c'est une véritable surprise et explosion de couleur, et même la couleur de base change elle devient légèrement rose ! J'adore !
There are no Seasons in Indie is the one I thought I will like the least it has a pastel greenish base with a multitude of pink, red, purple glitter... again all forms. Ultimately once on my nails I did not want to take it off, it is too pretty and again under black light is a real surprise and explosion of color and even the base color changes and becomes slightly pink! I love it!
Blood, Bath & Beyond est celui qui m'a posé le plus de soucis à photographier. Il a une base jelly rouge sang et contient à la fois des micro paillettes iridescentes et de paillettes rondes plus grosses. Il est très vif sur les photos mais en réalité il est un tout petit peu plus foncé, comme sur la photo de macro. Il est superbe !
Blood, Bath & Beyond is the one who caused me the most troubles to photograph. It has a blood red jelly base containing both micro iridescent and larger round glitter. He is very bright on the pictures but in reality it is a little darker, as in macro picture. It is superb!
Et pour finir Be-Wear the Polish, un véritable bijoux ! C'est un vernis pailleté à poser sur n'importe quelle couleur de base. Il contient des paillettes vertes, violettes, blanches, noires, des étoiles, des lunes, des rondes... une vraie explosion de paillettes qui en plus réagissent à la lumière noire. Mais ce n'est pas tout, il contient également des paillettes phosphorescentes. Je ne savais pas et quand je m'en suis rendue compte j'étais toute excitée, on dirait une potion magique !
And finally Be-Wear the Polish, a real jewels! This is a glitter polish to put on any base color. It contains a lot of glitter: green, violet, white, black, stars, moons, round... a real explosion of glitter that in addition react under black light. But that's not all, it also contains glow in dark glitter. I did not know and when I realized that I was so excited, it's like a magic potion!
Voilà c'est tout pour aujourd'hui, en même temps c'est beaucoup d'émotions tellement ils sont beaux. Ils sont actuellement disponibles dans la boutique de Jindie Nails (voir le lien ci-dessous) et probablement très bientôt disponibles chez les distributeurs de la marque Jindie Nails.
That's all for today, at the same time is a lot of emotions they are so beautiful. They are currently available in the Jindie Nails shop (see link below) and probably very soon available from the authorized distributors of Jindie Nails.
Jindie Nails | Online Nail Polish Boutique. Get Your Sparkle On!
Indie, artisan nail polish line based in Southern, USA. Cruelty & 3-free. Medium (9.5 ML) & full (15 ML)size options are available in most shades. Website restocked periodically throughout each ...