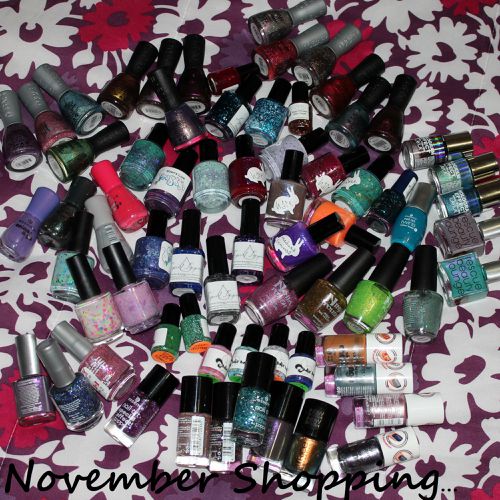 Je remarque que tous les mois c'est de pire en pire, j'achète toujours plus de vernis et je ne m'en lasse pas... bon alors c'est vrai ça fait beaucoup... mais il n'y a pas que des achats ici il y a aussi un swap que j'ai fait avec Eugénie et je crois que je vais commencer par ça... j'ai reçu de magnifiques vernis Catrice et Essence, je suis ravie et je les aime vraiment beaucoup !
I noticed that every month is getting worse, I always buy more polish and I'm not tired... good then it is true that a lot... but there is not only shopping here as there is also a swap I did with Eugenie and I think I'll start with this ... I received beautiful Catrice and Essence polish, I am delighted and I really like them!
Catrice : Genius In The Bottle, From Dusk To Dawn
Essence : Bonnie, Blue Addicted, Circus Confetti, Glorius Aquarius, It's Purplicious, Holo Topping, Please!, Kind Of Magic, Wonderlicious Green, Sweet Surprise, Unexpected Galaxy, Oh My Glitter!, Chic Reloaded, Grey-t To Be Here, Naughty And Pink!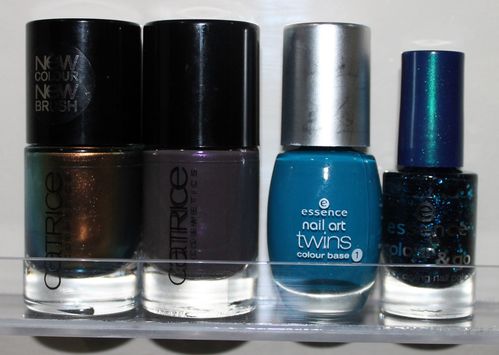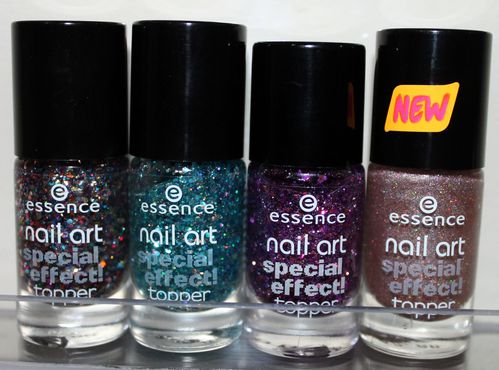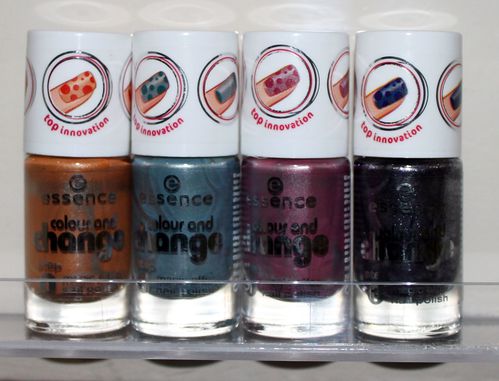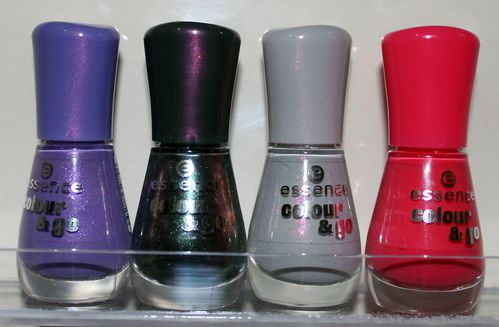 J'ai également fait le plein de vernis Nubar, c'est une marque que j'adore, l'une des première marque US que j'ai connu, et je n'en avait quasiment aucun... alors qu'il y a de vrai petites merveilles chez Nubar... j'ai donc réparé cette terrible erreur comme vous pouvez le voir...
I also bought Nubar polish, Nubar is a brand that I love, one of the first U.S. brand that I knew, and I had almost any... while there are true marvels at Nubar... so I fixed this terrible mistake as you can see...
Nubar : Gem, Prize, Jewel, Indigo Illusion, Irist Dust, Purple Beach, Gold Leaf, Moon Eclipse, Pink Flame, Iced Licorice, Reclaim, Treasure, Brilliant, Absolute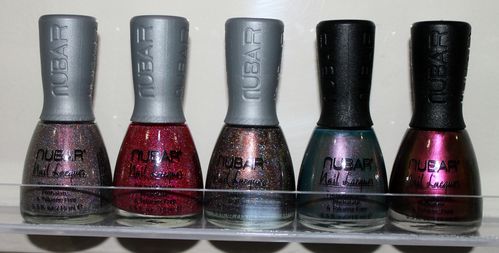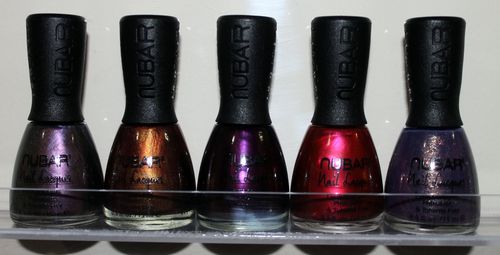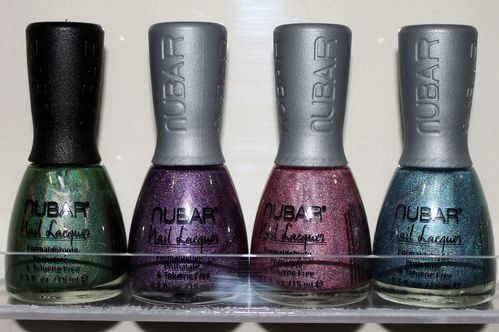 Ensuite quelques vernis acheté par-ci par-là chez Claire's et DWS, des mini Pretty & Polished que vous avez déjà pu voir sur le blog, des Layla Holo et deux vernis RBL acheté lors du BiB (Bring it back) dont le fabuleux Aqua Lily !
Then some varnish purchased by here and there at Claire's and DWS, mini Pretty & Polished you've already seen on the blog, Layla Holo and two RBL purchased during the BiB (Bring it back), included the fabulous Aqua Lily!
Anise Total Temptress, Claire's Night Sky & Candy Shop
Pretty & Polished : Happy Holodays Ruby & Glitter Topper, Pretty As A Peacock, Election Day
Layla Hologram Effect : Misty Blush, Emerald Divine, Ocean Rush
RBL : Insouciant, Aqua Lily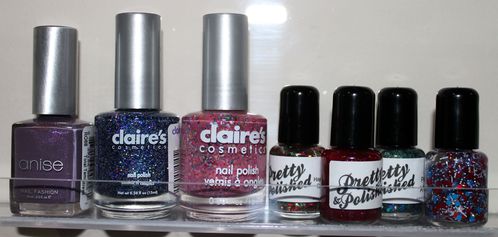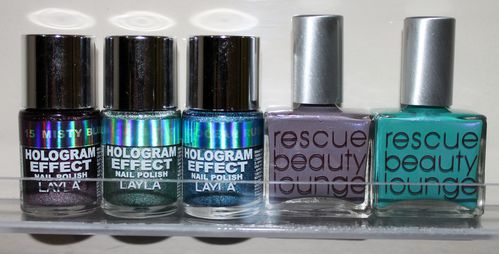 Côté Indies j'ai aussi fait le plein, F4 Polish, Hare, Jindie Nails, Liquid Lacquer, Utopia et Ninja Polish... que des merveilles (j'ai même racheté le Pinkerbell parce que je voulais le comparer à la version originale de NVL)
On the Indies side I also bought a lot, F4 Polish, Hare, Jindie Nails, Liquid Lacquer, Utopia and Ninja Polish... only wonders (I even bought the Pinkerbell because I wanted to compare it to the original version from NVL)
F4 Polish : Summer Melon, Firefly, Shellie, Piper
Hare Polish : Pegasus, A positive, Bisbee, Atola, Bury The Hatcheffish, Medusa Luminosa, Electric Flame
Jindie Nails : Zomboy, Candy Cane, Smells Like Green Spirit, Candy land, Talk Nerdy To Me, Swoon, Femme Fire, Neonderthal, Snow angel
Liquid Lacquer : Into The Night, Fresh Water Nymph, Grape Soda, Jewel Of The Nile, Mockingbird
Utopia Polish : Siren's Lure, Christmas Eve, Brilliant Ideas, Beautiful Mind
Ninja Polish : Girly Floam, Spooky Floam, Sunny Floam, Pinkerbell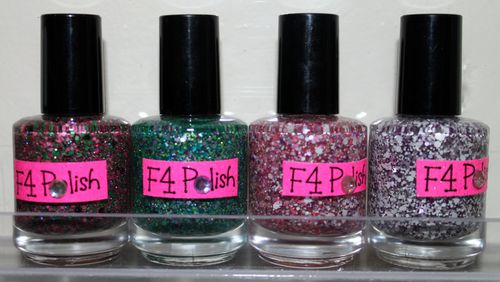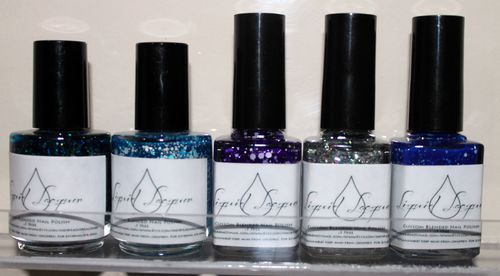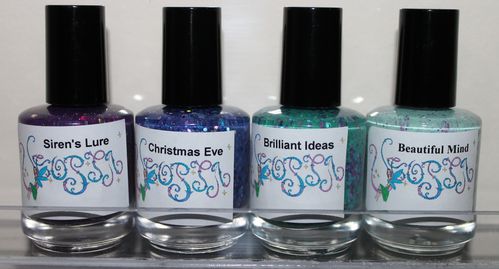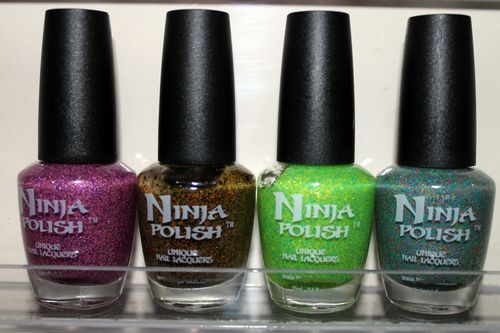 Resultat de ce craquage complet... mes racks sont plein, plus de place dont plus d'achats (j'ai quelques petites choses qui devraient arriver en décembre mais rien d'aussi énorme que ce mois-ci), donc oui j'arrête quelques temps ou du moins je limite car j'ai tellement de merveilles à vous montrer j'ai de quoi faire pour au moins 6 mois !
Result of this huge cracking... my racks are full, no more space so no more shopping (I have a few things that should come in December but nothing as big as this month), so yes I stop some time or at least I limit because I have so many wonders to show you enough for at least 6 months!