Voilà je vais faire ça rapide, j'ai reçu ces liquides vaisselles à tester par le programme Influenster. Alors liquide vaisselle et ongles, rien en commun, oui c'est vrai, mais je dois dire que ces produits m'ont inspiré une jolie manucure. Pour vous parler brievement de ces produits, ce sont des liquides vaisselles qui sentent trop bons et qui sont dans de jolies bouteilles, on pourrait presque les confondre avec du gels douche ou du shampoing, l'emballage fait limite produit de beauté. Ils sont efficaces pour laver la vaisselles (en même temps ils sont fait pour ça) mais je trouve qu'ils font très classes au bord de mon évier... Bref assez parlé vaisselle, parlons manucure...
I'll make it quick, I received these dishes liquids to be tested by the Influenster program. Dishwashing liquid and then nails, nothing in common, yes it's true, but I must say that these products have inspired me a nice manicure. To speak briefly of these products, which are dish liquids that smell so good and are in pretty bottles, one could almost be confused with the shower gel or shampoo, packaging is almost like cosmetic. They are effective for washing dishes (well they are made for that) but I think they are very classy at the edge of my sink... enought spoken dishes, talking manicure now...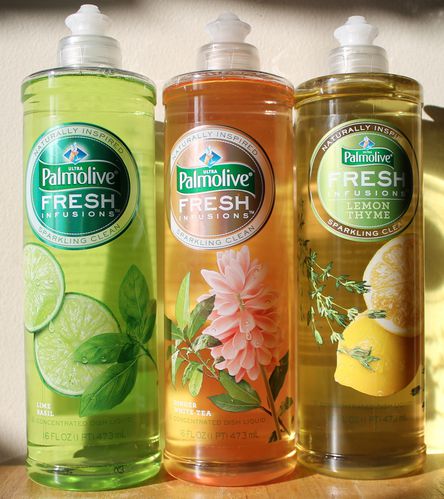 Product sent for review by the Influenster Program. You can find Palmolive Fresh Infusions at Walmart. For more informqtion visit Palmolive Fresh Infusions website. (the program suggest to share one bottle with a friend, no way I love all of them and I want to keep them for me LOL)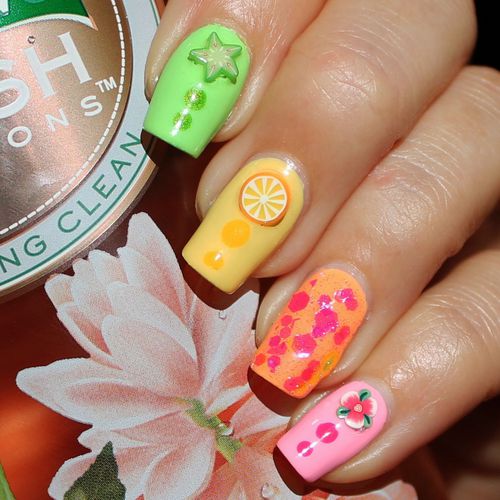 Il existe 3 parfums, citron vert basilic, citron thym et gingembre thé blanc... OMG ces odeurs sont à croquer et bien plus agréable que la plupart des liquides vaisselle. Mon préféré c'est citron vert basilic. Bref je voulais depuis long temps faire une manucure skittle aux couleurs pastels, mais j'avais pas trop d'idées... et bien j'ai fait un doigt pour chaque parfum, une couleur de base, une petite décoration en pâte fimo (je n'avais pas de citron vert donc j'ai mis autre chose) et quelques point au dotting tool en contraste, et le reste un peu au hasard (enfin pas vraiment j'ai utilisé les vernis préférés, ceux avec des paillettes fluos dedans). J'ai trouvé ça très rafraichissant à porter, et très original !
There are 3 flavors, lime basil, lemon thyme and ginger white tea... OMG these are wonderfull and smells nicer than most dishwashing liquids. My favorite is lime basil. Anyway I wanted for a long time to make a skittle manicure with pastel colors, but I did not have too many ideas... well I made a finger for each smell, a base color, a little fimo decoration (I did not have any lime so I put something else) and some dots in contrast with a dotting tool, and the rest a bit random (well not really I used some of my favorite lacquers those with neon glitter). I found it very refreshing to wear, and very original!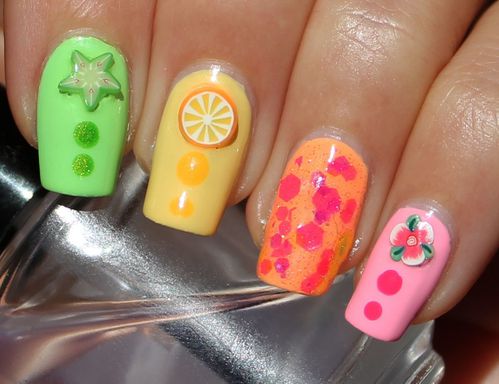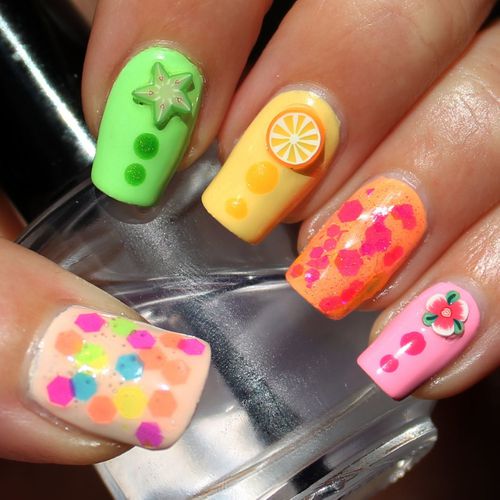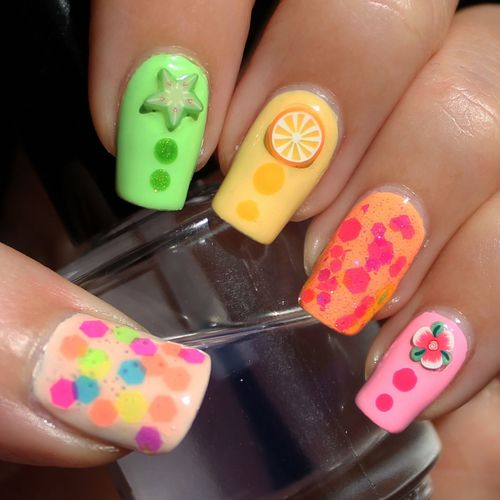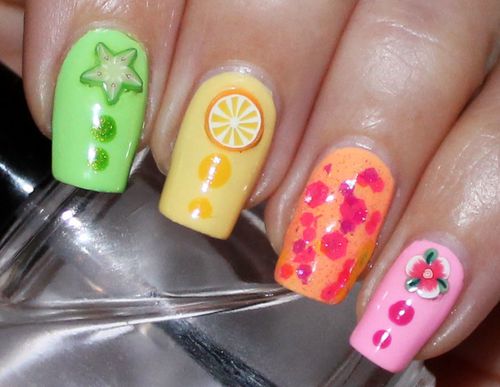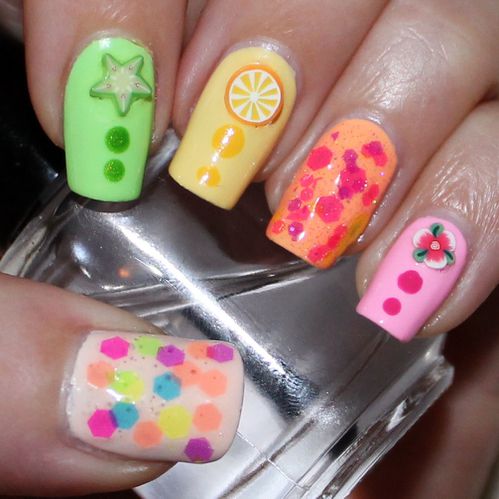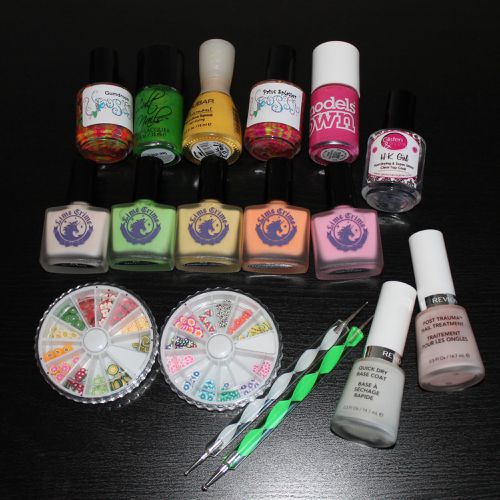 Comme vous devez vous en doutez j'ai utilisé pas mal de choses pour cette manucure, alors plutôt que de longues phrases j'ai fait une photo^^
As you can imagine I have used quite a bit for this manicure, so rather than long sentences I made a picture^^