J'avais plutôt pas trop mal tenu le coup les 3 premières semaines d'août, pas d'achat de vernis, et puis ça m'a pris comme ça, des coups de folies plus ou moins raisonnables, mais au final je me suis pas mal limitée... mais j'ai la CB qui me démange pour septembre il faut que je continue à me limiter un peu !
I'd rather not do too badly held up the first 3 weeks of August, no purchase of varnish, and then it took me like that, crazy shots more or less reasonable, but in the end I quite limited myself... but ny credut card is itching for September I must continue to limit myself a bit!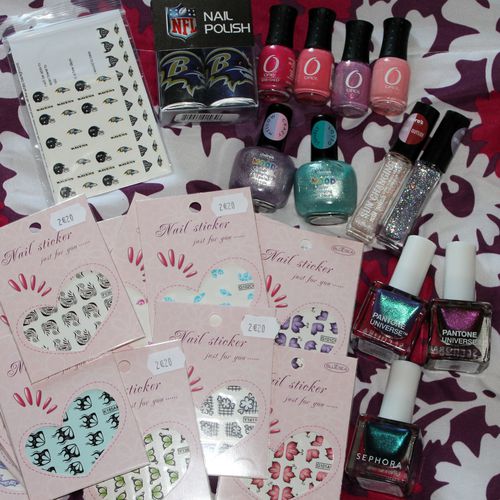 D'abord j'ai fais un tour chez Sephora, et je cherchais spécifiquement la nouvelle collection en partenariat avec Pantone Universe. J'avais vu quelques swatches et je savais qu'il me les fallait LOL, j'ai j'ai pris Reflection Pond, Violet Quartz et Parachute Purple
First went to Sephora, and I was looking specifically for new collection in partnership with Pantone Universe. I have seen some swatches and I knew I had to own some of them LOL, I took Reflection Pond, Violet Quartz and Parachute Purple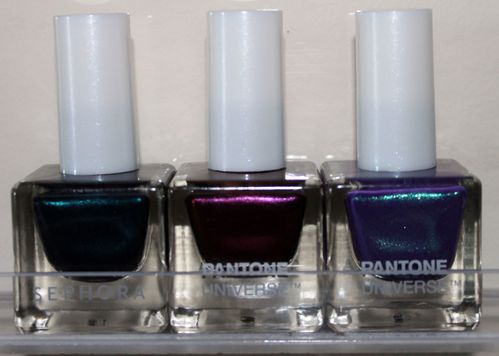 Comme vous le savez j'habite maintenant aux USA à Baltimore. Et le sport national ici c'est le footbal américain (et aussi le baseball). L'équipe locale s'appelle les Ravens (Les corbeaux) et je vais aller à un de leur match bientôt, il me fallait donc la panoplie officielle vernis + stickers pour une faire une manucure pour l'occasion et supporter les Ravens! (Oui j'ai découvert que la ligue nationale de football vends des vernis aux couleurs de chaques équipes, c'est génial)
As you know I now live in the USA in Baltimore. And the national sport here is footbal (and baseball). The local team is called the Ravens and I'll go to one of their game soon, so I need the official nail stickers + nail polishes for a special manicure for the occasion to support the Ravens! (Yes, I discovered that the national football league sells nail polish colors for evry team it is awesome)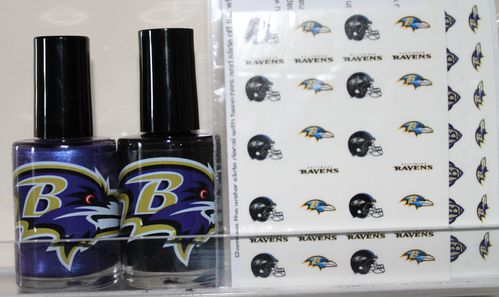 Il y a eu une vente Orly sur Hautelook (un ventre-privée US) en août et j'avais un coupon de $10, et comme il allait bientôt ne plus être valable ce fût la bonne excuse pour prendre quelques minis, donc j'ai pris Fabulous Flamingo, Cotton Candy, Preamp et Pixi Stix.
There was a sale Orly on HauteLook in August and I had a coupon for $10, and as it would no longer be valid it was a good excuse to take some minis, so I took Fabulous Flamingo, Cotton Candy, Preamp and Pixi Stix.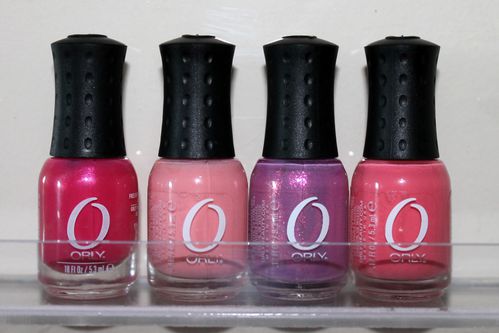 Quand je suis allée chez sephora, je suis passée devant un Claire's, et je rentre toujours quand je passe devant, et j'ai trouvé deux Mood que je n'avais pas, trop contente, et j'ai également était intriguée par une nouvelle collection de vernis qui changent de couleur au soleil, il fallait que je teste donc j'ai pris Sun Kissed et Sun Station.
When I went to sephora, I saw a Claire's, and I always enter when I see one, and I found two Mood I didnt have, so happy, and I also was intrigued by a new collection of polish that changes color in the sun, I had to test so I took sun Kissed and sun Station.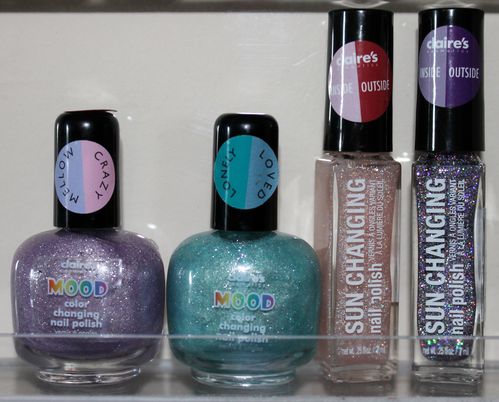 Et enfin j'ai complètement craqué sur les decals de chez Adnails en partenariat avec Tartofraise (dispo ici), ils sont magnifiques je les voulais... oui mais bon quand on habite aux USA pas facile de se procurer ces petites choses vendues en France. C'était sans compter sur le service Client Adnail qui est vraiment génial, je les ai contacté, on a discuté des frais de port (ils proposent la livraison US mais c'était ultra cher pour juste des stickers), on a trouvé un accord et ils m'ont envoyé tout ça. Ce n'est qu'une partie sur la photo parce que j'ai pris quasi toute la collection Tartofraise et j'en ai profité pour en prendre d'autres aussi parce qu'ils ont un choix incroyable et qu'ils sont de très bonne qualité. Bref Merci Adnail <3
And finally I completely fell in love with Adnails decals in partnership with Tartofraise (available here), they are beautiful I wanted them all... yes but hey when you live in the USA not easy to get these things sold in France. This was without counting on the Adnail Client service which is really great, I contacted them and we discussed shipping (they offer U.S. delivery but it was super expensive for just stickers), we found an agreement and they sent me everything. This is only part of my purchase on the picture because I took almost the entire collection Tartofraise and I took the opportunity to take others decals also because they have an incredible choice and they are very good. Thank Adnail <3