Comme ça faisait longtemps que je n'avais pas jouer avec mes pigments, j'ai décidé de créer 3 nouvelles teintes à l'hommage du soleil. J'ai donc choisi des teintes chaudes, jaunes, oranges et corail. Je trouve que ma boutique manquait de ce genre de couleurs. Encore une fois les quantités sont limitée (surtout le corail) et vous pouvez les trouver dans ma boutique etsy.
As it was a long time since I last played with my pigments, I decided to create three new colors to honor the sun. So I chosewarm shades, yellow, orange and coral. I think my shop lacked this kind of colors. Again quantities are limited (especially the coral one) and you can find them in my etsy shop.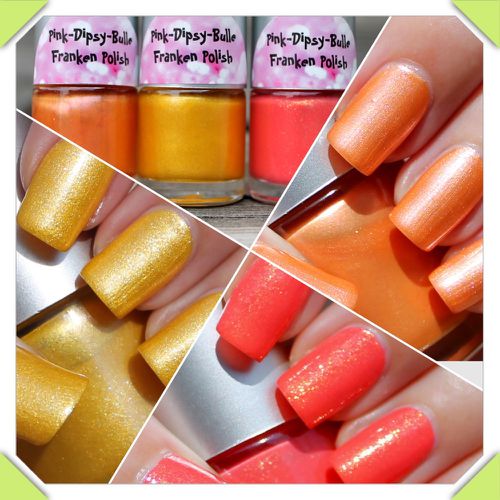 Dawn est un vernis orange clair, un peu couleur pêche, avec des reflets roses. Il s'inspire du lever de soleil, quand le ciel se teinte de couleur pastel orange et jaune. J'adore ce moment de la journée ou la fraîcheur de la nuit s'estompe et les premier rayons de soleil commence à réchauffer l'air. J'ai posé deux couches et une couche de top coat.
Dawn is a pale orange color, a little peachy with pink highlights. It was made thinking of the sunrise when the sky is tinyed with orange and yellow pastel color. I love this time of the day when the coolness of the night fades and the first rays of sun begins to warm the air. I put two coats and top coat.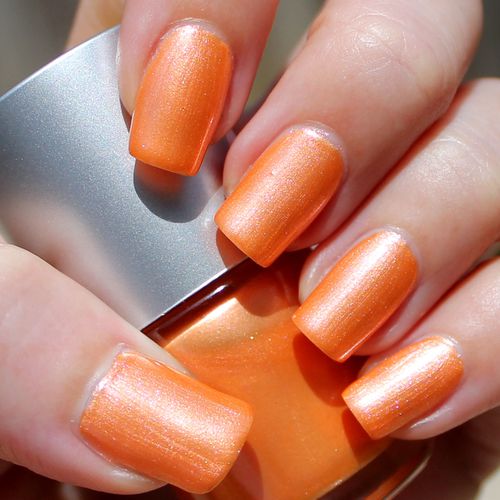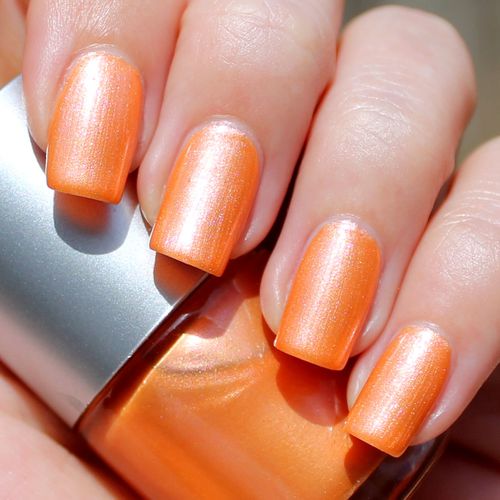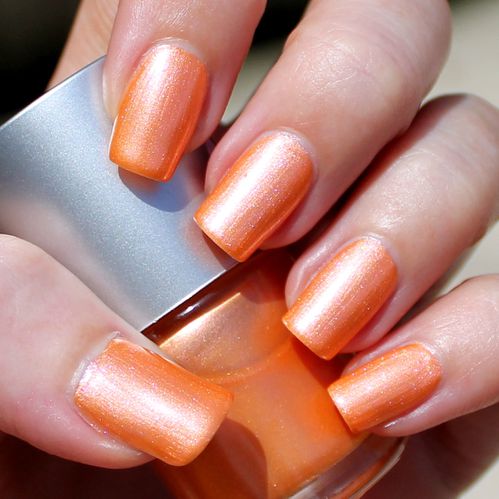 Noon est un vernis à l'hommage du soleil de milieux de journée, celui qui te brûle la peau et qui t'éblouit. C'est un vernis jaune vif agrémenté de reflets subtils verts/bleus. C'est un couleur très estivale, pas facile à porter mais qui fair ressortir les peaux bronzées. J'ai posé deux couches et une couche de top coat.
Noon is a polish tribute to the sun in the middle of the day, the one that burns your skin and that dazzles. It is a bright yellow color with subtle green/blue reflections. This is a very summery color, not easy to wear but looks perfect on tanned skin. I put two coats and top coat.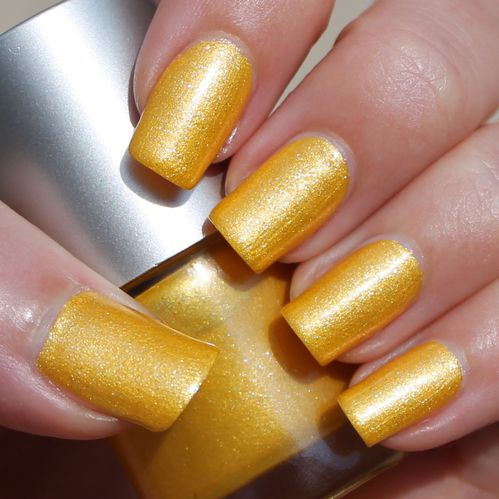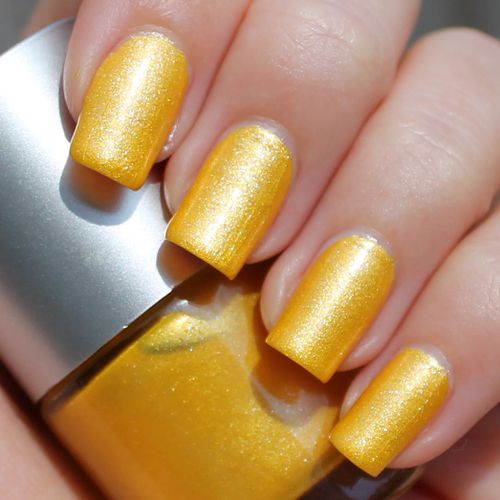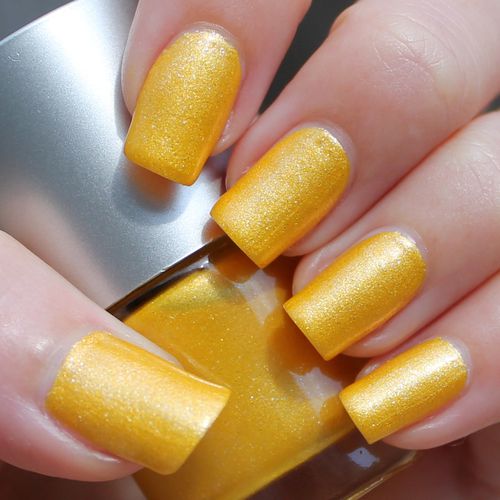 Sunset est un orange coral vif avec une multitude de micro-flakies dorés qui lui donne de magnifiques reflets. Quand je pense au coucher de soleil, je vois un ciel orange foncé rouge au dessus de l'océan qui reflète les dernières lueur du soleil. C'est ce que j'ai voulu recréer avec ce vernis. J'ai posé deux couches et une couche de top coat. (Attention ce vernis est un éditions très limitée, il n'y en a que 3 disponibles)
Sunset is a bright coral orange with a multitude of golden micro-flakes which gives it a nice shimmery finish. When I think of the sunset, I see a dark orange red sky above the ocean reflecting the last light of the sun. This is what I wanted to recreate with this varnish. I put two coats and top coat. (beware this varnish is a very limited edition, there are only 3 available)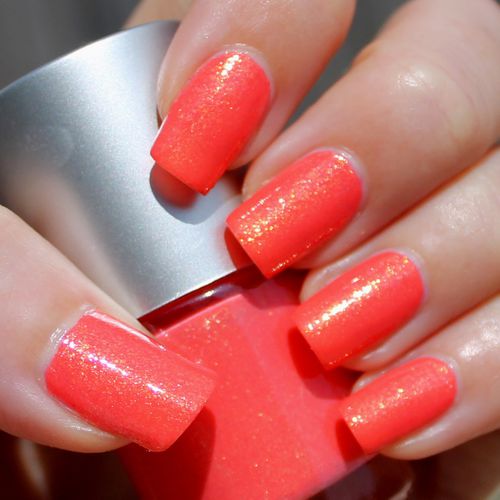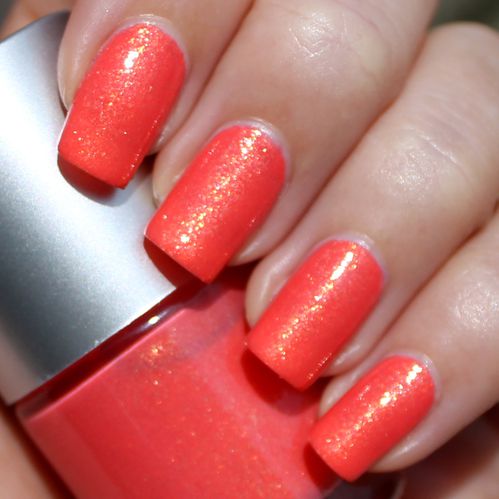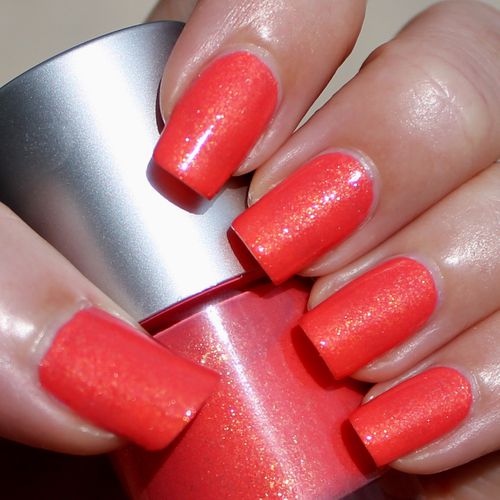 Ce dernier vernis ne fait pas partie de la collection d'été disponible sur etsy, c'est un vernis unique (je n'en ai que 2, dont un pour moi) que j'ai fait pour la personne qui a passé la 100ème commande dans ma boutique etsy. Ce n'est pas un vernis personnalisé puisque c'est moi qui ai choisi la couleur, j'avais juste envie d'offrir quelque chose pour la 100ème commande. je l'ai appelé Summer Nights. C'est un violet foncé au reflets reflets clairs, il est duochrome et je le trouve magnifique ! J'ai posé deux couches et une couche de top coat.
This varnish is not part of the collection that is available on etsy, it is a unique varnish (I have only two, including one for me) that I made for the person who has ordered the 100th order in my etsy shop. This is not a custom polish since I chose the color, I just wanted to offer something for the 100th order. I named it Summer Nights. This is a dark purple with blue reflections, it is duochrome and I think it is beautiful! I put two coats and a top coat.