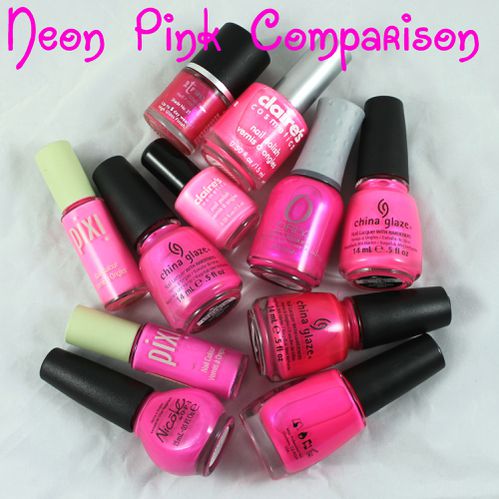 Comme vous le savez ma couleur préférée est le rose fluo, j'ai donc voulu voir tous les vernis rose fluo que je possède et faire un petit comparatif... j'en ai donc beaucoup, 11, ou 12 si je considère le Lime Crime Parfait Day que je considérais à la base plus comme un rose pastel mais qui au final est relativement fluo (je ne l'avais pas sélectionné pour la photo au debut). Initiallement je voulais faire une comparaison sur mes ongles, et puis je me suis dis que j'en avais trop donc je les ai comparé sur onglier. Le rose fluo est également un couleur difficile à prendre en photo, j'ai un peu galéré mais je pense qu'au final les photos que je vous présente sont assez proche de la réalité.
As you know my favorite color is neon pink, so I wanted to see all the neon pink polish that I have and do a little comparison... I have so many, 11 or 12 if I consider the Lime Crime Perfect Day that intially I considered more like a pastel pink but in the end is quite neon (I did not select it for the photo at the beginning). Initially I wanted to do a comparison on my nails, and then I told myself that I had too many so I compared them on a nail wheel. the neon pink is also hard to photograph, I struggled a bit but I think that ultimately the pictures that I present are quite close to reality.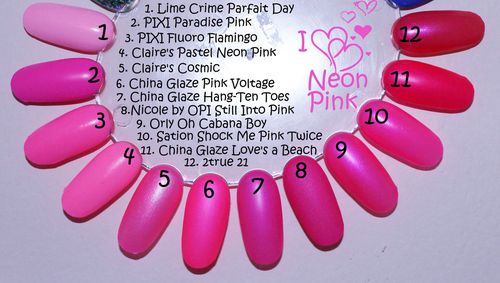 Tout d'abord les rose fluo pastel avec le Lime Crime Parfait Day (1) qui est le plus pastel de tous. Le PIXI Paradise Pink (2) est assez particulier, je n'ai pas d'autre vernis qui s'approche de cette couleur, c'est le moins pastel et le plus vif, peut-être un peu moins fluo aussi. PIXI Fluoro Flamingo (3) et Claire's Pastel neon Pink (4) sont assez similaire, mais Fluoro Flamingo est un peu plus foncé.
First pastel neon pink with Lime Crime Parfait Day (1) which is all the more pastel. The PIXI Pink Paradise (2) is rather special, I have no other varnish close to this color, the less pastel but brighter, maybe a little less neon too. PIXI Fluoro Flamingo (3) and Claire's Pastel Pink neon (4) are quite similar, but Fluoro Flamingo is a little darker.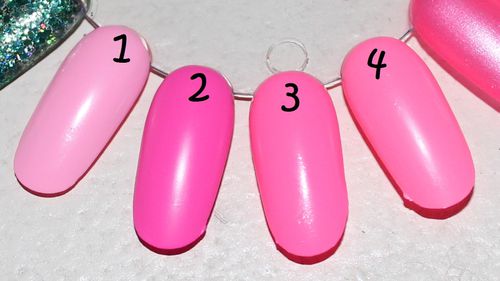 Ensuite les fluos un peu plis vif, avec le Claire's Cosmic (5) si particulier puisqu'il est irisé et relativement peu opaque, je pense qu'il peu être sympa à poser sur une autre couleur. China Glaze Pink Voltage (6) est pour moi la couleur qui s'approche le plus de que je j'appelle rose fluo, très vif et flashy, il est également mat. China Glaze Hang-Ten Toes (7) est très vif avec un fini satiné et il a une touche de ce que j'appelle des reflets bleus et du coup il tire un peu plus sur le violet par rapport aux autres. Nicole by OPI Still Into Pink (8) est un peu similaire mais en beaucoup plus opaque et a également un fini mat.
Then brighter neons, with Claire's Cosmic (5) so special because it is relatively less opaque and iridescent, I think it can be nice to put on another color. China Glaze Pink Voltage (6) for me is the color that is closest to what I call neon pink, very bright and flashy, it is also matte. China Glaze Hang-Ten Toes (7) is very bright with a satin finish and it has a touch of what I call blue reflections that makes him a little more purple compared to others. Nicole by OPI Pink Still Into (8) is somewhat similar but more opaque and also has a matte finish.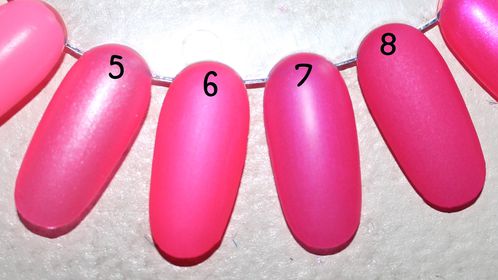 Et pour finir Orly Oh Cabana Boy (9) et Sation Shock Me Pink Twice (10), très similaires et ils sont egalement très proche de China Glaze Hang-Ten Toes (7), je dirais que c'est 3 là sont ceux qui se ressemblent le plus dans ma collection. Ensuite China glaze Love's a Beach (11), qui est à mi-chemin entre un rose fluo et un fuschia fluo, très vif et particulier, je l'aime beaucoup et il ne ressemble pas du tout à China Glaze hang-Ten Toes (7), je dis ça car ils sont de la même collection et que je me souviens m'être posé la question un bon moment pour savoir si j'allais acheter les deux. Et enfin 2true 21 (12), qui dans le bouteille ressemble à un rose fluo mais qui est le moins fluo de mes roses fluo (il est même un peu terne je trouve).
And finally Orly Oh Cabana Boy (9) and Sation Shock Me Pink Twice (10), very similar and they are also very close to China Glaze Hang-Ten Toes (7) I'd say that these three are the ones who are most similar in my collection. Then China glaze Love's a Beach (11), which is halfway between a neon pink and neon fuschia, bright and very particular, I like it a lot and it does not look anything like China Glaze hang-Ten Toes (7) I say that because they are from the same collection and I remember asking myself a long time to see if I was going buy both. And finally 2true 21 (12), which in the bottle looks like a bright neon pink but it is the least of my neon of the pink neon (there's even a little dull I think).