Voici une autre souscription mensuelle comme Birchbox et MyGlam, mais celle-ci est 100% vernis et nail art, donc bien sur je n'ai pas hésité à m'inscrire pour voir un peu tout ça. La souscription en elle même est de 19.95$/mois, je me suis inscrire quasiment dès le début (j'ai loupé le mois de novembre) et elle était encore 9.95$/mois. Je suis vraiment super contente du contenu de la petite enveloppe, deux vernis mats, un lot de strass avec la glue et des pads pour enlever le vernis, le tout accompagné d'un petit tutoriel pour savoir comment poser les strass.
Here is another monthly subscription like Birchbox or MyGlam, but it is 100% polish and nail art, so of course I did not hesitate to register to find out a little more. The subscription itself is $19.95/month, I registrer almost from the beginning (I missed the month of November) and it was still $9.95/month. I'm really super happy, the small envelope contained two matte varnishes, a lot of rhinestones with glue and polish remover pads, all with a small tutorial on how to put rhinestones.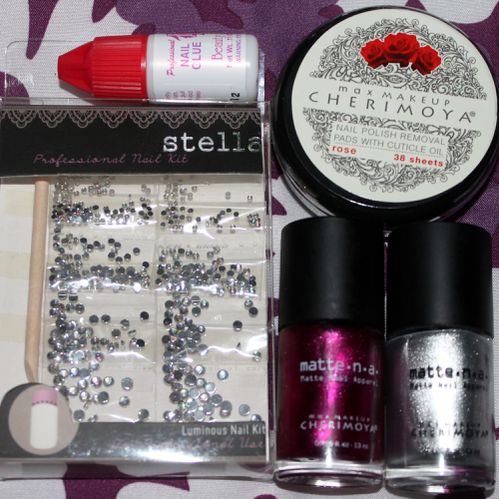 J'étais tellement contente que j'ai posé tout ça de suite. Les vernis sont superbes, opaques en une seule couche, le rose fonctionne à merveille pour le stamping et les strass sont superbes également. Le seul probleme c'est que pour garder l'effet mat il ne faut pas mettre de top coat et sans top coat le vernis perd un peu de sa couleur et s'écaille plus facilement.
I was so happy that I wore them right away. Varnishes are great, opaque in one coat, and pink works great for stamping, rhinestones are superb also. The only problem is to keep the matte effect is that you should not put top coat and without top coat varnishes lose color and chip easily.