Mother May I? est sorti pour la fête des mères, et donc oui je suis un peu en retard. C'est un mauve clair parsemé de paillettes bleues, argentées, rouges, violettes, de tailles différentes. Le problème c'est que les paillettes ont tendances à se déposer au fond du flacon, donc il faut bien secouer avant de l'appliquer. Le principe c'est que justement il y a des paillettes mais pas trop, et comme la base est un peu translucide cela donne un effet "jelly sandwich". Il faut quand même un peu aller à la pêche aux paillettes pour choper les gros carrés rouges, il y en a beaucoup mais ils restent collées aux parois du flacon. J'ai mis ici 3 couches pour être sure de ne pas voir la bord libre de mes ongles (comme la base est légèrement translucide). Il a séché assez vite, mais la couche de top coat est obligatoire sinon on sent les paillettes au toucher et ce n'est pas très agréable. Mon avis est que c'est un vernis original et discret, l'application n'est pas horrible mais cela demande un peu plus de dextérité que pour un vernis classique.
Mother May I? came out for Mother's Day, and so yes I'm a little late. It is a light purple dotted with many glitters of different sizes blue, silver, red, violet. The problem is that the flakes tend to settle to the bottom of the bottle, so you have to shake well before applying. The principle is precisely that there are glitters but not too much, and as the base is slightly translucent it gives a jelly sandwich effect. You still have a little to go fishing glitters especially the big red squares, there are many but they remain stuck to the sides of the bottle. I put three layers here to be sure not to see the free edge of my nails (like the base is slightly translucent). It dried quickly, but the top coat is required otherwise you feel the flakes and it's not very pleasant. My opinion is that this is an original and discreet varnish, the application is not horrible but it takes a little more dexterity than a classic nail polish.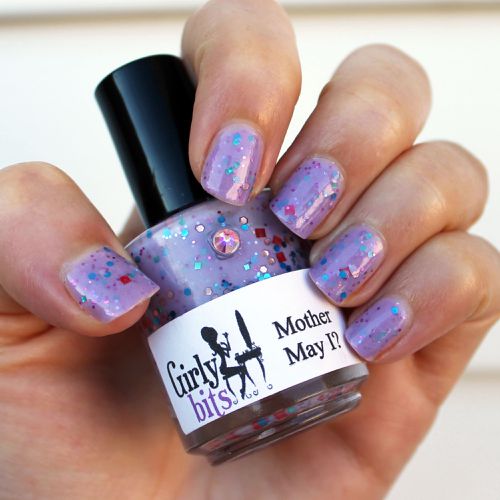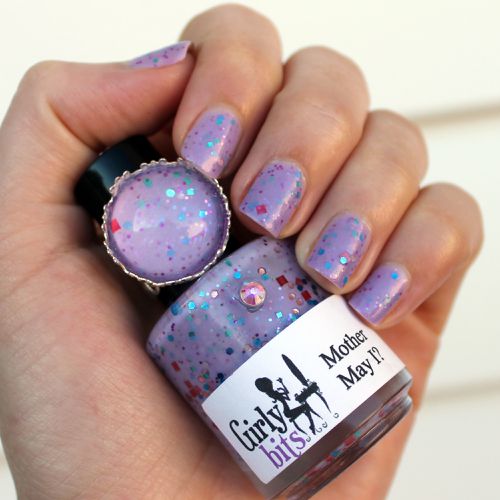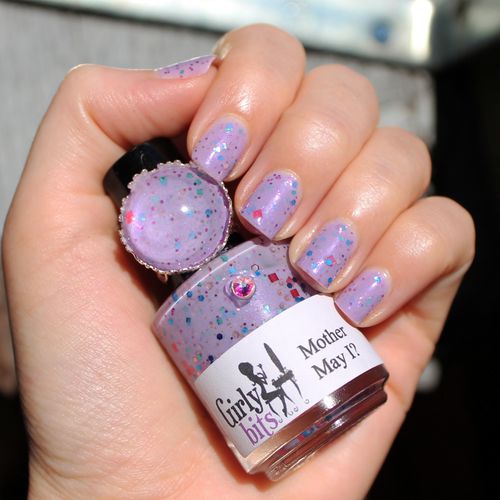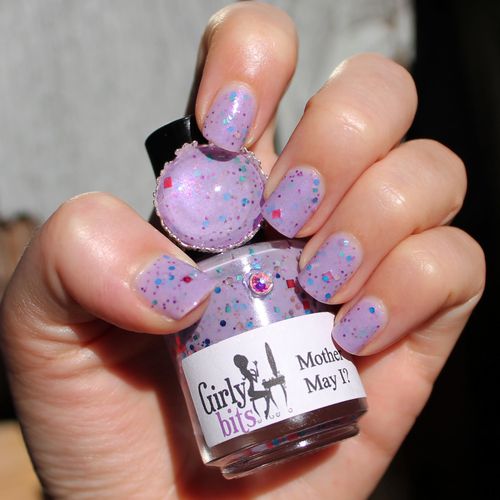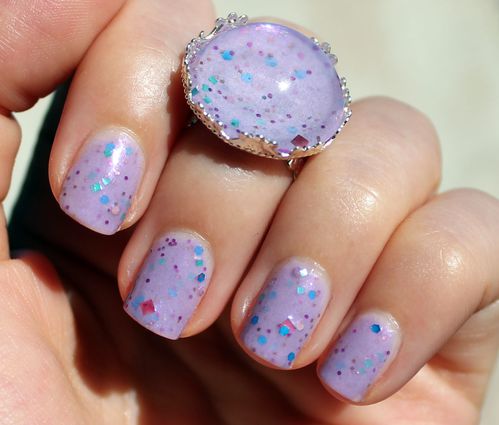 Revlon Post Trauma Nail Treatment / Revlon Quick dry base coat / Girly Bits Mother may I? / Sèche vite Top Coat
Ou acheter / Where to buy: Online on Llarowe or Girly Bits (Livraison à l'international possible sur les deux sites / international shipping available for both websites). Informations and swatches on Girly Bits Blog.