(These nail polish were sent for review by Jindie Nails)
Aujourd'hui voici la deuxième et dernière partie de la Spring Chic Collex de Jindie Nails avec Mango with the Flow, Nude Beach and Princess Consuela Banana Hammock. J'ai posé 2 à 3 fines couches de vernis, avec une couche de top coat Poche, j'ai essayé de prendre des photos avec différentes luminosité et j'ai même pris des photos sous lumière noire.
Now here is the second and final part of the Spring Chic Collex by Jindie Nails with Mango with the Flow, Nude Beach and Princess Consuela Banana Hammock. I put 2-3 thin coats of polish, with a layer of top coat Poche, I tried to take pictures with different light and I even took pictures under black light.
Mango with the Flow est un vernis pastel pêche crelly avec des paillettes haxagonales argent, des paillettes transparentes iridescentes bleues, violettes, vertes et dorées. Ce vernis est très dense en paillettes, et donc très épais. je l'ai dilué un peu avec du diluant pour vernis et j'ai posé deux couches seulement. J'adore l'effet shimmer rose et bleu obtenue avec les paillettes iridescentes.
Mango with the Flow is a pastel peach crelly (cream/jelly) with metallic silver hex, blue & purple iridescent hex, lime green/gold iridescent hex. This varnishhas a huge density of glitter, and then it is very thick. I diluted it a bit with thinner and I put two coats only. I love the pink and blue shimmer effect obtained with iridescent glitter.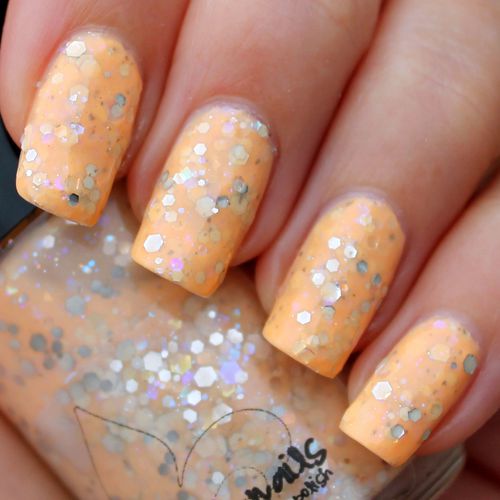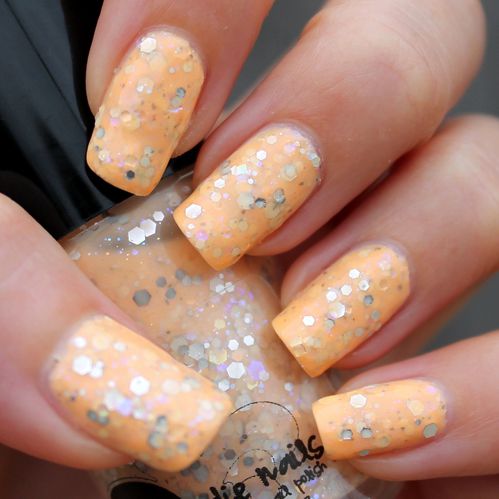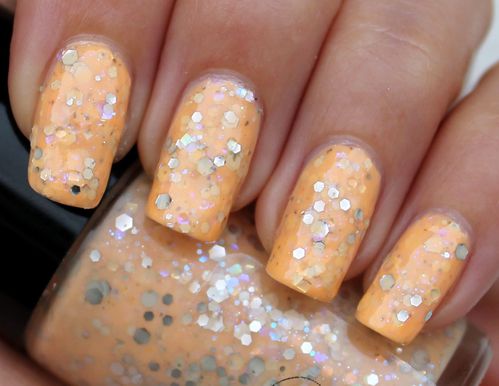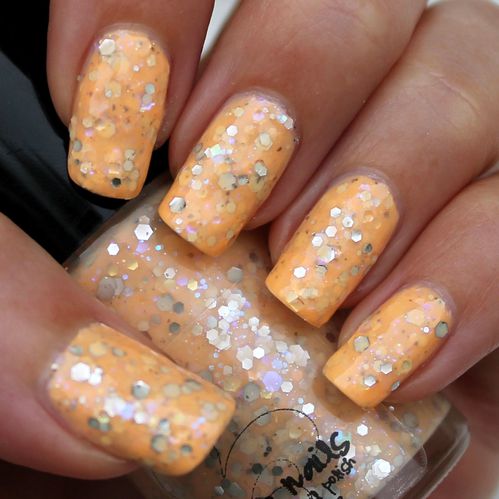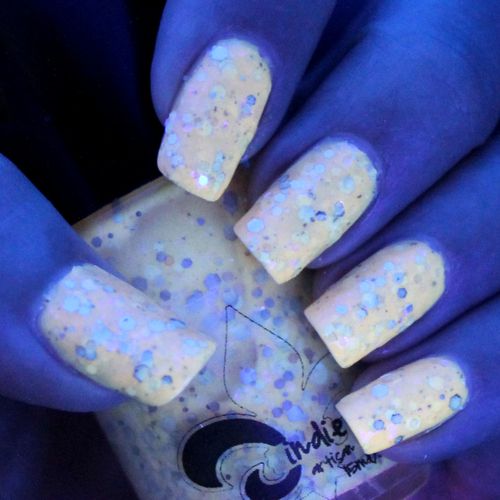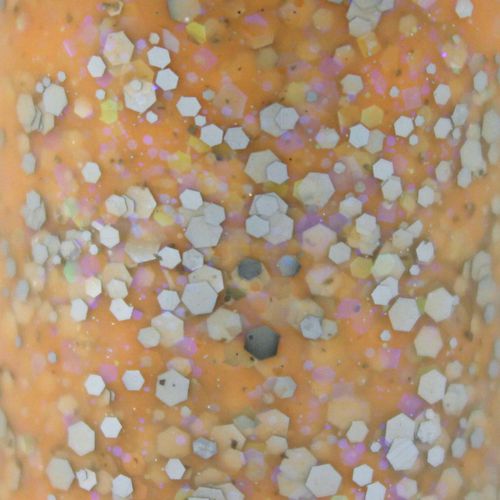 Nude Beach at une base crelly nude blanche avec un mélange de paillettes hexagonales de plusieures tailles fluos (jaunes, vertes, violettes, bleues, roses et oranges), de petites métalliques, des blanches et des étoiles blanches. C'est également un vernis très dense en paillettes, donc un peu épais (je l'ai également dilué avec un diluant pour vernis). J'ai posé 3 couches sur les 3 premières photos, les 2 suivantes seulement 2 couches sur une couches de vernis blanc (et toujours une couche de top coat Poche). Le résultat est quasiment le même. J'adore vraiment ce vernis je crois bien que c'est mon préféré, je suis une grande fan des paillettes fluos.
Nude Beach is a nude crelly base with a mix of metallic sand colored sparkling hex, iridescent hex, matte white hex & tiny stars plus and abundance of neon orange, neon blue, neon pink, neon purple, neon green & neon yellow hex in several sizes. It is also have a huge density of glitter, so it is a little bit thick (I also diluted it with thinner). I put three layers on the first 3 photos, the following 2 only two layers over a layers of white polish (and still a coat of top coat Poche). The result is almost the same. I really love this polish I believe it is my favorite, I'm a big fan of neon glitter.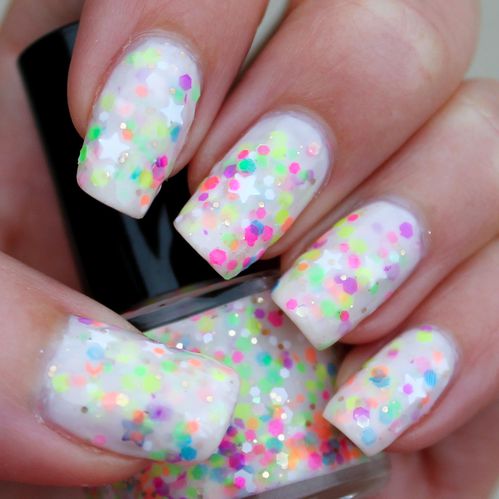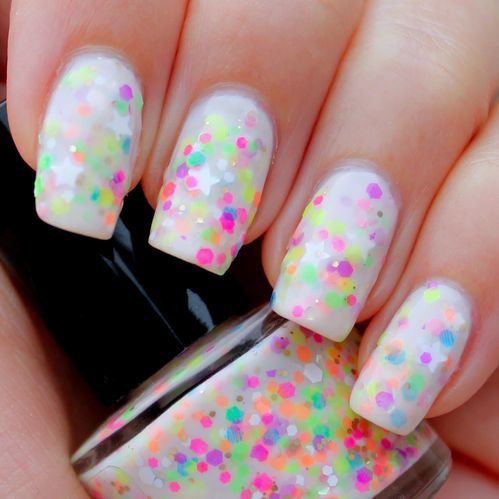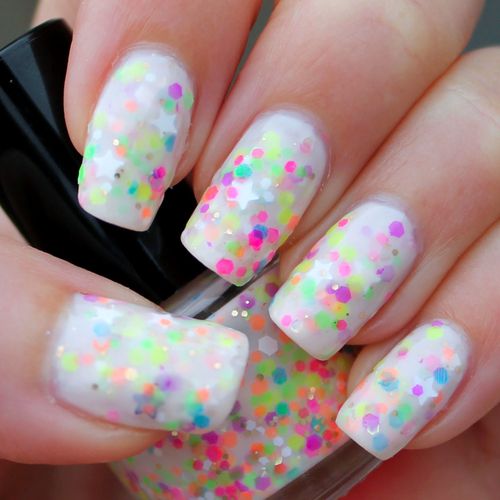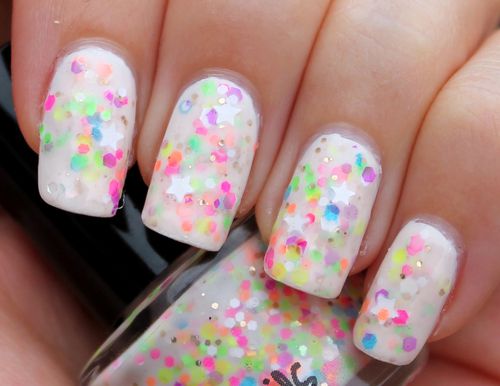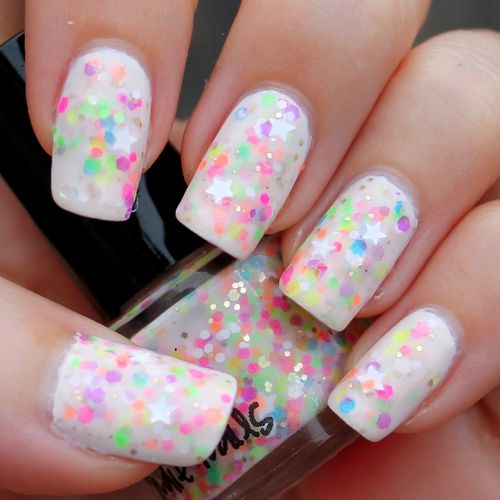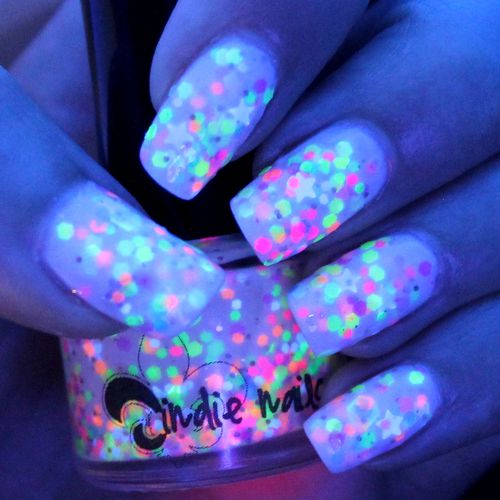 Princess Consuela Banana Hammock est nommé d'après l'épisode de Friends où Phoebe a changé son nom pour ce nom un peu bizarre. PCBH est un néon vif jaune crelly avec un mélange de peillettes satinées rouges, oranges, roses fluos, oranges fluos, oranges foncées et de minuscules étoiles rouges. C'est définitevement mon deuxième favoris de cette collection. Je ne porte pas souvent de jaune mais celui-ci est tout simplement génial. L'application et la texture sont parfaite et il est vraiment flashy !
Princess Consuela Banana Hammock is named after the Friends episode where Phoebe changed her name to this hysterical name. PCBH is a bright neon yellow crelly with a mix of matte satin red, orange, neon pink, neon orange, neon dark orange hex plus matte red tiny red stars. This is definitly my second favorite from this collection. I do not often wear yellow but this one is just great. The application and texture are perfect and it is really bright!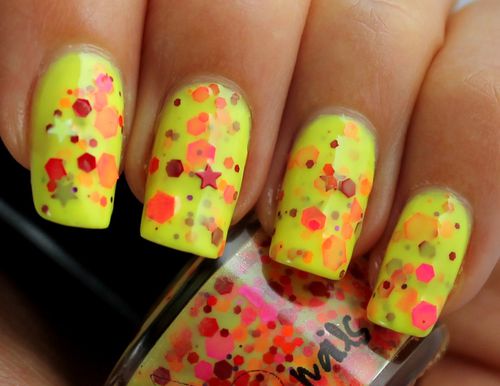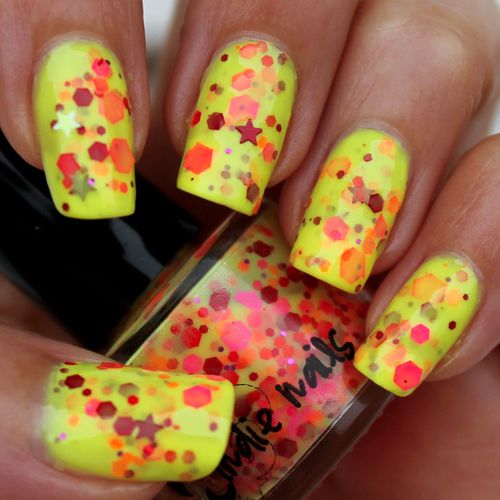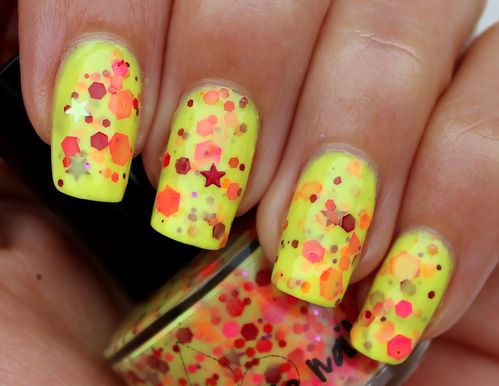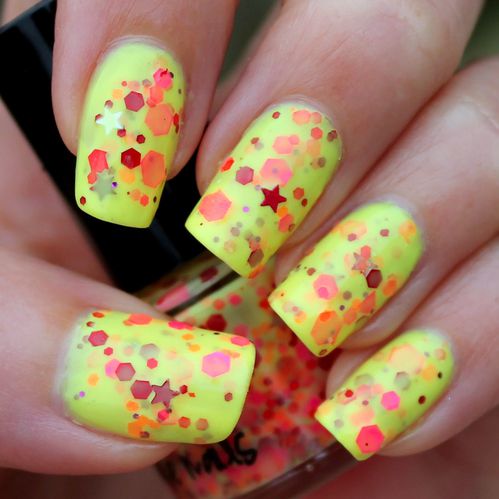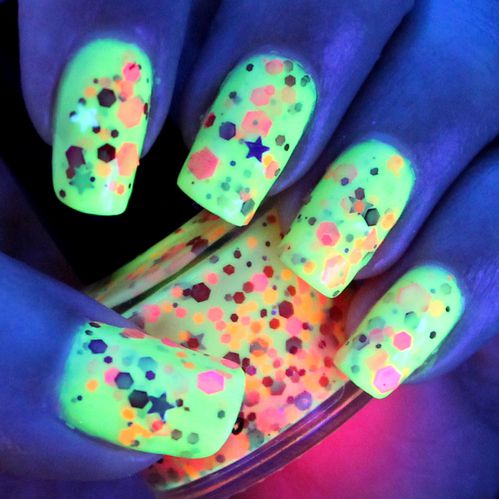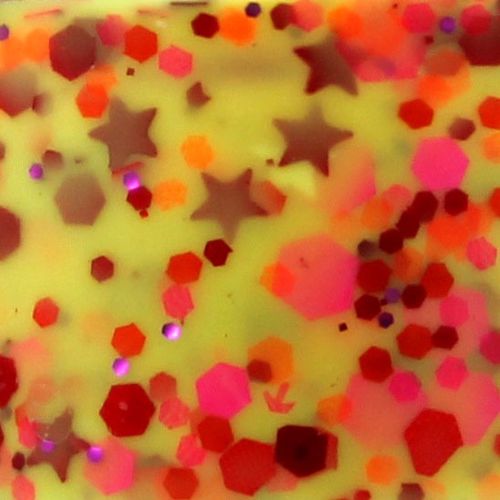 Ou acheter / where to buy: On Jindie Nails Website (US) or Llarowe, Mei Mei's Signatures,Harlow & Co, Femme Fatale and Ninja Polish (International). You can follow Jindie Nails on Facebook for more informations about the restocks.