(These nail polish were sent for review by Jindie Nails)
Quand Jen m'a proposé de faire une review de sa prochaine collection, j'étais vraiment ravie, je ne pensais pas qu'un jour elle me proposerai de m'envoyé une collection entière ! C'était il y a quelques mois, avant même de savoir à quoi ressemblerai les vernis, mais je savais que je les aimerai même sans les avoir vu. Et je ne suis pas déçue ils sont fantastiques ! Donc pour continuer la semaine Jindie Nails, voici la première partie de la collection de printemps avec Fantastical, Fun intended et HipStar. J'ai posé 3 fines couches pour tous, avec une couche de top coat Poche, j'ai essayé de prendre des photos avec différentes luminosité et j'ai même pris des photos sous lumière noire.
When Jen asked me to review of her next collection, I was really happy, I never thought that one day she will send me a whole collection! It was a few months ago, before we even know what the polish will look like, but I knew I'd love them even without seeing them. And I'm not disappointed they are fantastic! So to continue the Jindie Nails week, here is the first part of the Spring Chic Collex with Fantastical, Fun Intended and HipStar. I put three thin coats for all, with a layer of top coat Poche, I tried to take pictures with different lights and I even took pictures under black light.
Fantastical est un pastel corail vif à texture crelly (crème/jelly) avec un mélange de paillettes hexagonales satin mattes turquoises et des étoiles métalliques et holographique et des étoiles de taille plus petites turquoises, des paillettes carrés, hexagones et ronds de plusieurs tailles, turquoises, vert/hex irisé et or. Il a aussi des reflets shimmer argents et turquoises. Une application et une texture parfaites, une densité de paillettes juste comme il faut, il est fantastique !
Fantastical is a bright, pastel coral crelly (cream/jelly) with a mix of satin matte aqua hex and regular sized stars, metallic and holographic teal smaller sized stars, squares, hex and large dots, turquoise, green/gold iridescent hex, plus beautiful color shifting teal shimmer. Perfect application and texture, density glitter just right, it is fantastical!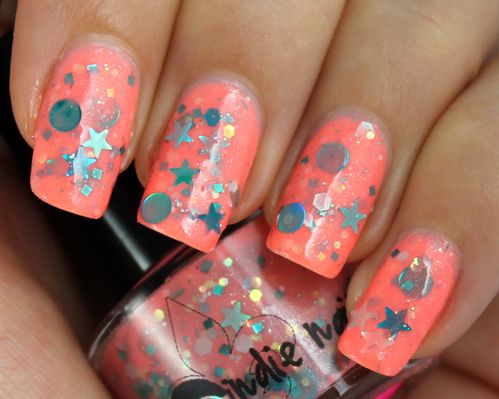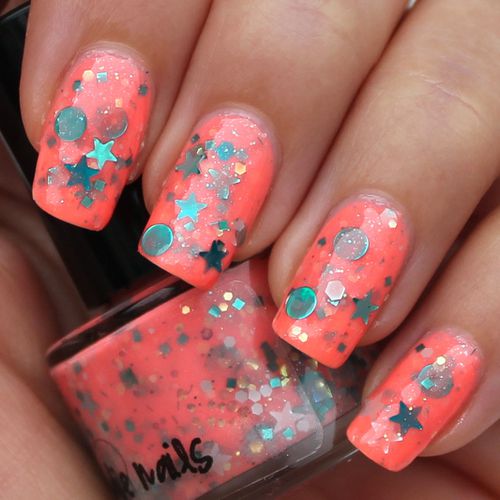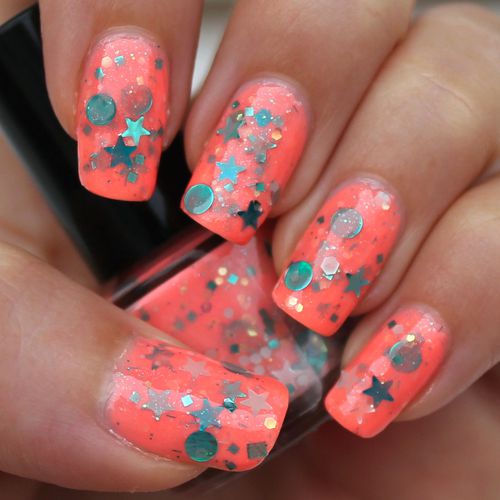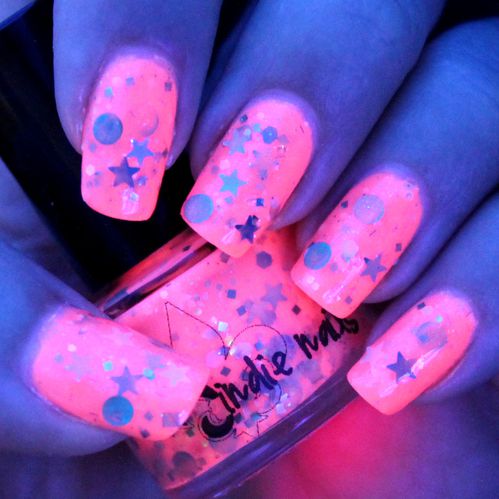 Fun Intended est un pastel rose fluo crelly avec un mélange pailletes fluos roses et oranges, des paillettes hexagonales argent et oranges métallisées, des paillettes hexagonales et des barres blanches, des paillettes rondes magenta métallisées et de petites étoiles blanches et rouges et des paillons roses fluos. J'avais un peu peur de ne pas l'aimer à cause des paillettes en formes de barres (je déteste ce genre de paillettes), mais finalement il rends vraiment bien, j'adore la couleur de base et le mélange de paillettes. L'application et la texture sont parfaites.
Fun Intended is a bright pastel neon pink crelly with a mix of neon pink, neon orange, metallic silver, metallic orange, metallic magenta & tiny white stars, hex, short bars & dots plus neon pink butterflies. I was a little afraid of not loving this polish because of bar glitter (I hate bar glitter), but finally it looks really pretty, I love the base color and the mix of glitter. The application and texture are perfect.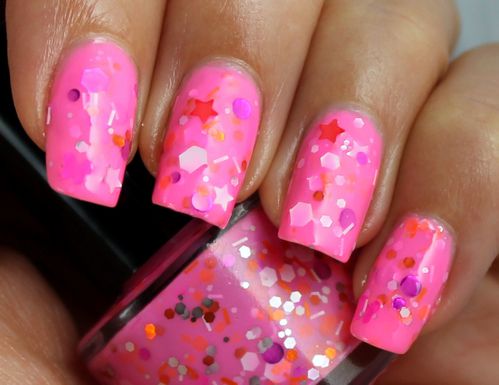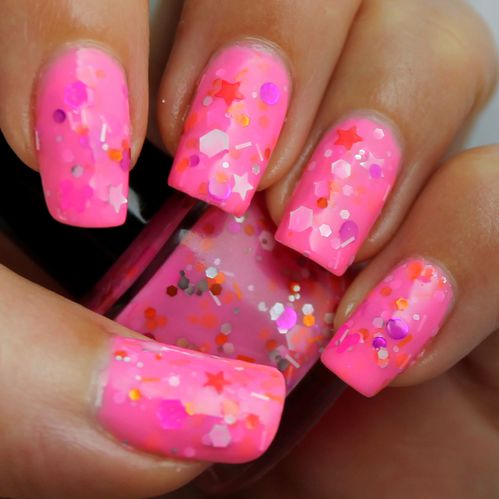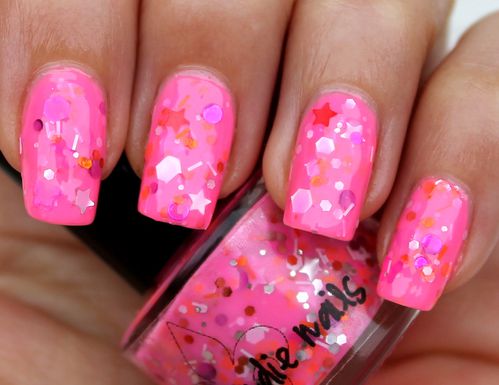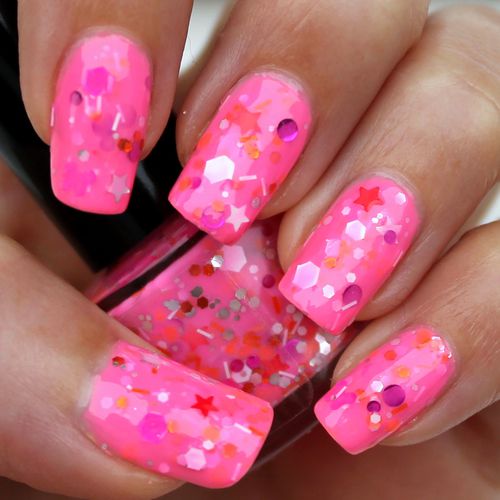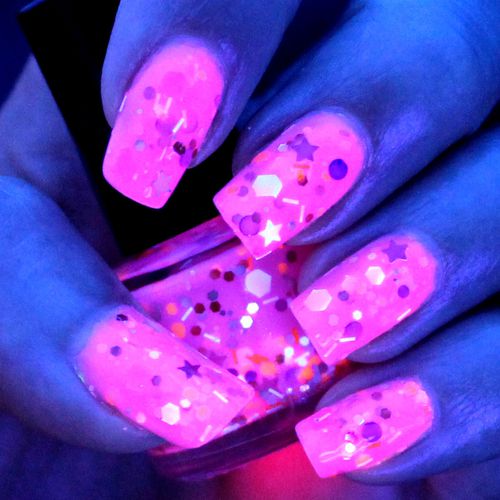 Hipstar a une base violette/bleue crelly avec un mélange de paillettes hexagonales fluos roses, lilas holographiques, roses claires holographiques, magenta, violettes fluos, métalliques hexagonales argent, des étoiles & des paillettes rondes de plusieurs tailles. Encore une fois un combo gagnant de pailletes rondes, fluos et d'étoiles, mon combo favoris avec toujours cette texture parfaite et des paillettes faciles à appliquer.
HipStar has a periwinkle/purple crelly base with a mix of neon pink, lilac holographic, light pink holographic, magenta, neon purple, metallic silver hex, stars & small, medium and extra large dots. Again a winner Glitter combo with neon, rounds and stars, my favorite combo, and always with the perfect texture and easy to apply glitter.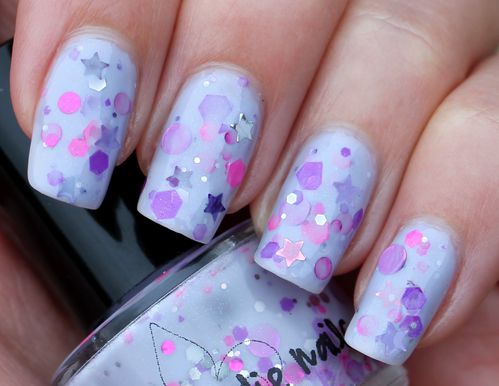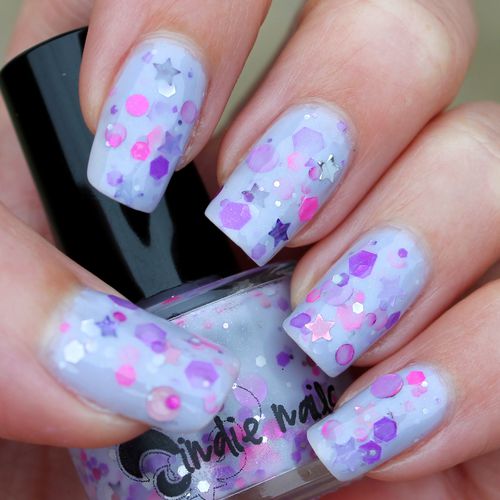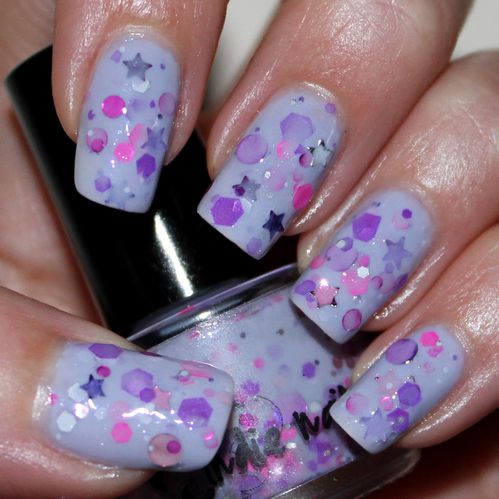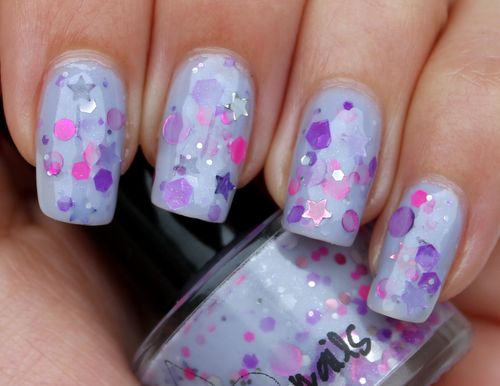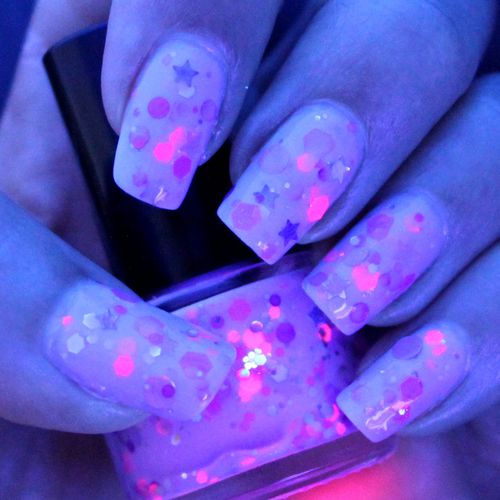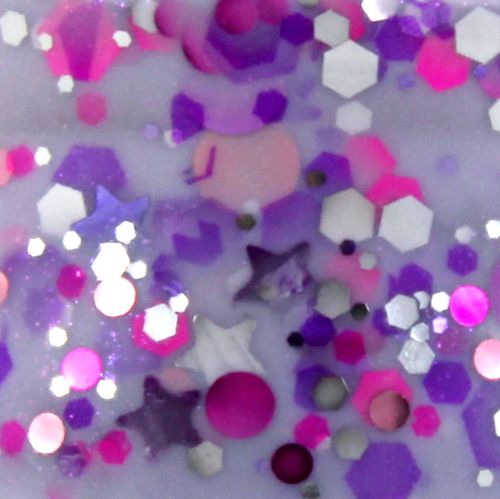 Ou acheter / where to buy: On Jindie Nails Website (US) or Llarowe, Mei Mei's Signatures,Harlow & Co, Femme Fatale and Ninja Polish (International). You can follow Jindie Nails on Facebook for more informations about the restocks.