(This nail polish was sent for review by Jindie Nails)
Quoi je ne vous avais pas prévenu, cette semaine sera 100% Jindie Nails, j'ai plein de vernis magnifiques à vous montrer. La merveilleuse Jen m'a envoyé ses nouveaux vernis à reviewer. Et le premier que je voulais vous montrer est bien sur le vernis rose flashys en édition Limitée, Pickled Tink. Ce vernis sera disponible à partir d'Avril a Juin 2013. Sa base est rose fluo et jelly. Il contient de petites étoiles metalliques argent et rose pâle, de petites et grosses paillettes rondes holographiques argent et roses. Il contient également des paillettes iridescentes bleues, vertes et violettes. J'ai posé 3 couches pour une obtenir une bonne opacité (sa texture jelly le rend peu opaque) et j'ai du le diluer un peu car il était très épais. Je n'ai eu aucuns soucis pour positionner les paillettes. J'ai également pris une photos sous lumière noire pour faire ressortir le côté fluo. Il est vraiment beau !
What I did not tell you, this week will be 100% Jindie Nails, I have lots of beautiful polish to show you. The wonderful Jen sent me new nail polish to review. And the first one I wanted to show you is the bright neon pink in imited edition, Pickled Tink. This polish will be available from April to June 2013. It has a bright neon pink jelly base. It has silver and light pink metallic tiny stars, silver and light pink smaller dots and light pink holographic larger dots and lots of beautiful shimmer throughout. It also has bits of blue, green and purple iridescent, glowing glitters (does not actually glow, just appears to light from within). I put three coats to get a good opacity (jelly texture makes it not really opaque) and I had to add thinner because it was a little bit thick. I had no worries for positioning glitter. I also took a picture under black light to bring out the neon side. It is really beautiful!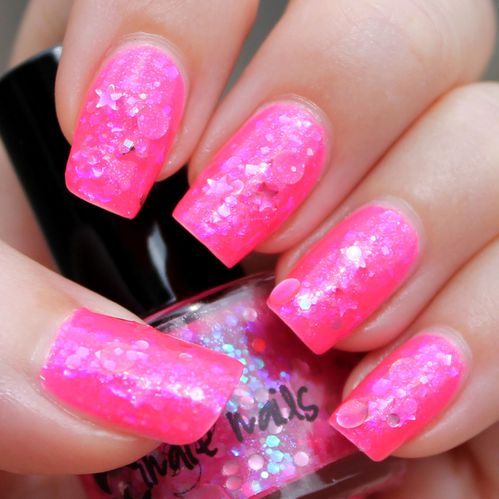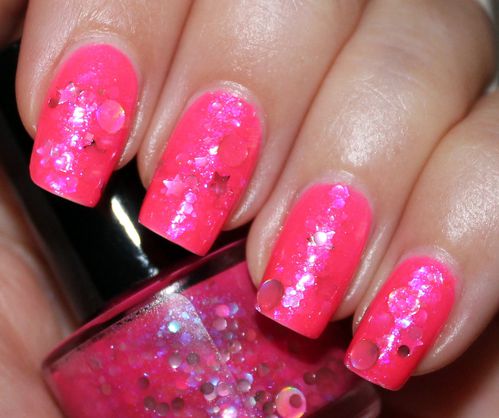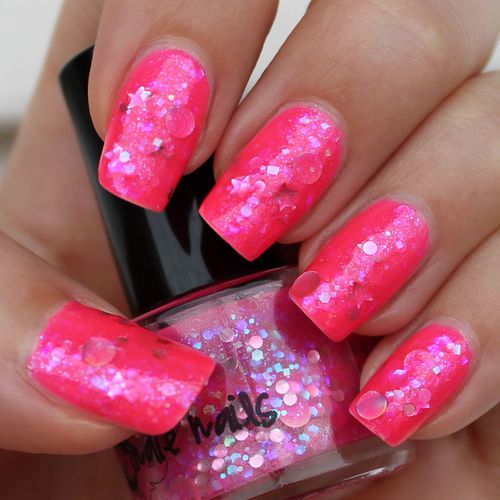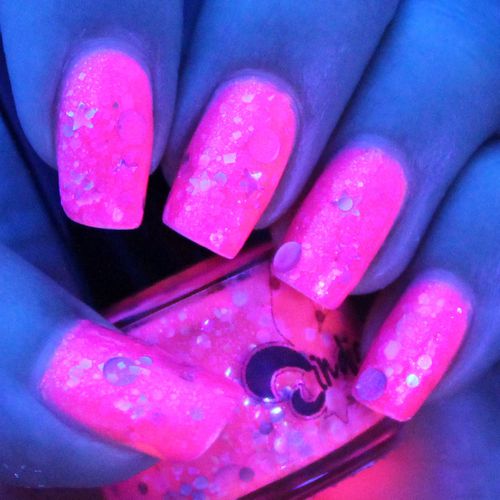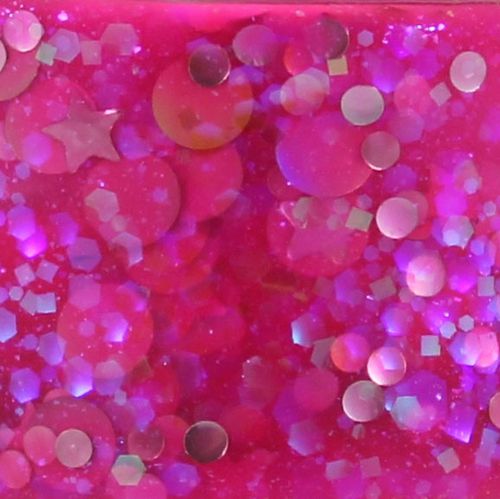 Peel-Off Base / Revlon Quick dry base coat / Jindie Nails Pickled Tink / Poche Top Coat
Ou acheter / where to buy: On Jindie Nails Website (US) or Llarowe, Mei Mei's Signatures,Harlow & Co, Femme Fatale and Ninja Polish (International). You can follow Jindie Nails on Facebook for more informations about the restocks.