Pour terminer cette semaine Jindie Nails voici le duo mat avec Hot Pink Floyd et sTEALth. Tous les deux sont mattes, j'ai mis 2 couches pour chaque et pas de top coat. Ils ont un temps de séchage très rapide et malgrè la forte densite de paillettes ils ne sont pas trop épais. J'aime beaucoup Hot Pink Floyd (ben il est rose fluo) et un peu moins sTEALth mais il est tout de même très beau.
To finish this Jindie Nails week here is the matte velvet duo with Hot Pink Floyd and sTEALth. Both are matte, I put 2 coats for each and no top coat. Theyare very fast drying and despite the high glitter density they are not too thick. I love Hot Pink Floyd (well it is neon pink) and a little less stealth, but it is still very beautiful.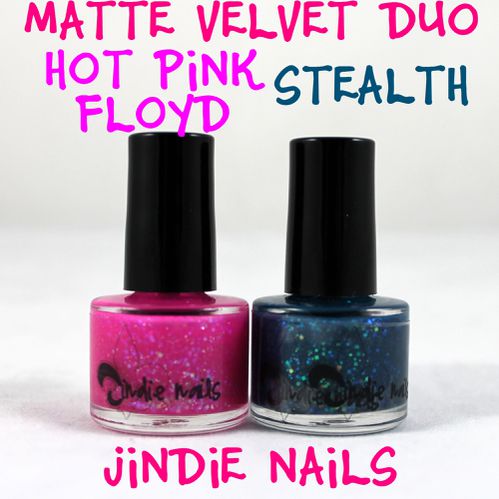 Hot Pink Floyd a une base néon rose vif crelly avec de superbes reflets irisés, des paillettes carrés de couleur changeante et des paillettes hexagonales en bleues/violettes/vertes. Il a également des flakies argentées! Il sèche en un fini mat et velouté. La tenue a été testée pendant 5 jours est était toute aussi bonne avec et sans top coat. Ce vernis est en édition limitée.
Hot Pink Floyd has a super bright neon pink crelly base with iridescent, color shifting squares and hex in blue/purple/green. It also has bits of real silver flakes throughout! It dries to a velvety matte finish. The wear time was much longer when tested for 5 days and held up just as good as the other hand with same shade and top coat applied. This looks great with or without top coat. This will be a limited edition polish.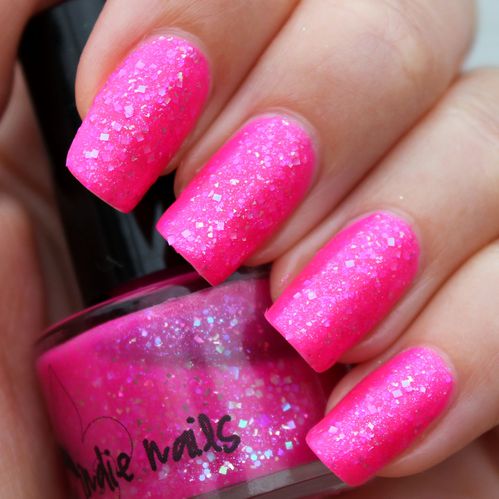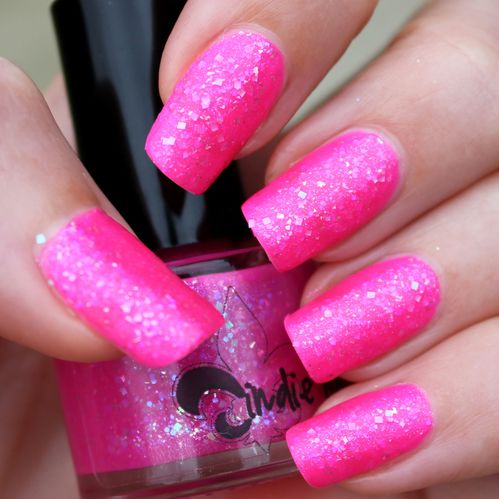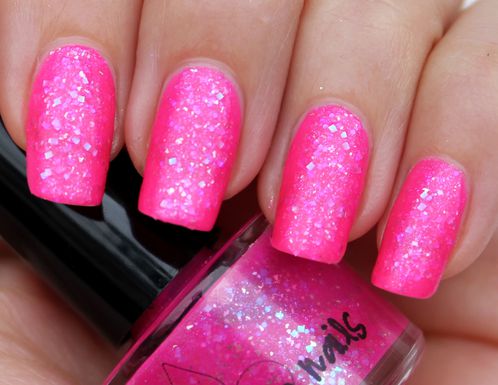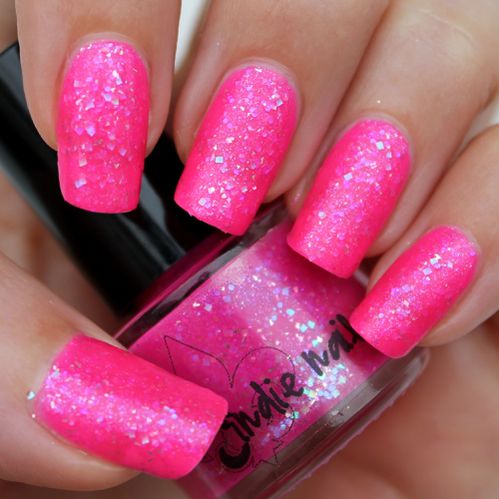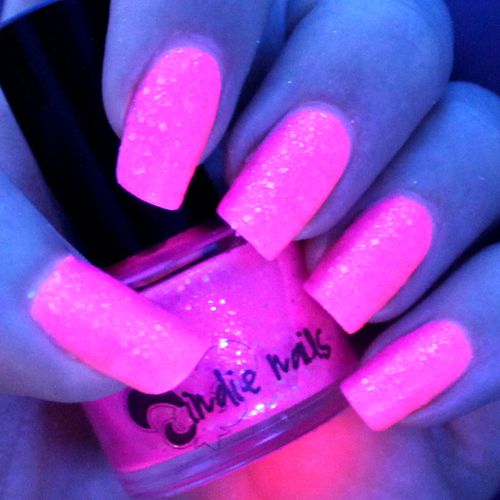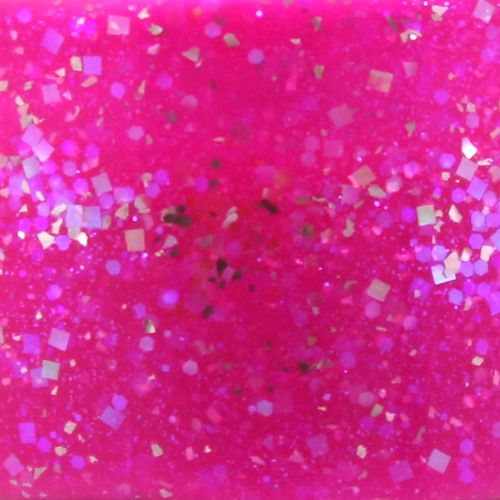 sTEALth est un vernis mat au fini velours, turquoise, texture crelly avec des paillettes de couleur changeantes bleues, violettes et vertes irisées. Ce vernis sèche en un fini mat satiné, mais peut être porté avec un top coat brillant pour un look complètement différent. La tenue a été testée pendant une semaine et il n''a montré aucun signe d'usure. sTEALth est un vernis en édition limitée.
sTEALth is a matte, velvet finish deep teal crelly with blue, purple and green iridescent and color shifting glitters. This polish dries to a satin matte finish but can be worn with a shiny top coat for a completely different look. Tested this matte base for a week and held fine in normal wear and tear. Showed no signs of wear for a couple of days. sTEALth is a limited edition polish.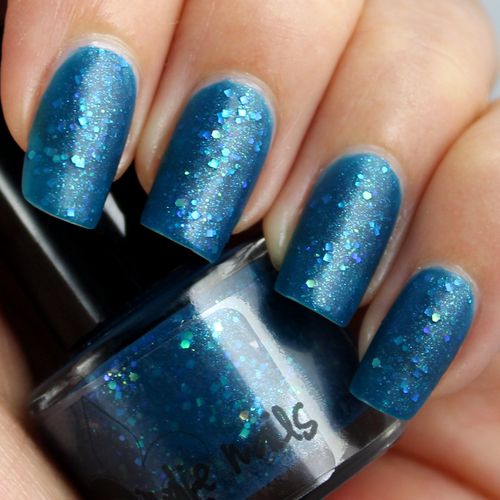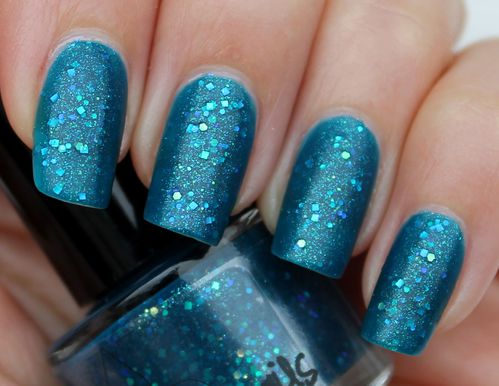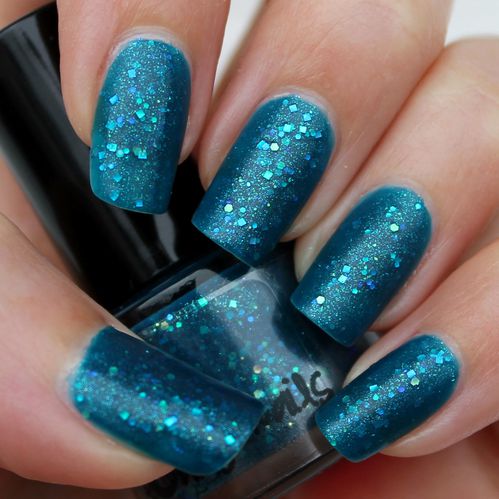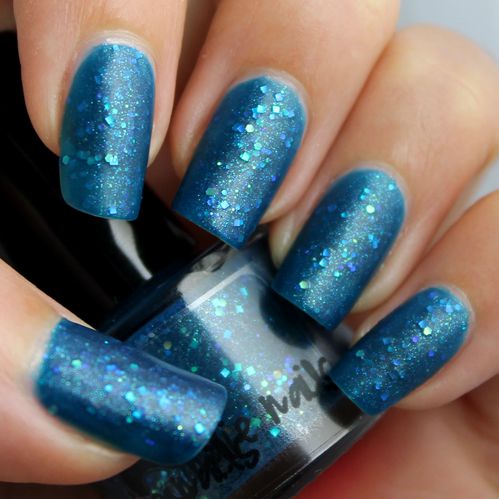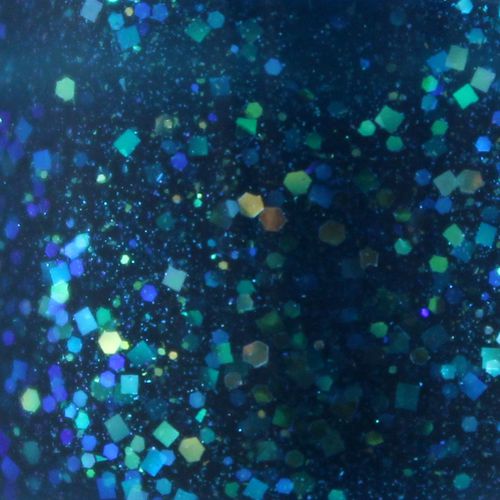 Ou acheter / where to buy: On Jindie Nails Website (US) or Llarowe, Mei Mei's Signatures,Harlow & Co, Femme Fatale and Ninja Polish (International). You can follow Jindie Nails on Facebook for more informations about the restocks.