(This nail polish was sent for review by Jindie Nails)
Aujourd'hui une nouvelle petite merveille de Jindie Nails, I'm a Star dot Com. J'avais commandé Candy Land Remix et Barney Blew Up en pre-order, et j'ai reçu ce petit vernis tout mignon (avec Rave aussi) pour une review... et comme j'adore les vernis de Jen je l'ai posé direct. La base est blanche jelly, et elle contient des grosses paillettes rondes noires, des plus petites roses et noires, des paillettes hexagonales argentées et des étoiles noires et argent. Ca en fait des paillettes ! Du coup la pose est légèrement challenging, ici j'ai posé deux couches épaisses pour bien positionner les paillettes, mais rien de bien compliqué, et le résultat est vraiment chouette !
Today, a new marvel from Jindie Nails, I'm a Star dot Com. I ordered Candy Land Remix Barney Blew Up in pre-order, and I received this cute little varnish (also with Rave) for review... and as I love Jen varnish I put it as soon as I got it. The base is white jelly, and contains large round black glitter, smaller pink and black, silver hexagonal glitter and black and silver stars. That's a lot of glitter! So the application is somewhat challenging, here I put two thick layers to position the glitter, but nothing too complicated, and the result is really great!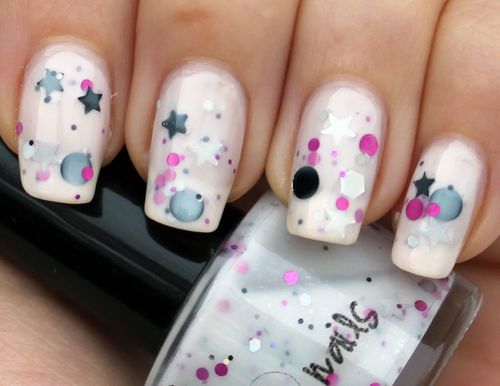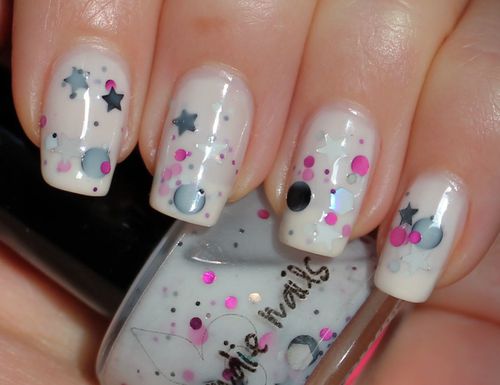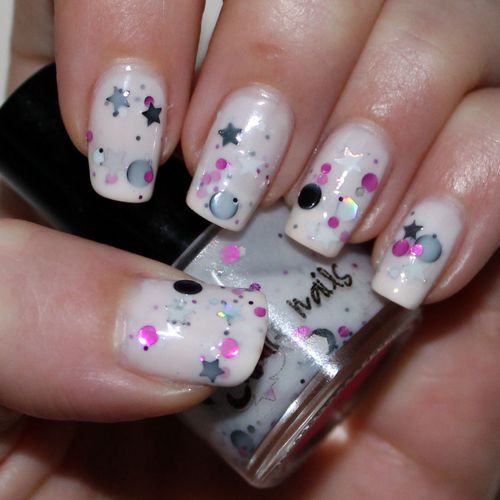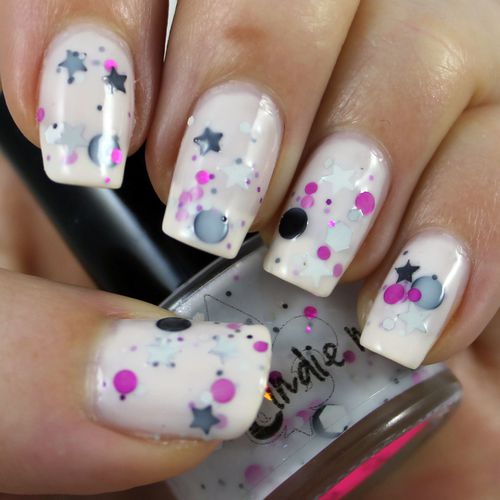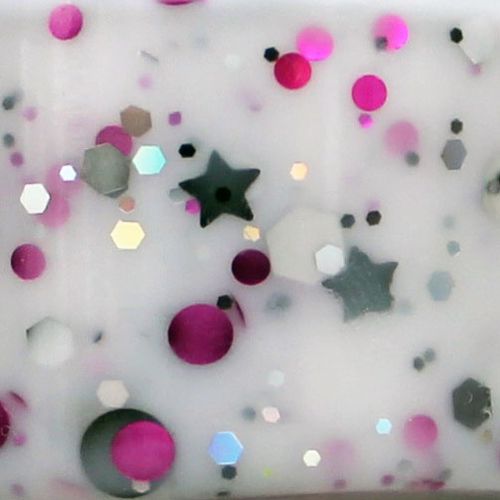 Peel-Off Base / Revlon Quick dry base coat / Jindie Nails I'm a Star dot Com / HK Girl Top Coat
Ou acheter / where to buy: On Jindie Nails Website, Jindie Nails etsy shop (US) or Llarowe, Mei Mei's Signatures, Harlow & Co, Femme Fatale and Ninja Polish (International). You can follow Jindie Nails on Facebook for more informations about the restocks.