(I received these products complimentary from Influenster for testing purposes)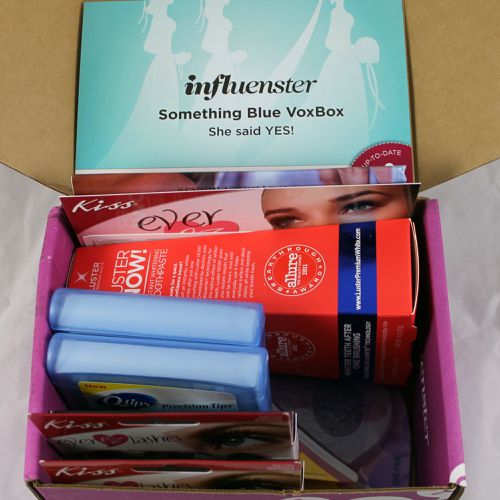 Il ya quelques semaines, j'ai reçu un email de Influenster me disant que j'étais pré-sélectionné pour la SunKissed Box. J'ai donc rempli le sondage et j'ai finalement reçu la box Something Blue. En effet, l'une des questions du sondage était de savoir si j'allais participer à un mariage cette année , ce qui est mon cas (en tant qu'invité) donc au lieu de la summer box Sunkissed j'ai reçu celle-ci. Je ne peux pas la comparer à la SunKissed-ci car elle n'a pas encore été envoyée, mais il y a definitivement de sproduits sympas dans cette box. jettons un coup d'oeil.
A Few weeks ago I received an email from Influenster telling me that I was pre-selected for the SunKissed summer box. So I filled the survey and I finally received the Something Blue box. Indeed one of the question of the survey was to know if I will participate to a wedding this year (in my case just as a guest), and yes I will so instead of the classic summer box I received the wedding one. I can compare this one to the SunKissed one as it has not been sent yet, but there is definitely some nice products in this box. Let's take a look.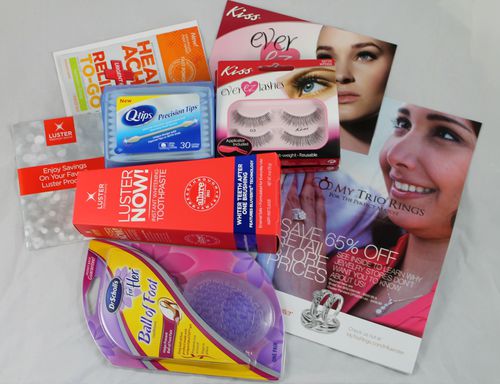 MyTrio Rings (prix variables) : "Un trio de bagues de mariage garantit que votre engagement soit aussi parfait que ce que votre qmour. L'ensemble MyTrio comprend à la fois la bague de fiançailles, l'alliance pour la mariée ainsi que l'alliance assortie pour le marié. C'est une façon intemporelle pour signifier votre amour et votre engagement." Le principe est sympa, les prix sont raisonnable, mais je n'aime pas trop les alliances pour homme avec des diamants, je les préfère plus simple, mais après chacun ses goûts. Evidemment comme ce n'est pas mon mariage je ne vais pas commander mais c'est une idée qui me plaît bien, si un jour je me marie.
MyTrio Rings (Cost varie): "A trio wedding ring set ensures that your commitment looks just perfect as it feels. The MyTrio set comprises both the engagement ring and wedding band for the bride as well as matching ring for the groom. It's a timeless way to signify your love and commitment." The principle is nice, the prices are reasonable, but I do not like the man rings with diamonds, I prefer them moresimple, but everybody have diffrent taste. Obviously as this is not my wedding I will not order but it is an idea that pleases me, if I ever get married.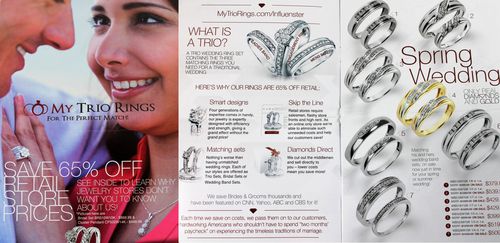 Kiss everEZLashes ($4.98 le lot de 2) : "Faux cils Kiss everEZLashes avec applicateur pour une application facile. Il existe toute une variété de styles qui sont parfaits pour toutes les tenues de jour ou les événements officiels du soir, ils sont un must-have pour les demoiselles d'honneur et, bien sûr - la mariée!" Ils sont beaux, je les trouve superbes, mais sincèrement je n'essayerai même pas de les poser. j'ai déjà essayé avec des faux cils Kiss d'une précédente box Influenster, je suis sure qu'ils sont faciles à mettre mais moi je n'y arrive pas. la dernière fois j'y ai passé presque une heure, je ne suis pas douée pour ça, donc je ne donne pas d'opinion sur ce produit.
Kiss everEZLashes ($4.98 for a duo pack): "Kiss everEZLashes with Kiss applicator allows for a perfect application every time! Coming in a variety of styles that are perfect for every day wear or formal evening events, they are a must-have for bridesmaids and of course - the bride!" They are beautiful, I find them wonderful, but honestly I will not even try to put them. I already tried Kiss everEZLashes from a previous box Influenster, I'm sure they are easy to apply but I can not. the last time I spent almost an hour, I'm not good at it, so I will not give any opinion about this product.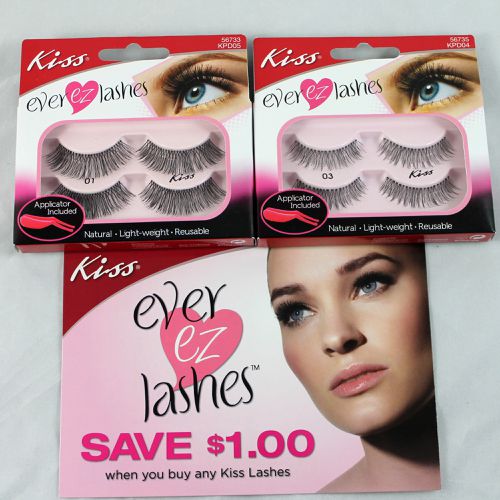 Luster Now! Instant Whitening Toothpaste ($7.99) : "Profitez instantanément de dents plus blanches avec Luster Now! Dentifrice blanchissant instantané. Sa proprieté Bluerite® technologie crée un effet d'optique instantané de dents plus blanches, avec des résultats qui durent pendant des heures." Donc ce n'est pas réellement un dentifrice blanchissant car c'est juste un effet d'optique, mais dans le principe il existe la même chose pour les ongles, les vernis blanchissant qui ont une base bleue. ça ne marche pas trop mal j'ai testé mais j'ai la chance d'avoir des dents bien blanches, cela reste un dentifrice, je ne suis pas sure que j'en rachèterai malgrès tout.
Luster Now! Instant Whitening Toothpaste ($7.99): "Enjoy instantly whiter teeth with Luster Now! Instant Whitening Toothpaste. Its propriety Bluerite® technology creates the optical effect of instantly whiter teeth, with results that last for hours." So this is not really a whitening toothpaste because it's just optical effect, but in principle there is the same for nails, nail whitening base are blue. It works well, I tried but I am fortunate to have very white teeth.It is a good toothpaste, but I'm not sure that I will buy it despite everything.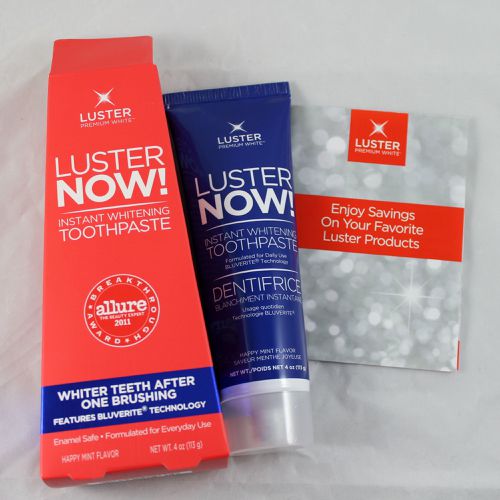 Q-tips® Precision Tips™ ($2.59-$3.35) : «fabriqués avec une pointe fine aux deux extrémités et 100% pur coton, les cotons-tiges Q-tips® Precision Tips™ sont parfaits pour retoucher votre eye-liner, appliquer précisément votre anti-cernes et perfectionner manucure comme une pro le jour de mariage." Alors ça j'adore, j'en ai déjà à la maison, je les utilise principalement pour mes ongles mais aussi pour le liner. C'est vraiment un produit que j'aime et dans le box ils sont dans des petites boîtes très pratiques pour mettre dans le sac à main ou pour partir en voyage.
Q-tips® Precision Tips™ ($2.59-$3.35): "Made with pointed tips at both ends and 100% pure cotton, Q-tips® Precision Tips™ cotton swabs are ideal for touching up eye liner, precisely applying concealer and perfecting manicures like a pro on your wedding day." So I adore them, I already have some at home, I use them mainly for my nails but also for the liner. This really is a product that I love and the box they are in small handy boxes to put in the handbag or to go on a trip.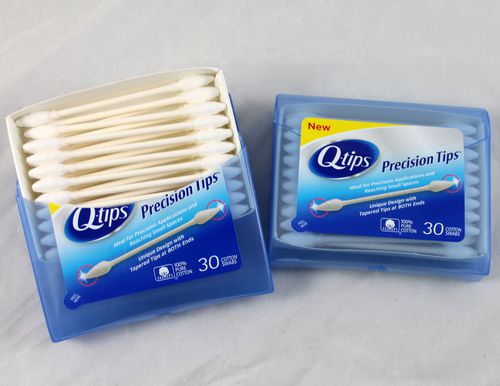 Dr. Scholl's® For Her Ball of Foot Cushions ($6.99) : "Les coussins de pied Dr. Scholl's® sont conçus pour empêcher les douleur au pied dans n'importe quelle chaussure de femme, de sorte que vous n'avez pas à sacrifier la mode pour le confort. Leur gel unique offre un amorti et absorbe les chocs, sa forme mince empêche pieds de glisser vers l'avant et vous aide à éviter les froissements des orteils". Là encore un produit que j'aime, j'en ai dans quasiment toutes mes chaussures à talons, parce que j'aime porter des talons mais j'ai les pieds ultra sensibles. C'est un produits qui marche et je suis ravie d'en avoir reçu dans ma box.
Dr. Scholl's® For Her Ball of Foot Cushions ($6.99): "Dr. Scholl's® For Her Ball of Foot Cushions are engineered to prevent ball of foot pain in any woman's shoe, so you don't have to sacrifice fashion for confort. Their unique gel provides cushioning and absorbs shock, and slim design prevents feet from sliding forward and helps you avoid toe scrunch." Again a product that I love, I have them in almost all of my heels, because I love to wear heels but I have ultra sensitive feet. This is a product that works and I am delighted to have received one in my box.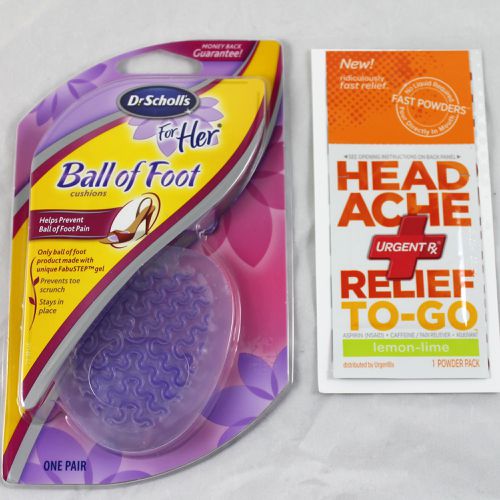 Urgent Rx® Fast Powders ($1.39) : "Urgent Rx® Fast Powders sont des petits paquets sachets de la taille d'une contenant un medicament contre la douleur aromatisé et d'action rapide. Pas d'eau. Pas d'attente. Juste le soulagement immédiat de la douleur." L'idée est géniale, je souffre souvent de maux de tête et je n'ai pas toujours de l'eau sur moi, ce petit sachet est parfait. Le goût est un peu chimique mais c'est facile à prendre et ça agit vite, testé et approuvé !
Urgent Rx® Fast Powders ($1.39): "Urgent Rx® Fast Powders are credit card-sized packets of fast acting flavored powder medication. No water. No waiting. just right-now relief." The idea is great, I often suffer from headaches and I do not have water on me all the time, this little bag is perfect. The taste is a bit chemical but it is easy to take and it works quickly, tested and approved!