Alors là je vous l'accorde on frise l'hystérie et vous vous dites autant de vernis alors qu'elle avait dit faire un No Buy (= aucun achat de vernis) ce mois-ci... Je vous rassure ces achats dates du mois dernier à l'exception des Cult Nails et des sonnetarium qui résultent de d'achats programmés (= je connaissais la date des soldes ou restock qui malheureusement étaient ce mois-ci et j'avais fait une liste précise de ce que je voulez et je m'y suis tenue). Bref voici la deuxième partie de mes achats de vernis Indies (pour marque indépendantes j'avais oublié de préciser la dernière fois) mais j'ai aussi eu la chance de gagner deux Giveaways...
Then I agree it is almost hysteria and I know you think so much polishes for someone that said being in a no buy this month ... I can assure you these purchases are from last month with the exception of Cult Nails and sonnetarium resulting from scheduled purchases (I knew sales and restock dates which were unfortunately this month and I made a list precisely what I want and I bought nothing more). In short here is the second part of my Indie polish purchases (for independent brand I forgot to mention last time) but I also had the chance to win two Giveaways...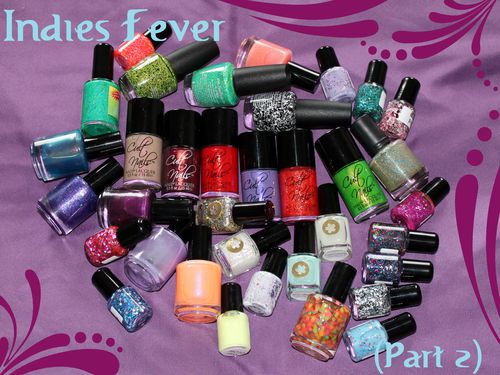 Bon allez je vous fait les présentations : Good going I made ​​the introductions:
- 6 vernis Cult Nails acheté lors des récentes soldes, Cruisin' Nude, Iconic, Annalicious, Charming, Captivated et Deal with it. 6 Cult Nails varnishes bought at recent sales, Cruisin' Nude, Iconic, Annalicious, charming, Captivated and Deal with it.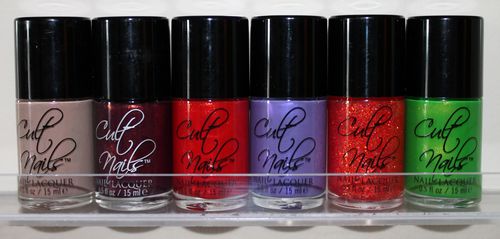 - 4 minis Pretty and Polished, le full size je l'ai gagné dans un giveaway (j'avais gagné Black Swan mais il y a eu une petite erreur lors de l'envoi, mais au final j'adore celui-ci aussi). 4 mini Pretty and Polished, I won the full size in a giveaway (I had won Black Swan but there was a littlel error at shipping, but overall I love it too)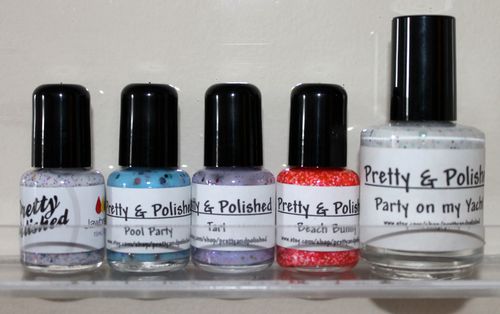 - 3 vernis Lilacquer (je ne vous mets pas les noms quand ils sont visibles sur les bouteilles ça ira plus vite). 3 Lilacquer varnishes (I do not put names when you can read them on the bottles it faster)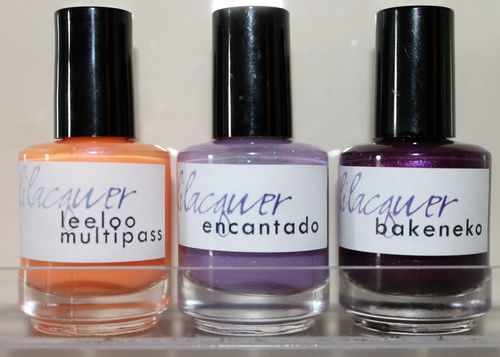 - 4 vernis Sonnetarium, Weapons of Massive Consumption, Snowfall, Never Glow up et Supernatural (ces deux derniers sont phosphorescents). 4 Sonnetarium varnishes, Weapons of Massive Consumption, Snowfall, Never Glow up and Supernatural (the latter two glow in the dark)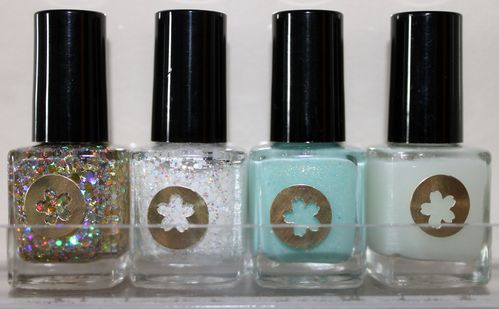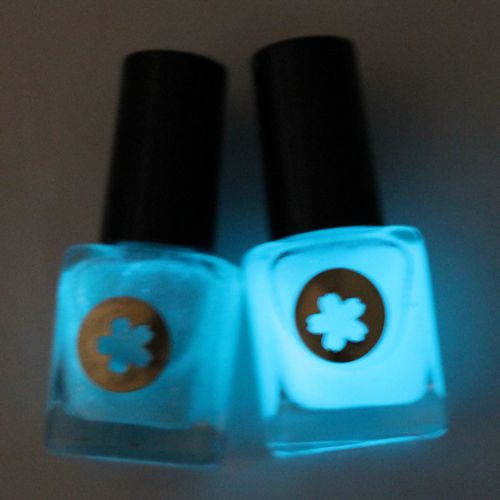 - 8 minis Lush Lacquer. 8 mini Lush Lacquer

- Gumdrops de Utopia et Serum 5 Day Glow (phosphorescent également). Gumdrops from Utopia and Serum 5 Day Glow (glows in the dark also)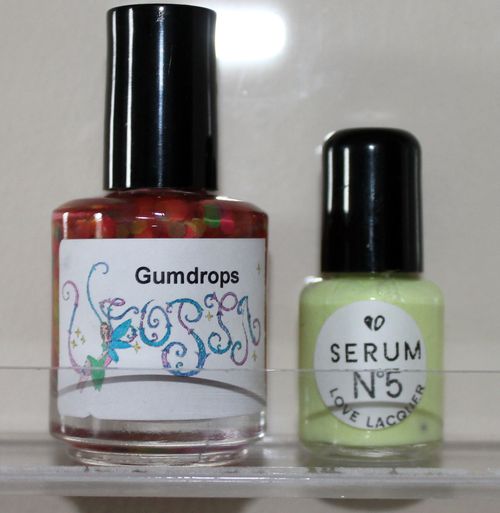 - 3 vernis Coco Allure. 3 Coco Allure varnishes.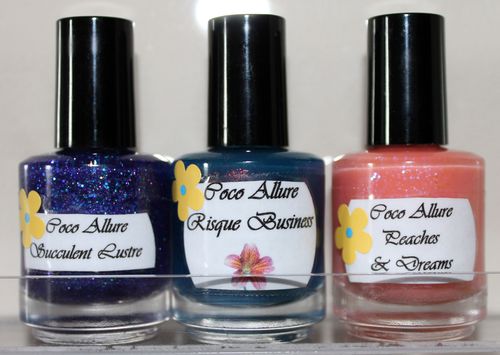 - 3 Ninja Polish, Humble Bee, Floam (les deux sont de Nail-Venturous) et Sticks'n Stones. 3 Ninja Polish, Humble Bee, Floam (from Nail-venturous) and Sticks'n Stones.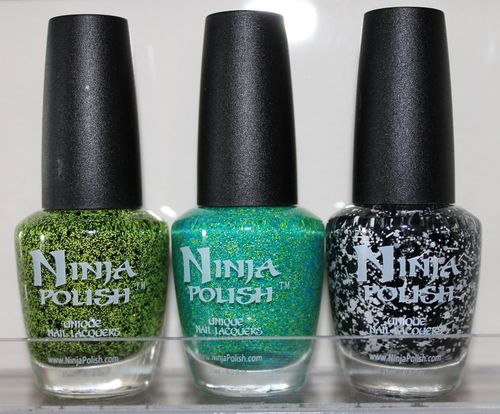 - Floam et Pinkerbell que j'ai gagné a un autre giveaway chez Good lack Nail!, avec une palette de fards à paupière Catrice (bien sur j'avais déjà mon Floam de Ninja polish, donc j'en ai deux :-) Floam Pinkerbell and I won from a another giveaway by Good Nail Lack Nail! With Catrice eye shadows (of course I already had my Floam from Ninja polish, so I have two :-)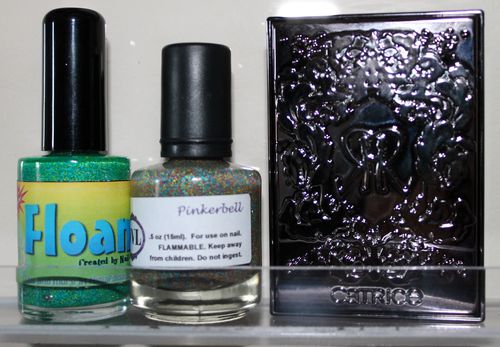 Et pour finir ma collection de vernis Indies, il reste un tout petit peu de place pour quelques top coat a reflets que je n'ai pas encore reçu, mais sinon je compte m'arrêter là, du moins pour le moment, ça fait beaucoup de vernis à tester^^
And to finish my collection of Indie nails Polish, there is a little space left for a few reflections top coat that I have not yet received, but otherwise I intend to stop there, at least for now, that's a lot polish to try^^