Je vous présente Gummy Bears de Naild'it. C'est un vernis avec plein de paillettes mates de toutes les couleurs, plus précisement aux couleurs des oursons en gelée Gummy Bears. Il y a des de grosses paillettes hexagonales mais aussi des paillettes plus fines et des petis carrés, une explosions de paillettes. Je l'ai posé sur Surfin' For Boys. L'application a été un peu difficile, le vernis était pâteux (ce qui arrive souvent quand il y a trop de paillettes) et j'ai du le diluer un peu avec un diluant pour vernis. Comme il y a énormement de paillettes, pas besoin d'aller à la pêche, mais par contre cela donne un resultat un peu granuleux et très épais, j'ai mis deux couches et il a fallut 2 couches de sèche vite pour donner un fini plus lisse (mais pas encore parfait). Le résultat est sympa, mais je suis un peu déçue car les grosses paillettes restent collées au flacon et du coup il y a plus de petites paillettes que de grosses sur mes ongles (contrairement à la macro du flacon à la fin de ce post), en plus j'ai choisit un vernis trop proche de la couleur de base (un peu jelly et orange) du vernis, du coup on a du mal à voir toutes les nuances de paillettes. La séchage est correct et la tenue aussi. Un avis donc mitigé car je m'attendais à autre chose en voyant le flacon mais il faudra que je l'essaye sur un vernis plus clair pour voir ce que ça donne.
I introduce Gummy Bears by Naild'it. This is a polish full of matte glitters of all colors, more precisely the colors of Gummy Bears. There are large hexagonal flakes but also finer glitters and little squares, an explosion of glitters. I put it over Surfin' For Boys. The application was a bit difficult, the varnish was thick (which often happens when there are too many glitters) and I had to dilute it with a little of lacquer thinner. Since there are plenty of glitter, no need to go fishing, but it gives a result a little grainy and very thick, I put two coats and it took two coats of sèche vite to give a better smooth finish (but still not perfect). The result is nice, but I am a little disappointed because the big flakes stick to the bottle and there are more small than large glitters on my nails (unlike what you can see on the macro of the bottle at the end of this post), and I chose a polish too close to the base color (an orange jelly) of the varnish, then it was hard to see all the shades of glitters. The drying is correct and the held is fine. So a mixed review because I was expecting something else when he saw the bottle but I must try it on a clearer varnish to see the result.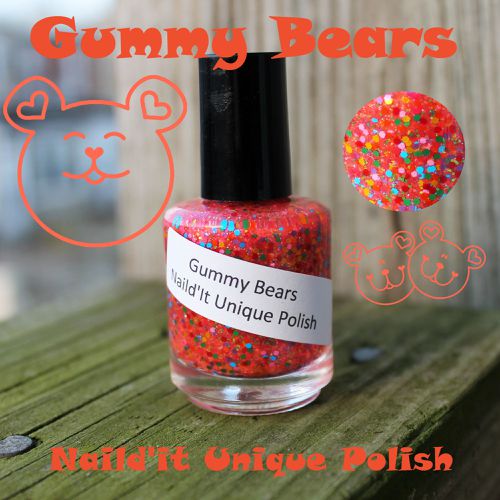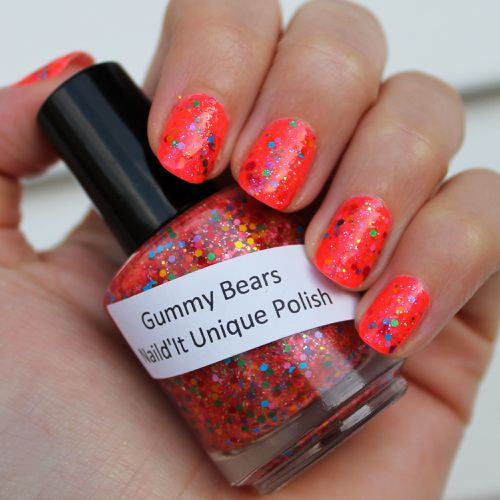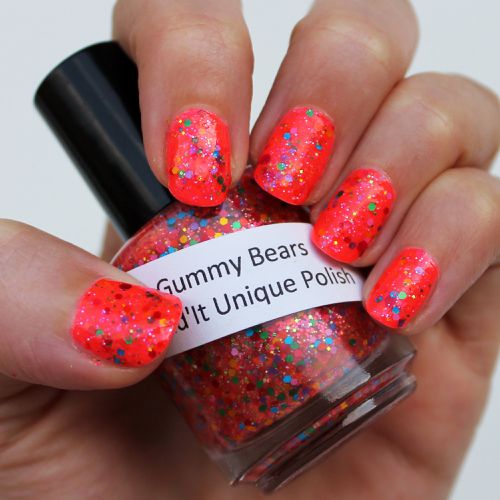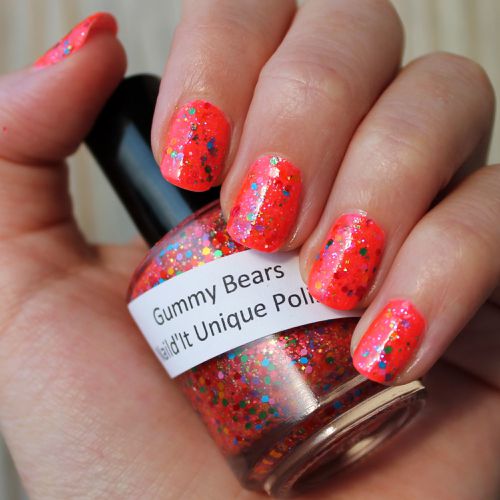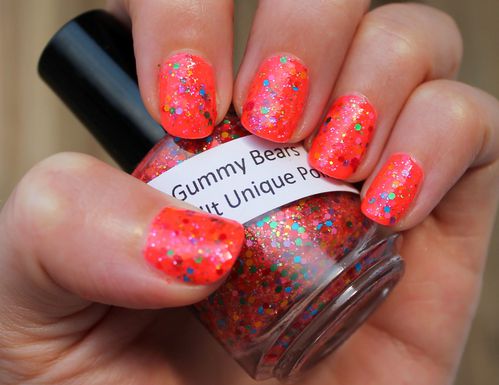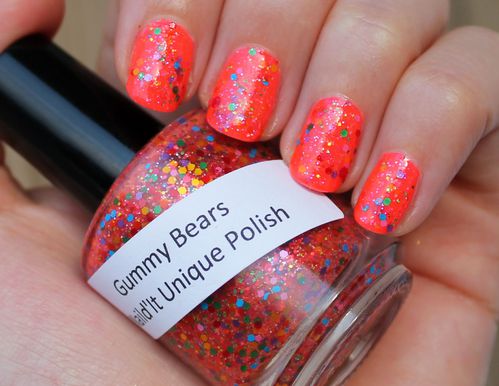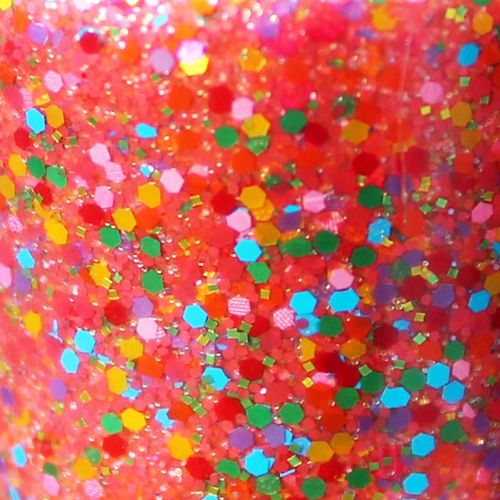 Revlon Post Trauma Nail Treatment / Revlon Quick dry base coat / China Glaze Surfin' For Boys / Naild'it Gummy Bears / Sèche vite Top Coat
Ou acheter / Where to buy: Online on Andeevie Etsy Shop but also at LLarowe, Overall Beauty and Mei Mei's Signatures.