Voilà voilà mes deux beauty box du mois de janvier, d'abord la Birchbox, un parfum (qui sent bon), une ombrer à paupières qui fait aussi blush (couleur corail doré), deux soins kérastase (je ne me lasse jamais des soins pour les cheveux) et un sérum minimiseur de pores et de rides. J'aime tout ce mois-ci je suis contente.
Here are my two beauty boxes from January, the first, Birchbox, contains a perfume (nice smell), an eyeshadow which can also be used as a blush (coral gold), two kérastase hair care (I never get tired ofhair care) and a pore and wrinkle minimizer serum. I love everything this month I'm happy.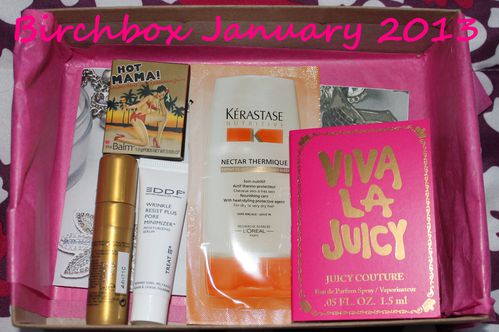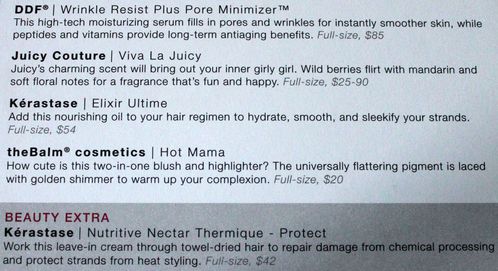 Ensuite mon petit MyGlam (Ipsy) Bag avec un baume pour le corps, un spray pour cheveux (je ne me sers jamais de ce genre de produits mais ça peut toujours servir), un vernis (rouge, pas ma couleur favorite mais de temps en temps c'est pas mal), une huile d'argan et un pinceau concealer... j'ai beau aimé ma birchbox encore une fois je pense que Ipsy gagne, d'abord parce qu'il y a un vernis, et ensuite parce que les produits sont plus gros (format voyage contre échantillons) !
Then my little MyGlam (Ipsy) Bag with a body butter, hair spray (I've been using ever such products but it can still be useful), varnish (red, not my favorite color but from time to time it is not bad), argan oil and a concealer brush... although I like my birchbox I think Ipsy wins again this month, first because there is a varnish, and secondly because the products are bigger (travel size against samples)!