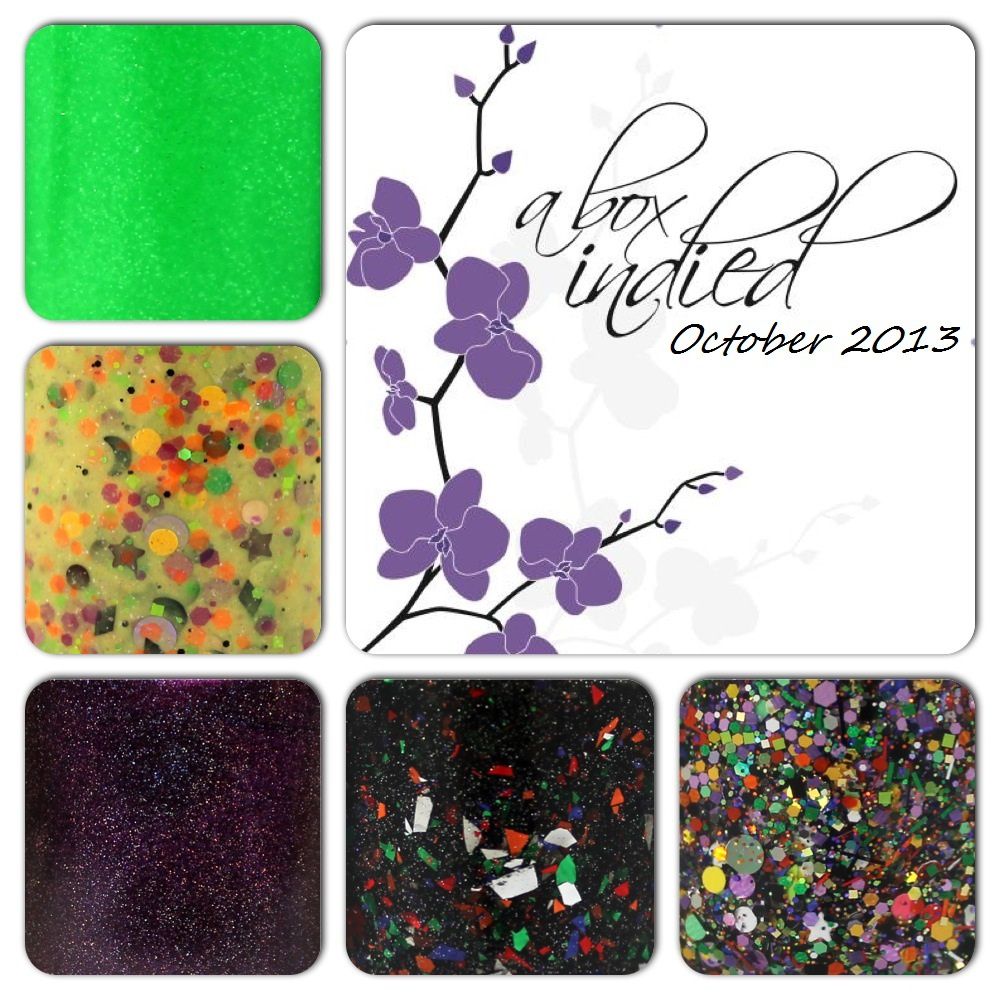 J'ai récemment reçu ma Box de vernis Indies exclusive du site Llarowe : A Box, Indied. Tous les mois 5 marques Indies (parmis les 10 participantes, plus de détails dans le lien à la fin de cet article) collaborent avec Llarowe pour créer 5 vernis exclusifs qui ne seront vendus nulle part ailleurs. En tant que grande fan des box j'ai bien sur décidé de tenter. La box n'est pas donnée, $50 (FDP inclus pour les US, mais ils livrent également à l'international et les tarifs dépendent de votre pays), mais il y a 5 vernis, ça fait $10 le vernis c'est raisonnable, surtout que ce sont des vernis exclusifs en édition limitée. En plus il y a des marques que j'aime (Jindie nails, Wicked Polish, Different Dimension) et d'autre que je n'ai jamais testées. La livraison a été super rapide, et voici ce que j'ai reçu dans une jolie boîte : Polish Me To Go Luna Verde, Jindie Nails Screaming Halloween, Ethereal Lacquer Devoured, Laquerlicious 1No Tricks, Just Treats! et Black Cat Lacquer Came Back Haunted. Bien sur comme j'avais le temps (merci le US gouvernment shutdown) je les ai tous essayé^^
I recently received my Llarowe exclusive box of Indies polish: A Box, Indied . Every month five Indie brands (among the 10 collaborating, more details linked at the end of this article) collaborate with Llarowe to create five exclusive varnish not be sold anywhere else. As a big fan of boxes I of course decided to try. The box is not cheap , $ 50 (shipping included for the U.S., but they also ship internationally and rates depend on your country ), but there are five varnish, $10 varnish is reasonable especially since they are exclusive limited edition polish. In addition there are brands that I like (Jindie nails, Wicked Polish ,Different Dimension) and others that I never tried. The shipping was super fast, and this is what I got in a pretty box: Polish Me To Go Luna Verde, Jindie Nails Screaming Halloween, Lacquer Ethereal Devoured, Laquerlicious 1No Tricks, Just Treats! and Black Cat Lacquer Came Back Haunted. Of course as I had the time ( thank you U.S. government shutdown) I swatched them all^^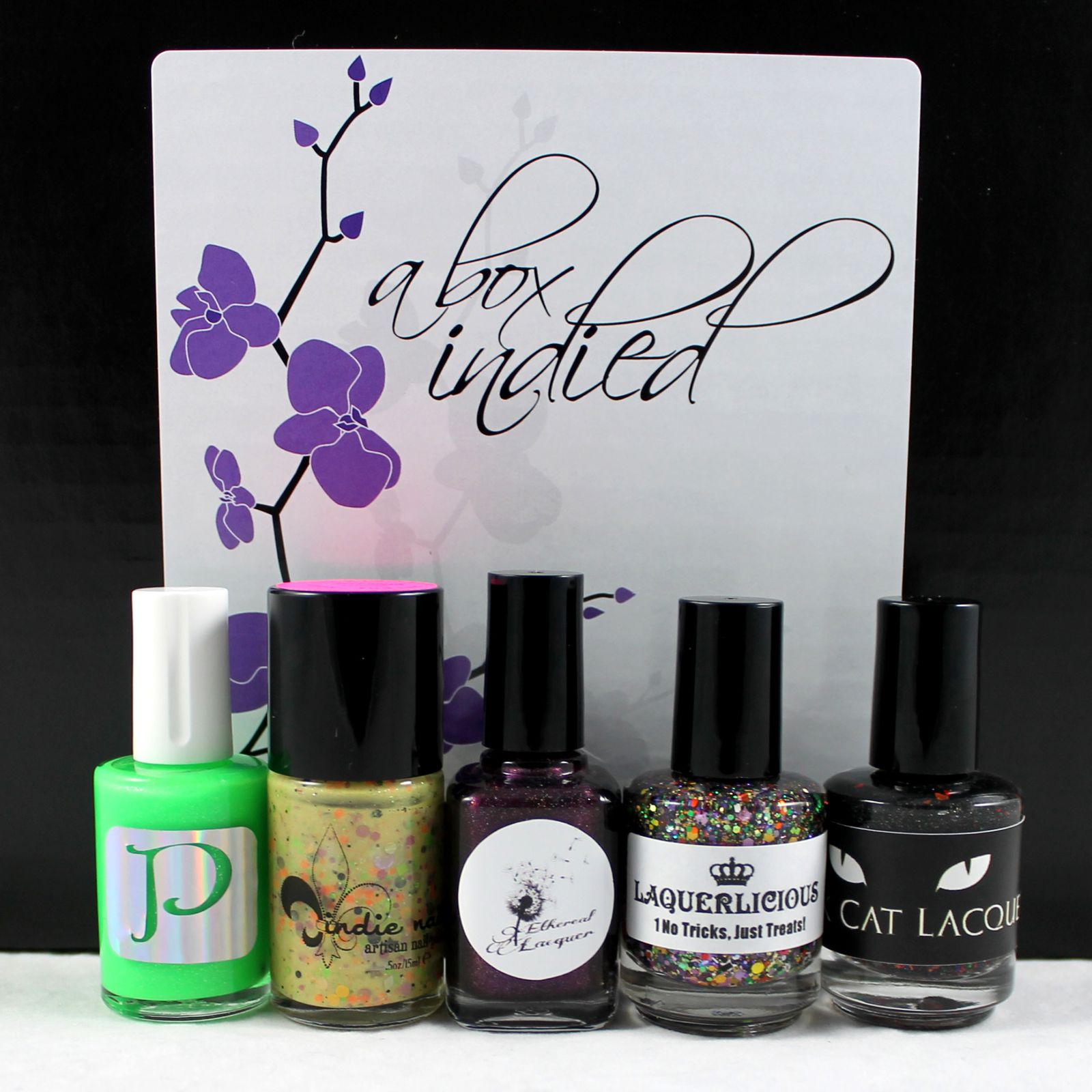 Le premier que je mourrais d'envie d'essayer c'est le Luna Verde de Polish Me To Go, parce que c'est un vernis phosphorescent. Comme il avait l'air peu opaque et que je voulais vraiment voir cette phosphorescence j'ai posé 2 couches sur une base blanche, et sans top coat il est légèrement mat. Je pense qu'il doit être pas mal également sur un vert fluo. Il est vraiment flashy, et il contient également des micro paillettes irisées qui lui donnent de petits reflets sympas. Et comme vous pouvez le voir sur la photo, il brille vraiment beaucoup dans le noir, ça pourrait presque m'empêcher de dormir ! Je ne suis pas déçue !
The first one I was dying to try is the Luna Verde by Polish Me To Go, because it is a glow in the dark polish. Since he is a little sheer and I really wanted to see it glow in the dark, I put two layers on a white base, and without top coat is slightly matte. I think it should also be nice over a bright green. It is really flashy, and it also contains micro iridescent flakies that give pretty nice reflections. And as you can see from the picture, it really glows in the dark, so much that it could keep me awake! I'm not disappointed!
L'autre vernis que j'attendais avec impatience dans cette box c'est le Jindie Nails. Vous savez que j'adore Jindie Nails, et comme tout Jindie en edition limitée, il me le fallait. Screaming Halloween a une base crelly un peu kaki et jaunâtre ce qui donne un mélange vert pas très sexy (en même temps c'est halloween). Il contient également tout un tas de paillettes dont certaines brillent à la lumière noire. C'est un Jindie donc je l'aime, mais c'est quand même une petite déception car je n'ai pas le couleur de la base, elle ne vas pas du tout à ma carnation.
The other polish that I looked forward to in this this box is the Jindie Nails. You know I love Jindie Nails, and like any limited edition Jindie Nails, I had to have it. Screaming Halloween is a khaki and yellow crelly base which gives a greenish color not very sexy (well it's an halloween color). It also contains a lot of glitter, some of which glow under black light. This is a Jindie so I love it, I am a little disappointed because I do not like the color of the base, it does not go at all to my skin tone.
Devoured par Ethereal lacquer et un superbe prune/violet holographique. Je connais la marque (je lorgne depuis un moment sur leur pastels fluos) mais je ne possédais encore aucuns de ces vernis. Il n'est pas très opaque, j'ai du mettre 3 couches. Je comprends que pour bien faire ressortir les reflets holographique la couleur de base ne doit pas être top opaque, et 3 couches ce n'est pas la fin du monde, mais il ne sèche pas très vite donc ça m'a pris un peu de temps. Ceci dit j'adore cette couleur, elle est parfaite pour cet automne/hivers.
Devoured by Ethereal lacquer and beautiful plum/purple holographic polish. I know the brand (I have been eyeing for a while on their neon pastels) but I did not have any of these polish. It is not very opaque, I had to put 3 layers. I understand that to bring out the holographic hues, the base color should not be too opaqueand three layers is not the end of the world, but it does not dry very quickly so it took me a little time. That said, I love this color, it is perfect for this fall/winter.
La vraie bonne surprise de cette box c'est ce vernis ultra pailleté Laquerlicious, 1No Tricks, Just Treats! Marque inconnue au bataillon, je n'avais donc jamais testé leur vernis. Je ne pensais pas aimer ce vernis, j'aime bien les paillettes mais avec modération (ou dans une base crelly comme les Jindie Nails). J'ai choisi une base violet foncé, ce qui à mon avis été un bon choix. Dès que j'ai posé la première couche j'étais émerveillée. C'est un parfait mélange de couleur, et je n'ai eu besoin que d'une seule couche, pas de fishing ni de paillettes à positionner, une merveille ! Donc je ne saurais pas trop dire pourquoi mais je suis amoureuse de ce vernis.
The real pleasant surprise this box is this ultra glittery Laquerlicious polish, 1No Tricks, Just Treats! Unknown brand for me, so I had never tested their polish. I did not think I will like this polish, I like glitter but with moderation (or in a crelly base like Jindie Nails). I chose a dark purple base, which in my opinion was a good choice. As soon as I put the first layer I was amazed. It is a perfect blend of color, and I only needed a single layer, no fishing or positionning glitter, a wonder! So I could not really say why, but I'm in love with this polish.
Et enfin pour terminer Came back Haunted de Black Cat Lacquer. Il contient à la fois de très fines paillettes argentées et des flakies colorées dans une base jelly noire. Il n'est pas opaque, donc je l'ai posé sur une base noire (ja'i mis 2 couches) mais je pense que n'importe quelle base foncée fera l'affaire. Il est joli mais je n'aime pas trop, mais ça je le savais avant de l'essayer, surement parce que ce n'est pas trop mon style. en tous cas la formule est parfaite, il sèche très vite et il est très glossy, vouvez par vous-même sur les photos, je n'ai pas mis de top coat et voyez comme il brille !
And finally Came back Haunted by Black Cat Lacquer. It contains both very fine silver glitter and colored flakies in a black jelly base. It is not opaque, so I put it over a black base (I put 2 layers) but I think any dark base will do. It is nice but I do not like it too much, but that I knew that before trying it, probably because it's not really my style. in any case the formula is perfect, it dries very quickly and is very glossy, look for yourself in the pictures, I did not put top coat and see how it shines!
En résumé, j'aime le principe d'une box de vernis Indies, j'aime les marques qui collaborent (celles que je connais du moins), la qualités est là, et ce n'est pas si cher que ça quand on y pense pour 5 vernis exclusifs. En plus on connais à l'avance les marque et vernis qui seront dans la box, Llarowe et les marque participantes publient des swatches avant que la box soit mise en vente. Donc si vous n'aimez pas les vernis et que vous achetez au mois par mois, vous pouvez passer, et si vous avez un abonnement vous pouvez sauter un mois egalement en contactant le service client au moins 72h à l'avance, et je trouve ça vraiment bien ! pour plus d'infos pour avez le lien ci-dessous et personnellement je vais continuer la Box, Indied !
In summary, I like the idea of a box of Indies nail polish, I love the brands that collaborate (the ones I know at least), the quality is there, and it's not that expensive when you think for 5 exclusive nail polish. In addition we know in advance the brand and varnishes that are in the box, and collaborating brands and Llarowe publish swatches before the box is released. So if you do not like the polish and you buy month to month, you can skip a month, and if you have a subscription you can skip a month also by contacting the customer service at least 72 hours in advance, and I think it really great! for more info check the link below and personally I will continue A Box Indied!
A Box, Indied - LLarowe
http://www.llarowe.com/catalog/Shop-by-Collection/A-Box,-Indied