Today is a special day (I am getting married) and for this special day I shortened my nails chose a nice soft color, Essie Sugarplum Fairytales. I did not want anything too flashy but I still wanted some sparkles and a soft lilac color as my dress is lilac (we are not doing the white dress fancy wedding today because of COVID, just the courthouse, but still I am wearing a cute dress). So this color was perfect, it has the perfect color and is super sparkly without being too much in your face. It seems like Essie is a popular brand when it comes to wedding manicures, and for good reasons, they have the most beautiful soft colors, and this one is no exception!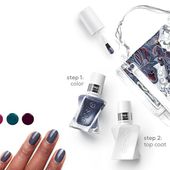 essie - Nail Colors, Nail Polish, Nail Care, Nail Art & Best Nail Tips - Essie
why hit the town, when it's even more fun to stay in with your best friends and the new essie not red-y for bed collection ? inspired by a girl's slumber party, these new 9 shades give you every ...