As I was talking the other day about brilliant colors from Essie, here is another one, One Way for One. A bright Barbie pink with an intense orange gold shimmer. It is such a pretty shade, dare I say perfect for a pink love like myself. I love the gold shimmer as it gives it a summer vibe, I absolutely love it. The formula is very opaque (2 coats) and very smooth, I have not gotten a pedicure yet this summer, but this color will definitely got on my toes as soon as possible!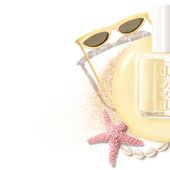 essie - Nail Colors, Nail Polish, Nail Care, Nail Art & Best Nail Tips - Essie
Nail Colors, Nail Polish Trends, Nail Care & At-Home Manicure Supplies by Essie. Shop nail polishes, stickers, and magnetic polishes to create your own nail art look.