Today I am wearing one of my very first nail polish, purchased years ago in France. Sometimes I like to revisit my olders colors, and this one has always been a favorite of mine. It is calledIndigo, and it an purple-ish blue (a bit more purple IRL) color, very vibrant, with some subtle pink shimmer. It is gorgeous, and I was pleasantly surprised to see that after some many year sthe consistancy was still pretty good, I just added a few drops of thiner and it was as good as new. It is very opaque and super smooth, I love it!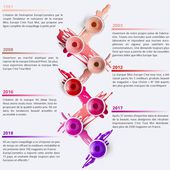 Europ Cosmetics - MakeUp & Fashion accessories
Pour un professionnel choisir EuropCosmetics c'est s'offrir l'opportunité de proposer un maquillage de qualité à sa clientèle avec de la variété et choisir parmi des univers totalement ...