Voici le dernier des 3 vernis LA Girl Gel-like Polish que j'ai acheté le mois dernier. Desire est un autre vernis rose, mais cette fois un eu plus magenta. Il est un peu moins opaque que les 2 autres, mais en 3 couches le résultat est quasiment opaque. Il a un fini plus "gel" mais cela lui donne un petit effet sympa. Globalement j'ai adore les 3 couleurs que j'ai acheté dans cette gamme.
Here is the last of 3 LA Girl Gel-like Polish I bought last month. Desire is another pink polish, but this time a more magenta. It is a little less opaque than the other 2, but in 3 layers the result is almost opaque. It has a more jelly finish but it gives it a nice juicy effect. Overall I love the 3 colors I bought in this collection.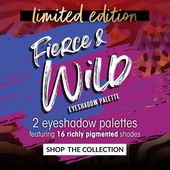 LA GIRL Cosmetics offers professional makeup & beauty products, like eyeshadow, eyeliner, mascara, primer, lipstick, lipgloss, blush, foundation, & many more.