And here is the last of the new Native War Paints I had to show you, Today it is the Halloween 2019 trio which will be available on the brand's website on October 11th. This is a very spooky but beautiful trio, very Halloween-y.
All Hallows Eve is a deep purple with red shimmer. It look more blue on the pictures but it is actually very purple, It has a satin amtte finish which mutes a little bit teh shimmer (which would pop a lot more if you add top coat for a glossy finish). It is super opaque and very smooth. This is definitely my favorite.
Tricks No Treats is a dark grey crelly polish with orange metallic glitter, fine green metallic glitter and ultra fine purple glitter. As I mentionned a few days ago gray crellys really scream Halloween to me so I am happy so see some in this trio. The finish can be a bit rough because of teh glitter, so top coat is necessary to smooth the finish.
Candy Bag is another gray crelly, this time a bit lighter, with orange, gray, purple, green and yellow metallic glitter. The bright colored glitter really contract with teh base color making is such a pretty combo, I love it. The finish of this one is a bit more smooth but would still require top coat in my opinion.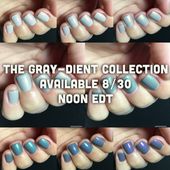 Native War Paints specializes in the most amazing, contrasting, shimmer polishes and eye popping, easy to use, watermarbling neons. For the most unique look on your nails, without breaking the bank