Comme je l'ai mentionné il y a quelques jours, avec mes ongles courts, je porte maintenant mes Essie TLC plus que mes autres vernis. Un de ceux que je n'avais jamais essayés auparavant est Tinted Love, un beuge orange laiteux très transparent, avec des reflets rouge discret. C'est la couleur parfaite pour un look naturel. Il est transparent donc laisse apparaître le bord libre des ongles pour un effet french manucure, mais sa couleur uniformise les ongles juste assez pour leur donner un fini net. J'ai utilisé 2 couches, peut-être que j'aurais pu en utiliser une 3eme, et j'ai également ajouté une couche de Essie gel Top coat pour rendre le fini un peu plus brillant et prolonger la manucure.
As I mentionned earlier, with my shorts nails I am now wearing my nude Essie TLC more than anything. One I never tried before is Tinted Love, a milky beigy orange,m very sheer, with a discret red shimmer. This is the perfect color for a natural nails look. It is sheer so it lets the free edge of the nails show for a natual french look, but its color evens the nails just enough to look clean. I used 2 coats maybe I could have used a 3rd one, and I also added a coat of Essie gel Top coat to make the finish a bit more shiny and make the manicure last a bit longer.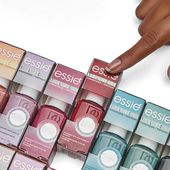 treat love & color for stronger nails -nail color & nail care - essie
color + care - pack a one-two punch with nail color that cares.