J'aime bien porter du vernis blanc, c'est un look original sophistiqué et "clean", et sur ongles courts le vernis blanc passe plutôt bien. J'ai donc choisi de porter Essie TLC In A Blush, c'est un blanc pas complètement blanc, il a une petite touche de rose. Il est très opaque, mais pas "patchy" comme beaucoup de vernis blanc, je n'ai posé que 2 couches fines et une couche de top coat et voila, une manucure toute simple mais sophistiquée, et qui en plus prend soin de mes ongles.
I like wearing white polish, it's an original, sophisticated and clean look, and on short nails white varnish looks fine. So I chose to wear Essie TLC In A Blush, it's a white but not so white, it has a touch of pink. It is very opaque, but not patchy like a lot of white polish, I only used two thin layers and a layer of top coat and voila, a simple but sophisticated manicure, and which in addition takes care of my nails .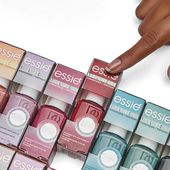 treat love & color for stronger nails -nail color & nail care - essie
color + care - pack a one-two punch with nail color that cares.