Je me suis fait un joli top ce week-end et je voulais le porter, donc il me fallait des ongles assortis. J'avais besoin d'un joli lilas, j'ai récemment reçu Nvr Enuff Morning Frost, et je me suis dit qu'il serait parfait. c'est un lilas pastel avec des reflets turquoise/rose duochromes. Il est magnifique, très opaque mais avec une formule très facile à appliquer Je l'adore!
I made myself a cute top this past weekend, and I wanted to wear it thus I needed my nails to match. I needed a pretty lilac, and I recentyl received Nvr Enuff Morning Frost, so I though it was going to be perfect. it is a pastel lilac with some duochrome turquoise/pink shimmer. It is gorgeous, very opaque but with a very easy to worlk with formula. I absolutely love it.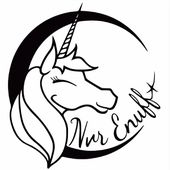 Handmade 5-free nail lacquer out of Northern California!