Mes ongles, c'est comme mes cheveux, je les laissent pousser jusqu'à ce qu'ils soient trop longs et m'énervent, et puis je coupe tout. Des fois cela fait du bien de les raccourcir. Et comme je n'aime pas les couleurs trop vives sur ongles courts, je porte un vernis simple et discret, Essie Treat Love & Color (TLC) Sheer to You. C'est un vernis blanc laiteux avec des reflets roses, super joli mais très translucide, j'ai posé 3 couches et on peut encore voir les stries de mes ongles, mais cela ne me dérange pas vraiment.
My nails are like my hair, I let them grow until they are too long and annoy me, and then I cut everything. Sometimes it feels good to shorten them. And as I do not like bright colors on short nails, I wear a simple and nude nail polish, Essie Treat Love & Color (TLC) Sheer to You. It's a milky white polish with pink highlights, super pretty but very sheer, I used 3 layers and you can still see the ridges of my nails, but it does not really bother me.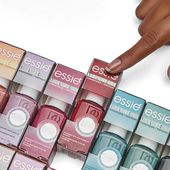 treat love & color for stronger nails -nail color & nail care - essie
color + care - pack a one-two punch with nail color that cares.