J'ai un peu maltraité mes ongles ces dernières semaines, du coup quand j'ai voulue retirer mes ongles en gel sana attendre les 15 min en papillotes, il y a eu des dégâts, de gros dégâts ! Bon alors on coupe tout court en on en prend soin, en commençant par mes vernis nude préférés les Essie Treat Love & Color (TLC). Pas de base, 3 couches de vernis soin et une couche de top coat gel Essie. Mes cuticules sont sèches et abîmées, la prochaine étape sera de penser a l'huile pour cuticules et la crème pour les mains tous les soirs.
I have not taken care of my nails teh past few weeks, so when I tired to remove my gel polis without wait 15 minutes in foil, there was a lot of damage, bad damage! Well so we cut it all off and now I need to take care of my nails, starting with my favorite polish treatment, Essie Treat Love & Color (TLC). No base coat, 3 coats of TLC varnish and one layer of Essie gel top coat. My cuticles are dry and damaged, the next step will be to think about cuticle oil and hand cream every night.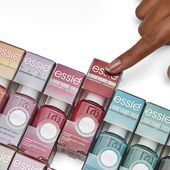 treat love & color for stronger nails -nail color & nail care - essie
color + care - pack a one-two punch with nail color that cares.