Apres Work for the Glow, voici Essie Loving Hue de la gamme Treat Love & Color. Un vernis traitement (i.e base et couleur), fortifiant, avec une joli couleur rose beige nude irisée. Il est peu opaque, j'ai utilisé 3 couches et le bord libre de mes ongles est encore visible, mais comme ce vernis n'a pas vraiment besoin de base, c'est aussi rapide qu'une manucure classique. J'au juste décidé de poser un top coat mat et j'ai trouvé le résultat fantastique.
After Work for the Glow, here is Essie Loving Hue from the Treat Love & Color range. A color + care (i.e base and color), fortifying, with a nice pinky nude iridescent color. It is not very opaque, I used 3 layers and the free edge of my nails is still visible, but as this varnish does not really need a base, it's as fast as a regular manicure. I just decided to put on a matte top coat and think the result is fantastic.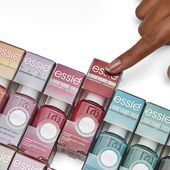 treat love & color for stronger nails -nail color & nail care - essie
color + care - pack a one-two punch with nail color that cares.