Avec mes ongles très courts, mes vernis Essie TLC ont été parfait ces dernières semaines. Je n'aime pas vraiment porter de vernis sont ongles ultra courts, mais le vernis les protègent et leur permet de repousser sans casser. Le gros avantages de ces Essie TLC, c'est qu'ils sont 3 en 1 (base, couleur et top coat) et qu'ils traitent et renforcent les ongles fragiles tout en leur donnant une touches de couleur. Je n'ai porté que ces vernis ces 3 dernières semaines, mes ongles ont adorés et leur tenue est impressionnante. Aujoud'hui je vous montre Soul Happy, un rose blanc pale très opaque avec des reflets perlés que j'ai porté au début sur mes ongles ultra courts. Je l'adore, il est parfait tel quel et il serait une base parfaite pour un nail art.
With my very short nails, my Essie TLC polishes has been perfect in the past few weeks. I do not really like to wear polish are ultra short nails, but the polish protects them and allows them to grow back without breaking. The big plus of these Essie TLC is that they are 3 in 1 (base, color and top coat) and that they treat and strengthen fragile nails while giving them a touch of color. I've only worn these polishes in the last 3 weeks, my nails have been so happy and they last forvever. Today I'm showing you Soul Happy, a very opaque pale pinky white with pearlescent reflections that I wore at the beginning on my ultra short nails. I love it, it is perfect as is and it would also be a perfect base for nail art.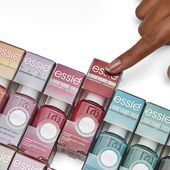 treat love & color for stronger nails -nail color & nail care - essie
essie TREAT, LOVE & COLOR is our first advanced 1-step strength & color in a collection of knockout nail polish shades.