Aujourd'hui je porte de nouveau un vernis fluo, Native War Paints Shy Violet. Il est suppose être violet fluo, mais apparemment il s'est décoloré est devenu rose fluo. Cela me rappelle un peu Love Wound de Femme Fatale, qui avait subit le même sort mais pour le mieux car personnellement je suis un grande fan de vernis rose fluo. Donc maintenant Shy Violet et rose fluo un peu corail avec des reflets dorés, un de mes combo préféré (doré et rose fluo). La formule est bonne, je ne dirais pas fantastique car il est un peu patchy, mais définitivement bonne et opaque en 2 couches.
Today I'm wearing a neon varnish, again, Native War Paints Shy Violet. It is supposed to be neon purple, but apparently it has faded and turned to a bright neon pink. It reminds me a little of Love Wound from Femme Fatale, which suffered the same fate but for the better because personally I am a big fan of neon pink varnish. So now Shy Purple and neon pink with a little coral and golden highlights, one of my favorite combo (gold and neon pink). The formula is good, I would not say fantastic because it is a little patchy, but definitely good and opaque in 2 coats.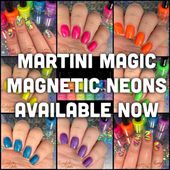 Handmade, artisan, indie nail polish. Specializing in shimmer polish.