Ce week-end nous rendons visite à des amis qui ont récemment eu une petite fille, cela m'a donné envie de porter un rose bébé, et aussi de raccourcir mes ongles, parce que j'aime jouer avec des bébés mais j'ai toujours peur de les blesser avec des ongles longs (oui je sais c'est bizarre). J'ai donc choisi de porter Essie No Baggage Please, le rose bébé parfait. Je suis sûre que ce n'est pas la premiere fois que je porte ce vernis, j'aime beaucoup la couleur, mais la formule est un peu "patchy" (puisque c'est un pastel ce n'est pas surprenant). Malgré la formule moyenne, j'aime beaucoup porter cette couleur!
This weekend we are visiting some friends who recently had a baby girl, this made me want to wear a baby pink, and also shorten my nails, because I like playing with babies but I am always afraid to hurt them with long nails (for some weird reason lol). So I chose to wear Essie No Baggage Please, the perfect baby pink. I am pretty sure I have worn this nail polish before, I really like the color, but the formula is a bit patchy (since it is a pastel it is not surprising). Despite the meh formula, I enjoy wearing this color very much!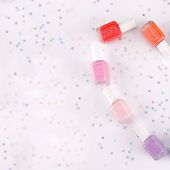 essie - Nail Colors, Nail Polish, Nail Care, Nail Art & Best Nail Tips - Essie
Nail Colors, Nail Polish Trends, Nail Care & At-Home Manicure Supplies by Essie. Shop nail polishes, stickers, and magnetic polishes to create your own nail art look.