Depuis quelques jours je n'ai envie que de couleurs "jewel tones" ou couleurs de pierres précieuses (ça sonne mieux en anglais). Ce sont en générale des couleurs plutôt automnales mais ce n'est pas grave, je porte les couleurs que je veux quelques soit la saison. Et donc en ce moment je porte Pretty Serious Cosmetics Khepri's Amulet, un magnifique vernis vert émeraude, vibrant et étincelant avec des reflets vert un peu dorés. C'est comme si je portais des émeraudes au bout des doigts ! La formule est plutôt bonne, mais il m'a fallut 3 couches pour obtenir une bonne opacité.
For a few days now I have only wanted to wear "jewel tones" colors. These are usually more fall colors but it does not matter, I wear the colors that I want whatever the season. And so right now I'm wearing Pretty Serious Cosmetics Khepri's Amulet, a beautiful emerald green polish, vibrant and shimmery with a little gilded green highlights. It's like I'm wearing emeralds at my fingertips! The formula is pretty good, but it took 3 layers to get good opacity.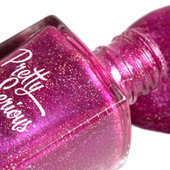 An Australian owned company creating high quality, professionally manufactured nail polish and nail care products. Cruelty free, 5 free and vegan friendly.