Je suis allée au CVS aujourd'hui pour chercher des médicaments, et je suis passée par le rayon des vernis à ongles. Grave erreur car je suis repartie avec quelques petites merveilles dont ce magnifique Essie Let it Glow. C'est un vernis rose, un peu "vieux" rose, avec des reflets cuivrés très intenses, de la collection Desert Mirage. Tout simplement magique, avec une formule fantastique, opaque en 2 couches. Par le passé j'ai été beaucoup déçue par Essie mais depuis quelques temps je trouve que leur collection sont superbes et leur formule bien meilleure.
I went to CVS today to get some medication, and I went through the nail polish aisle. Serious mistake because I left with some new pretties including this beautiful Essie Let it Glow. It is a pink varnish, a little dusty pink, with intense copper highlights, from the Desert Mirage collection. Simply magical, with a fantastic formula, opaque in 2 layers. In the past I was very disappointed by Essie but recently I think their collection are superb and their formula much better.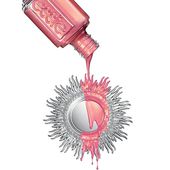 essie desert mirage collection - nail polish collections - essie
become captivated by the desert's optical illusions and transport yourself with our essie desert mirage collection - a palette of nail polishes that leave a mesmerizing effect on you. this ...
https://www.essie.com/nail-polish/whats-new/essie-desert-mirage-collection