J'ai une nouvelle Influenster VoxBox à partager avec vous, et c'est du maquillage (une autre de mes passions avec les vernis, les chaussures, les fringues, Lilly Pulitzer...). Et c'est également une marque que j'aime beaucoup, Kat Von D. Je suis une grande fan de leur rouge à lèvre liquide mat, alors bien sur quand c'est un rouge à lèvre mat (mais pas liquide) que je reçois , je suis super contente !! Alors son petit nom c'est Bow N Arrow et c'est un "Studded Kiss Crème lipstick". C'est une couleur nude, avec un peu de taupe et un peu de rose, qui me fait beaucoup pensé à la couleur Marsala (couleur de l'année 2015, pantone 18-1438). Pour la formule, c'est un rouge à lèvre crémeux, qui est très très opaque, s'applique à la perfection et reste en place toute la journée. Alors il n'a pas vraiment un fini mat mais plutôt satiné. Il n'est pas transfert-proof et son odeur est divine (un mélange entre une odeur de vanille et l'odeur typique de rouge à lèvre, un peu comme l'odeur des rouges à lrèves MAC). Bref une qualité au top, un résultat coloré et une formule fantastique.
I have a new Influenster VoxBox to share with you, and it's makeup (another of my hobby with nail polish, shoes, clothes, Lilly Pulitzer ...). And it's also a brand that I like a lot, Kat Von D. I'm a big fan of their matte liquid lipstick, so of course when it's a matte lipstick (but not liquid) that I receive, I am really happy !! So its little name is Bow N Arrow and it's a "Studded Kiss Crème Lipstick". It is a nude color, with a little of taupe and a little of pink, which reminds me a lot of the color Marsala (color of the year 2015, pantone 18-1438). Regarding the formula, it is a creamy lipstick, which is very very opaque, applies perfectly ans stays put all day. So it does not really have a matte finish but rather a satin one. It is not transfer-proof and its smell is divine (a mix between a vanilla smell and the typical smell of lipstick, a bit like the smell of MAC lipstick). In short great quality, a colorful result and a fantastic formula.
Kat Von D Beauty - Studded Kiss Crème Lipstick
Introducing the new and reborn Studded Kiss Crème Lipstick, the creamiest, most cushiony and unbelievably pigmented lipstick to ever cross your lips. Discover your new go-to color from Kat ...
https://www.katvondbeauty.com/lip/lipstick/studded-kiss-creme-lipstick/40006.html
Studded Kiss Crème Lipstick - Kat Von D | Sephora
Shop Kat Von D's Studded Kiss Crème Lipstick at Sephora. A breakthrough new lipstick combining super-creamy color and weightless, comfortable long wear.
https://www.sephora.com/product/studded-kiss-creme-lipstick-P427646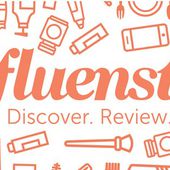 Influenster | Product Reviews, Q&A, News, and Exclusive Offers
Influenster is your source for honest product reviews. Discover new products, read trending news, watch tutorials, and shop and share your favorite products.