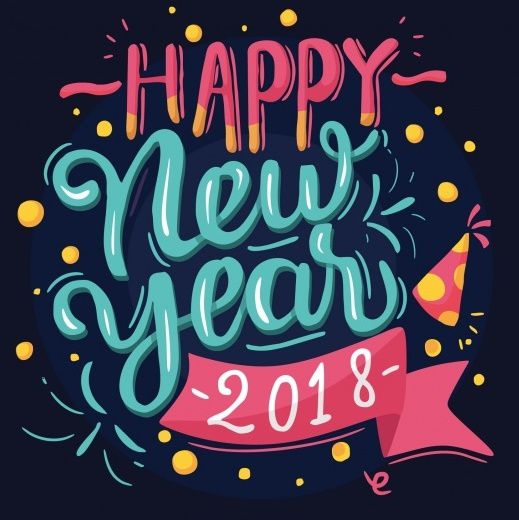 Bon déjà Bonne année à tous, Yeah 2018! Ensuite je sais que j'ai été pas mal absente depuis 2-3 semaines et je m'en excuse, mais il y a une bonne raison à cela. On m'a retiré un ongle mi-décembre à cause d'une petite tumeur bénigne dite "glomus" qui se cachait dessous. Rien de bien grave si ce n'est que c'est le pouce main gauche, qui est ma main que j'utilise pour swatcher. Je pensais pouvoir swatcher quand même sur les 4 autres ongles mais je ne m'attendais pas à ce que cela soir aussi douloureux, cela a bien pris 10 jours à cicatriser et je pouvais à peine utiliser ma main gauche. Du coup j'en ai profité pour raccourcir mes ongles et ne pas porter de vernis pendant quelques temps. Bref ce n'est pas très drôle mais ça va mieux maintenant, d'ailleurs e vous présente aujourd'hui l'un de mes plus gros haul de l'année 2017, à cause bien sur de Black Friday et Noël^^ (on se cherche toujours des excuses hein!)
So first Happy New Year everyone, Yeah 2018 is here! Then I know that I have been quite absent for the past 2-3 weeks and I apologize, but there is a good reason for that. I had a nail removed mid-December because of a small benign tumor called "glomus" that was hidding underneath. Nothing really bad except that it's the thumb of my left hand, which is my swatching hand. I thought I could still swatch on the other 4 nails but I did not expect that it was gonna be so painful, it took about 10 days to start healing and I could hardly use my left hand. So I decided to shorten my nails and not to wear polish for a while. So it has not been fun but I am better now, and today I show you one of my biggest haul of the year 2017, because of course of Black Friday and Christmas^^ (always trying to find excuses, right!)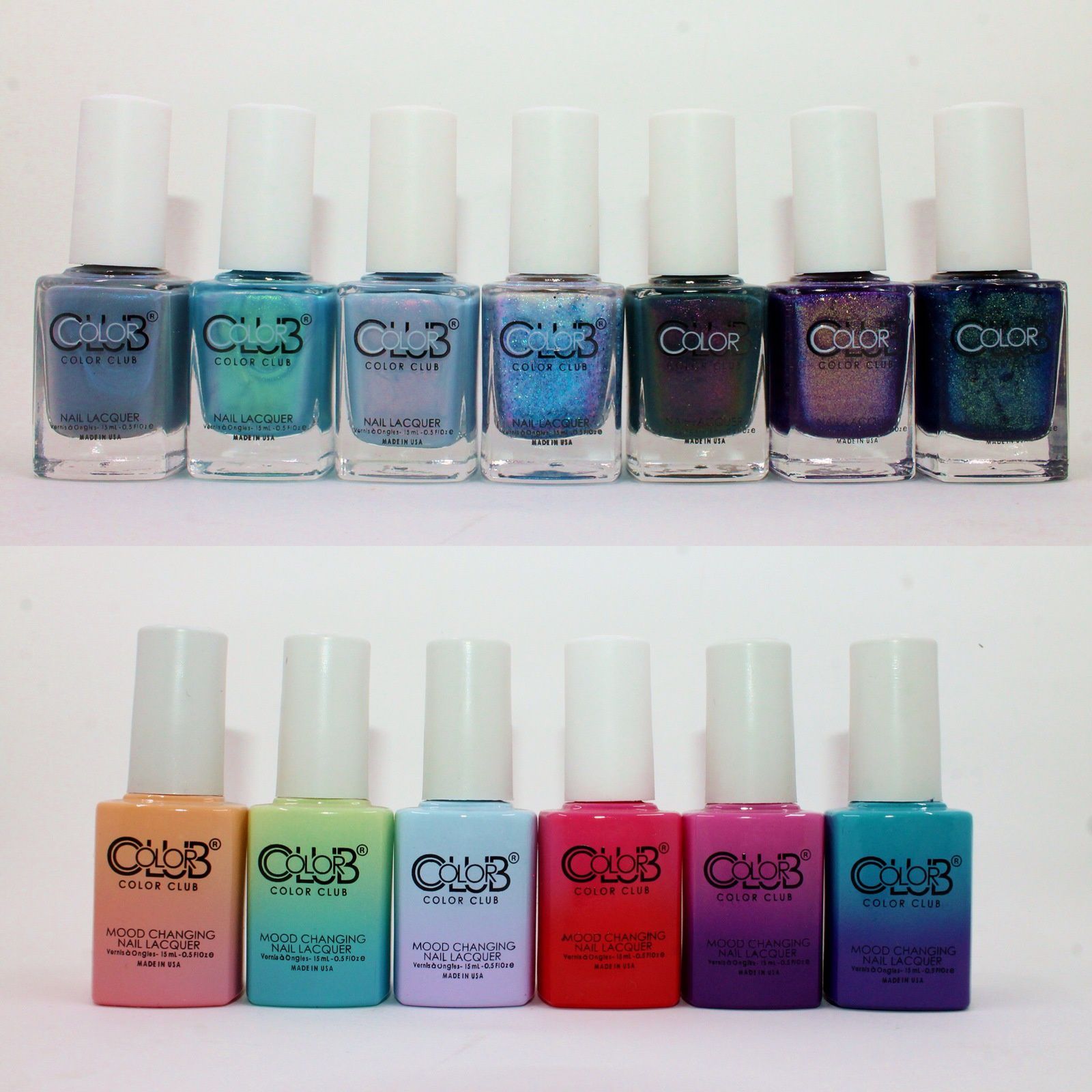 Color Club It's a Sign, Off the Charts, Element of Surprise, Constellation Prize, Across the Universe, Kiss my Astrology, Written in the Stars, Happy Go Lucky, Shine Theory, Blue Skies Ahead, Tankini, Feelin' Myself, Serene Green.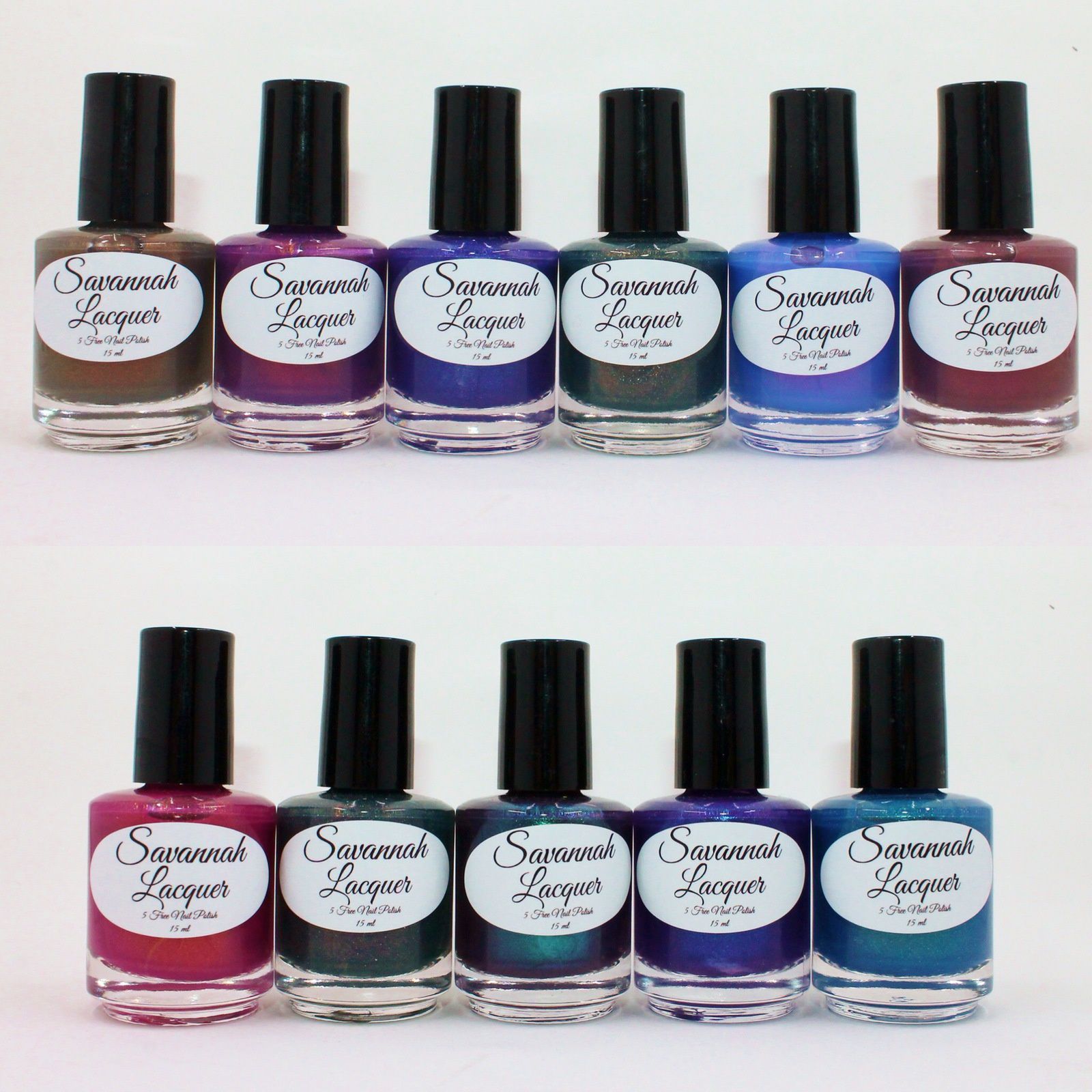 Savannah Lacquer 7:00 pm Yes That is teh Dress, 1:00 am Show Stopper, Tights Under my Shorts, I Don't Need the Cure, 5:00 am Walk of Shame, 3:00 Diner Divas, 9 pm Gossip and Drinks, Last Dance, My Last Breathe for my Brother, Chance Meeting, Frayed Jeans.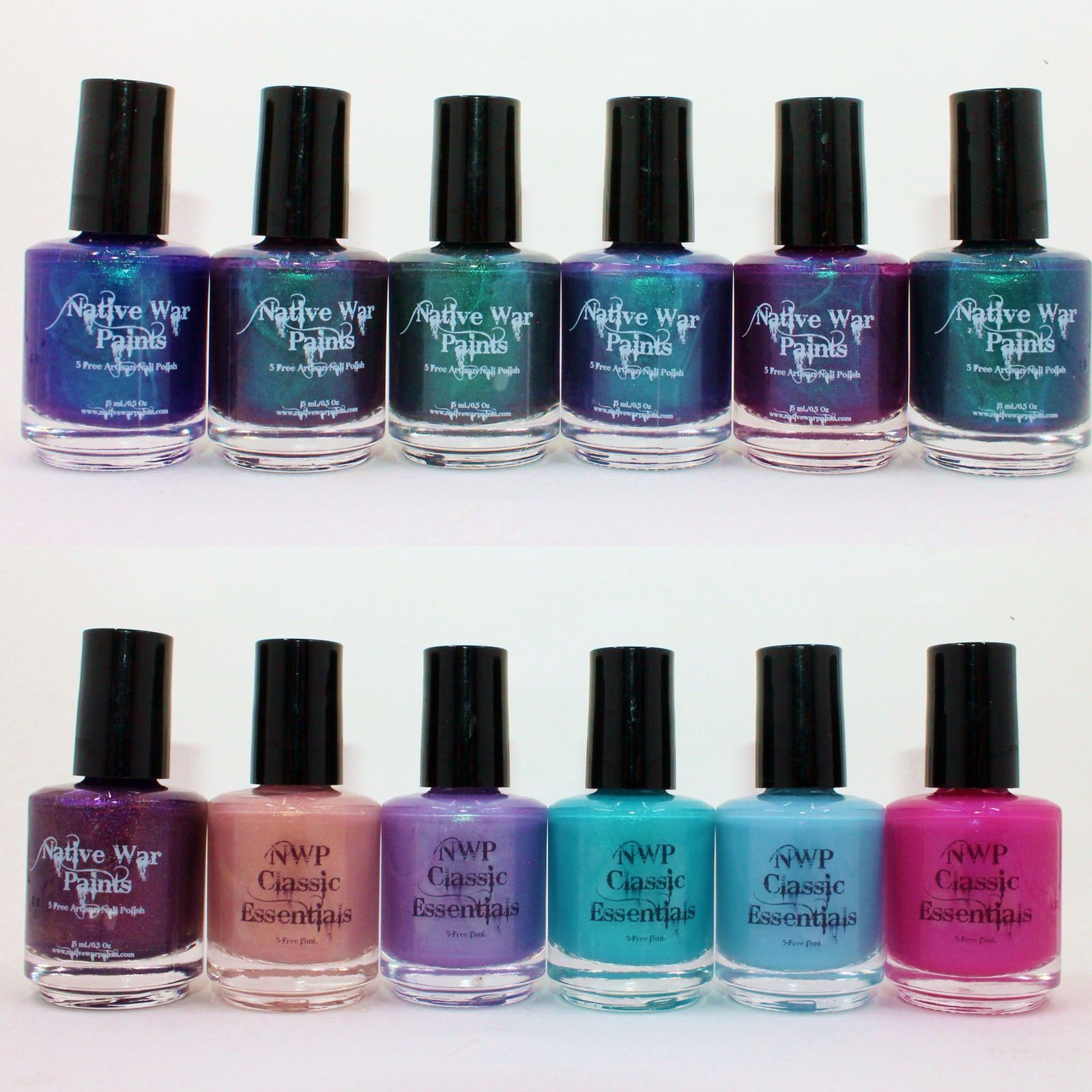 Native War paints Tilt-a-Whirl, Deep Fried Everything, I'm so Dizzy, Games of the Midway, Giant Stuffed Animals, Under the Lights, Ornamental, Baby, Francis, Kellermans, Lisa, Penny.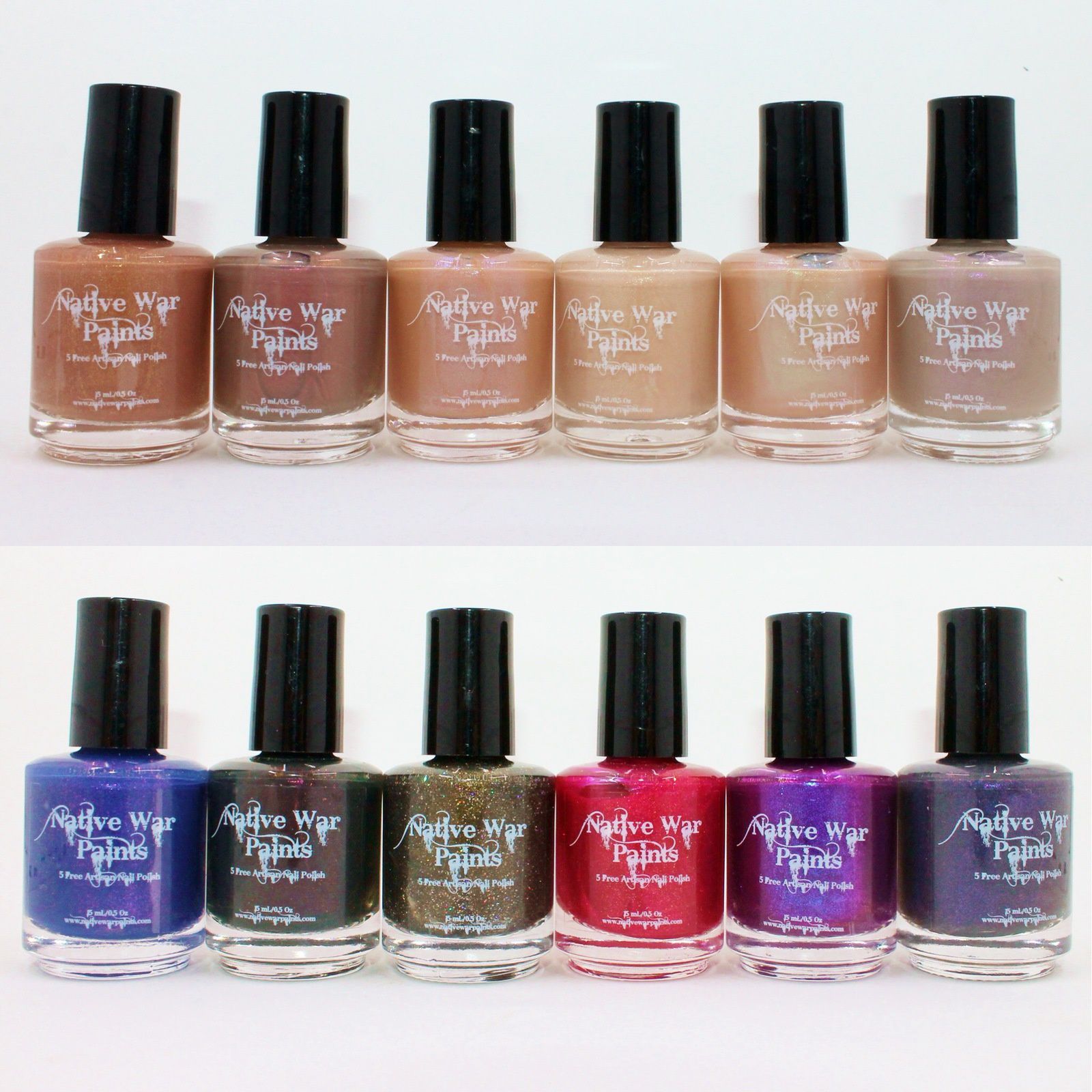 Native war paints Nudist, Exposed, Naked, Full Frontal, Bare, Uncensored, Cerulean Sunset, Rosemary's baby, Black Friday 2017, Pink Posies and Ponies, December 2017, November 2017.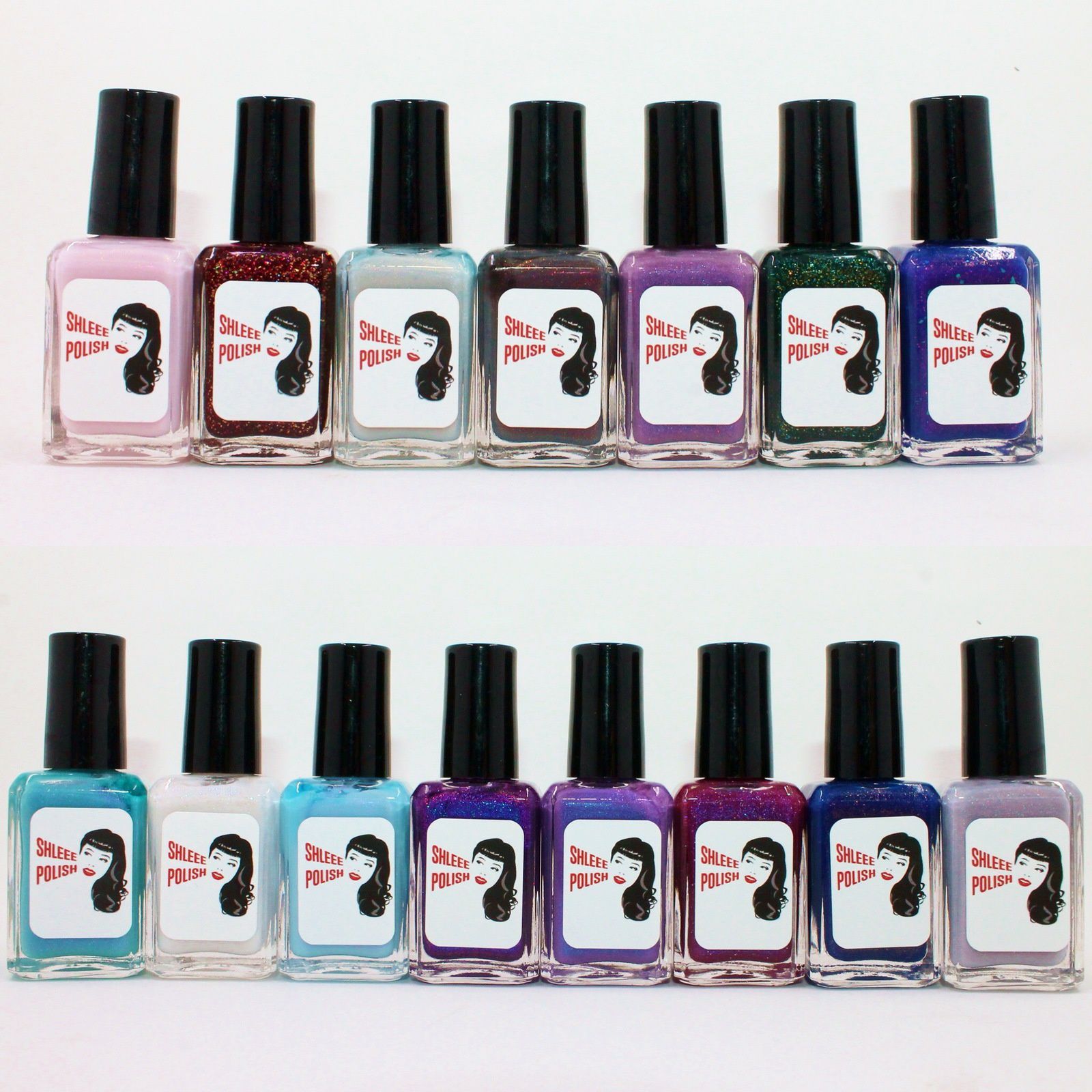 Shleee Polish, Love in the Moonlight, Holly Holiday, Frosted Sage, Spook Spectre or Ghost 2.0, Call it What You Want, Evergreens, Fillory is Real, Mystic Pond, The First Snow, Teardrops, I'm a Ruin, Don't Blame me, Gertrude, Firefly Night, Heart of Stone.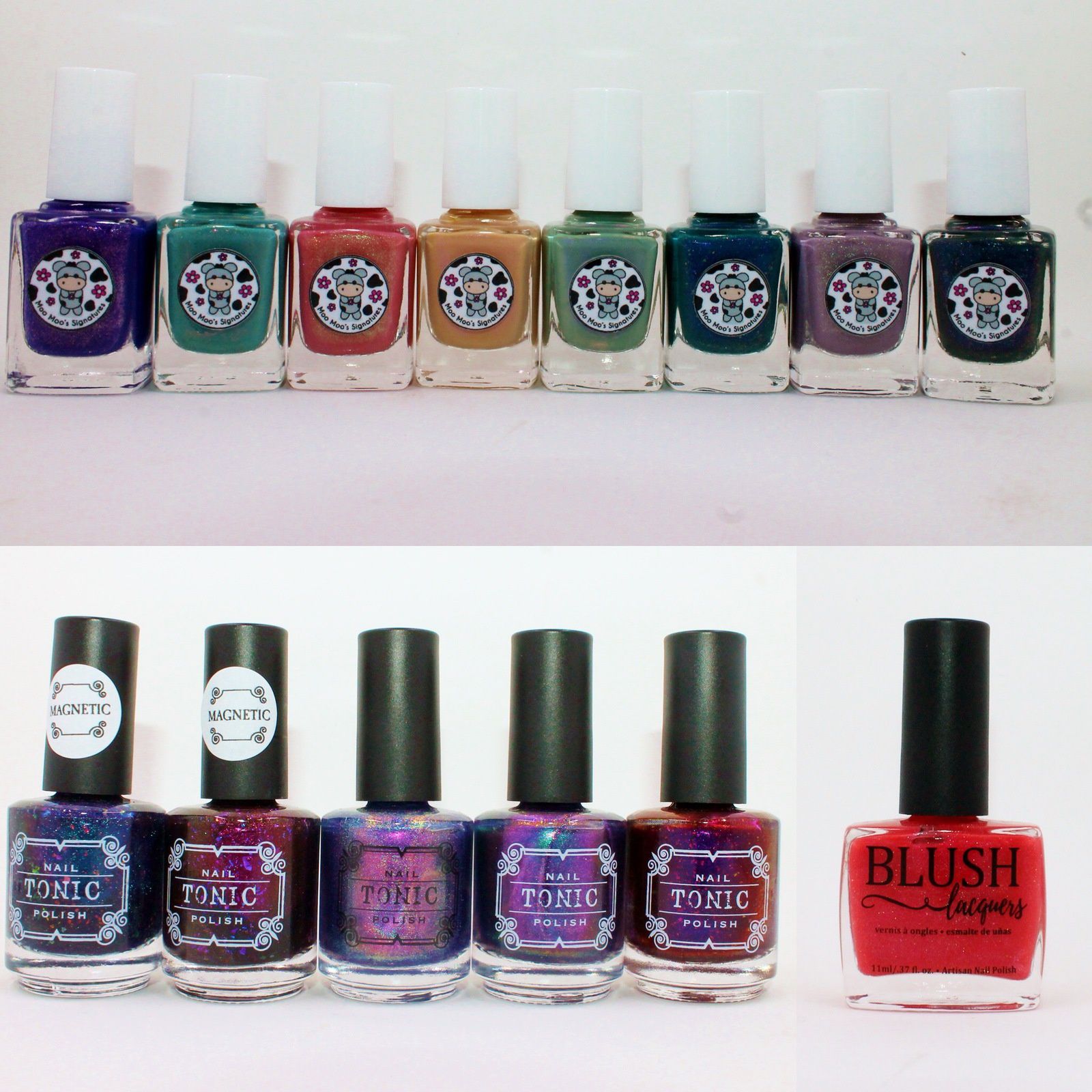 Moo Moo's Signatures Amethyst Poison, Peekamoo! I Cu, Morganite Spell, Catching Flying Apricot, Saguaro, Moomaid Castle, Fading Rose, Harminica Melody. Tonic Polish Becoming, Zeppo, Innocence, Hush, Superstar. Blush Lacquer I <3