De temps à autre j'ai cette envie subite "Tiens si je mettais un vernis thermal". Et à chaque fois je suis si contente de voir les couleur de mes ongles changer, je ne m'en lasse jamais. cette fois-ci j'ai choisi DAM Nail Polish Teal Next Time, un bleu ciel un peu turquoise qui devient plus clair!pastel quand il fait chaud. La transition de couleur est relativement sensible et rapide, la couleur elle-même est très vive, sont seul petit défaut est un léger manque d'opacité, sur les photos en 3 couches ça passe mais cela aurait pu être mieux.
From time to time I have this sudden urge "What about wearing a thermal varnish". And every time I am so happy to see the color of my nails change, I never get tired of it. This time I chose DAM Nail Polish Teal Next Time, a blue sky, a bit teal that becomes more pastel when warm. The color transition is relatively sensitive and quickt, the color itself is very bright, itsonly small flaw is a slight lack of opacity, on the pictures in 3 layers it is OK but it could have been better.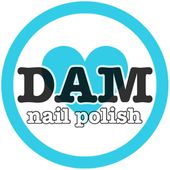 Dam Nail Polish by Angie Dam by DamNailPolish
Browse unique items from DamNailPolish on Etsy, a global marketplace of handmade, vintage and creative goods.