J'ai reçu la nouvelle collection Femme Fatale le week-end dernier, et j'étais impatientee de la swatcher parce que bizarrement, le nom de cette collection m'a enthousiasmé, bien que je n'ai jamais vu le film et je savais que ce ne serait pas des vernis aux couleurs flos. Donc, cette collection est inspirée du film du nom, sorti l'année dernière. Je n'avais jamais entendu parler de film, mais maintenant je veux le voir. Et en ce qui concerne les vernis, ils sont tous magnifiques, cette collection est fantastique !
I received the new Femme Fatale Collection last weekend, and I was eager to swatch it, because for some reason the name of this collection got me excited, even though I have never seen the movie, and I knew these we not going to be neon colors. So this collection is inspired by the movie of the same name, released last year. I had never heard of this movie before but now I want to see it. As for the polishes, they are all amazing, this collection is fantastic!
Le premier, et probablement mon préféré, c'est Kissing Reflections, un rose fuchsia avec des reflets turquoises. Les reflets sont très intenses, la couleur de base est très vive, et la formule excellente. Il a aussi quelques reflets holographiques, mais beaucoup moins intenses.
The first, and probably my favorite, is Kissing Reflections, a fuchsia pink with turquoise reflections. The reflections are very intense, the base color is very bright, and the formula excellent. It also has some holographic reflections, but much less intense.
It's Everything est un violet pastel avec des reflets turqoises également très intenses, mais aussi des flakies multichromes et des micro-paillettes violettes. Le tout donne un mélange très coloré et lumineux aux multiples facettes en fonction de la lumière.
It's Everything is a pastel purple/lilac with very intense turquoise reflections, but also multichrome flakies and purple micro glitter. Whole together this mix is very colorful and luminous with multiple facets depending on the light.
Defiled in Gold est un bronze marron avec des reflets dorés très intenses et un peu de réflets holographiques. Il est certainement mon deuxième favori, je n'ai pas de vernis doré comme celui-ci, il est unique et très lumineux pour un vernis marron.
Defiled in Gold is a straight up brown bronze with a very intense gold shimmer and a litlle bit of holographic reflections. It is definitely my second favorite, I do not have any gold like this one, it is unique and very bright for a brownish gold.
Grave in a Rose Garden est un lilas très pâle avec des reflets roses et violets très intenses, mais aussi des flakies multichromes et des micro-paillettes argentée. Il est similaire à It's Everything mais dans des tons différents, et là aussi le mélange est très coloré, lumineux et aux reflets changeant en fonction de la lumière.
Grave in a Rose Garden is a very pale lilac with very intense purple pink reflections, but also multichrome flakies and silver micro-glitter. It is similar to It's Everything but in different tones, and here too the mix is very colorful, bright and with changing reflections depending on the light.
Get Her Out of Me est mon favoris (Ex aequo avec Kissing Reflections), j'aime ce mélange de bleu et rose. La couleur de base est un bleu indigo, les reflets sont roses / rouges, il y a aussi des paillettes iridescentes et des micro particules holographiques. La formule est bonne mais pas totalement opaque en 2 couches (comme sur les photos), il faut 3 couches épaisses (ou 4 couches plus fines) pour obtenir une opacité complète.
Get Her Out of Me is my favorite (Ex aequo with Kissing Reflections), I love this blend of blue and pink. The base color is an indigo blue, the reflections are pink / red, there are also iridescent glitter and holographic micro particles. The formula is good but not totally opaque in 2 layers (as in the phictres), it takes 3 thick layers (or 4 finer layers) to obtain a complete opacity.
Falling Into Blue Death est un vernis à base pastel, un peu comme Grave in a Rose Garden, mais avec des reflets violets et turquoise au lieu de rose et violet. Il y a aussi beaucoup de paillettes holographiques. J'avais un peu peur que ce vernis ne soit pas opaque, mais en 2 couches épaisses la forte densité de paillettes lui donne une opacité presque totale.
Falling Into Blue Death has a pastel base color, much like Grave in a Rose Garden, but with violet and turquoise reflections instead of pink and purple. There is also a lot of holographic glitter. I was a little afraid that this varnish would not be opaque, but with 2 thick layers the high density of glitter gives it an almost a total opacity.
Et pour finir Kinbaku, avec une couleur de base violet aubergine, des rflets roges, des flakies multichromes et des micro-paillettes bleues et violettes. C'est une couleur très foncées, ce qui contraste beaucoup avec le reste de la collection, mais les complexité des reflets lui donne beaucoup de charme.
And finally Kinbaku, withpurple eggplant base color, red reflections, multichromeflakies and blue and violet micro-glitter. It is a very dark color, which contrasts a lot with the rest of the collection, but the complexity of the reflections gives it a lot of charm.
Cette collection sera disponible:

- pour une pré-vente de 5 jours de du 1-5 Avril à 9AM AEST sur le site AU

- pour une vente en quantités limitées le 31 Mars a 3PM PST sur le site US

- chez tous les stockistes fin Avril 2017

This collection will be available:

- for 5 day presale April 1st - 5th starting at 9AM AEST on the AU website

- for a capped sale at 3PM PST March 31st on the US website

- from all stockists late April 2017 onward
Presale - Femme Fatale Cosmetics
Established in 2011 Femme Fatale is the leading Australian online boutique for handmade cosmetics & lacquer, plus additional beauty care items produced by small-scale businesses. We stock over 40 ...
AU presale April 1st - 5th 9AM AEST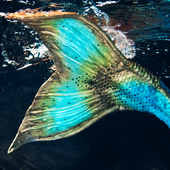 You are now on the US site for Femme Fatale. All purchases on this site will ship from our US distribution warehouse. Stock is premade and ready to ship, so please note inventory is limited. Visit ...
US capped sale starting 3PM PST March 31st