C'est ma première tentative à un nail art depuis un bon moment, et cela à été un peu compliqué et a pris beaucoup de temps (et pour un résultat bof bof) ! Tout d'abord j'ai du peindre mes ongles en blancs, puis laissé sécher. Ensuite j'ai fait un gradient de couleurs fluos (Lou It Yourself Neither Here Nor There, Cat Got You Tongue? & A Little of This), puis laissé sécher, avec une couche de top coat. J'ai même attendu le lendemain pour éviter aux stickers/stencils de ruiner ma manucure. Je commence à maîtriser les gradients à l'éponge donc ce n'a pas été la partie la plus compliquée. J'ai enfin appliqué les stickers/stencils et appliqué une couche de vernis noir bien opaque (Cult Nails Nevermore), et c'est là que ça commence à se compliquer. Les stickers/stencils sont si fins qu'en les retirant on en fout partout et le résultat n'est pas net qui nécessite un brin de nettoyage avec un pinceau fin et de l'acétone. Quand enfin on a un résultat pas trop mal, il faut faire très attention pour la touche finale, le top coat. J'ai beau avoir attendu 1h après la pose du vernis noir, sur mon index l'application de top coat a bien fait baver le noir. Après autant d'effort c'est un peu frustrant. En appliquant le top coat en couche épaisse sans repasser au même endroit 2 fois de suite et en faisant bien attention à ce que le pinceau ne touche jamais les ongles, le résultat est bien mieux ! Donc voilà le résultat, je en suis pas totalement satisfaite et même un peu frustrée par mon index qui est loin d'être parfait, mais c'est en faisant des erreurs qu'on apprend LOL.
This is my first attempt at a nail art in a long time, and it was a bit complicated and took a long time (and for a meh result)! First I had to paint my nails in white, then let dry. Then I made a gradient of neon colors (Lou It Yourself Neither Here Nor There, Cat Got You Tongue? & A Little of This), then let dry, with a layer of top coat. I even waited until the next day to prevent the stickers/stencils from ruining my manicure. I'm starting to master the sponge gradients so this has not been the most complicated part. I finally applied the stickers/stencils and applied a layer of an opaque black varnish (Cult Nails Nevermore), and that's where it starts to get complicated. The stickers/stencils are so fine that by removing them you get polisg everywhere and the result is not neatand requires a bit of cleaning with a fine brush and acetone. When finally when you have a result not too bad, you must be very careful for the final touch, the top coat. Although I waited 1 hour after the laying of the black varnish, on my index finger the application of top coat made well the black smudge quite a bit. After so much effort it is a bit frustrating. Applying the top coat in thick layers without passing teh brush at the same place 2 times in a row and making sure that the brush never touches the nails, the result is much better! So here is the result, I'm not totally satisfied and even a little frustrated by my index finger that is far from perfect, but it is by making mistakes that you learn LOL.
Essie Protein Base Coat / Finger PaintsWhite Base Coat for Neons (not pictured) / Gradient nails using Lou It Yourself Neither Here Nor There, Cat Got You Tongue? & A Little of This / You Polish Mosaic Stained Glass Stencil Decals / Cult Nails Nevermore / Butter London Shine Free Top Coat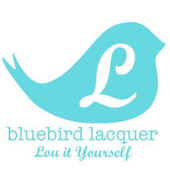 be yourself, express yourself with Lou it Yourself
unique custom made nail polish, nail accessories, bath and beauty products
Nail decals, stencils, stickers and custom designs.
Cosmetics for Eyes, Lips, Face and Nails by butter London
butter London cosmetics brings high fashion color to nail polishes, eye shadows, lip sticks and other beauty products that are cat walk ready for everyday wear.