Je voulais profiter de ma base rouge (Yves Rocher Rouge Prussien) pour tester un vernis Femme Fatale que je possède depuis longtemps, Mana Ruby. je ne l'ai jamais porter seul car c'est définitivement un jelly, il n'est pas opaque, mais il contient des paillettes iridescentes bleues et des paillettes rouge plus grosses. Je me suis dit qu'il serait parfait à poser sur une couleur de base dans les mêmes tons. Malheureusement sur un base rouge le vernis ne ressort pas vraiment, cela donne un peu effet sympa mais c'est tout, il faudra vraiment que je trouve la bonne couleur de base pour poser ce vernis car il est vraiment beau !
I wanted to take advantage of my red base (Yves Rocher Prussian Red) to test a Femme Fatale varnish that I had for a very long time, Mana Ruby. I never wore it alone because it is definitely a jelly, it is not opaque, but it contains blue iridescent glitter and larger red glitter. I thought it would be perfect to layer on a color in the same tones. Unfortunately on a red base the varnish does not really show, it gives a little nice effect but that's all, I really need to find the right base color to layer this varnish because it is really beautiful!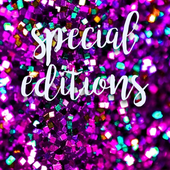 You are now on the US site for Femme Fatale. All purchases on this site will ship from our US distribution warehouse. Stock is premade and ready to ship, so please note inventory is limited. Visit ...