Le temps se rafraîchit un peu ici en Floride, et on commence à ressentir que c'est l'hiver (tout est relatif, il fait entre 15-25°C), et cela me donne envie de porter des couleurs plus hivernales. Mais comme j'aime aussi les couleurs vives, j'ai trouvé un bon compromis, Carpe Noctem Cosmetics Olaf. C'est un joli bleu ciel holographique, relativement coloré et avec des reflets violets discrets. La formule n'es t pas super opaque, mais en 3 couches le résultat est bluffant. Cette couleur est fantastique, j'adore !
The weather is cooler here in Florida, and we begin to feel that it's winter (everything is relative, it's between 15-25°C), and it makes me want to wear more wintery colors. But as I also like bright colors, I found a good compromise, Carpe Noctem Cosmetics Olaf. It is pretty holographic sky blue, relatively bright and with discrete purple reflections. The formula is not super opaque, but in 3 layers the result is amazing. This color is fantastic, I love it!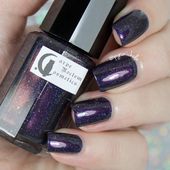 Welcome to Carpe Noctem Cosmetics! We offer all-natural hair and skin products, and beautiful handcrafted nail polish. All polishes available are Big-5 and cruelty free! Custom polish is available ...