Aujourd'hui j'ai choisi de porter du bleu, et pas n'importe quel bleu, Shleee Polish Koi Pond. J'adore cette marque Indie, je possède beaucoup de leur couleur et elles sont toutes superbes. Koi Pond est un bleu vif avec des reflets roses. La formule est facile à appliquer et sèche vite mais manque un peu d'opacité. Après 3 couches vous pouvez légèrement apercevoir le bord libre de mes ongles, mais rien de trop flagrant.
Today I chose to wear blue, and not just any blue, Shleee Polish Koi Pond. I love this Indie brand, I have a lot of colors from this brand and all are superb. Koi Pond is a bright blue with pink highlights. The formula is easy to apply and dries quickly but lack a bit of opacity. After 3 layers you can slightly see the free edge of my nails, but nothing too obvious.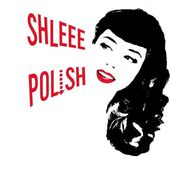 Browse unique items from ShleeePolish on Etsy, a global marketplace of handmade, vintage and creative goods.