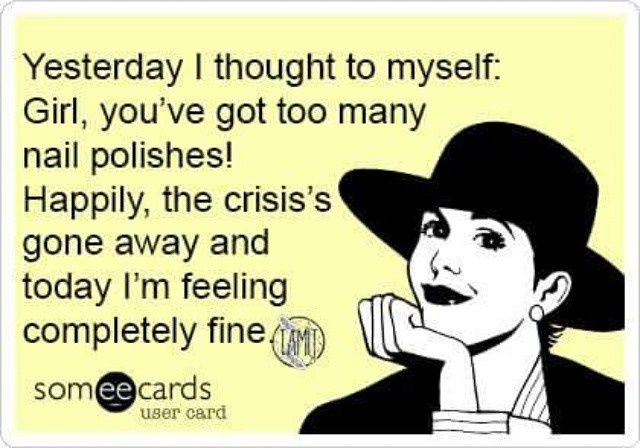 Déménager ça permet de se rendre compte de l'étendue de son addiction quand on est une NPA. Personnellement j'ai eu un petit moment de blues et je me suis dis que j'avais vraiment trop de vernis que c'était complètement débile. Et puis mon copain m'a remonté le moral en me disant que c'était mon truc, que j'aimais ça et que si ça me faisait plaisir d'avoir plein de vernis, il n'y avait pas de soucis. Je suis vraiment chanceuse d'avoir quelqu'un qui ne me juge pas pour ça et qui me laisse acheter autant de vernis que je veux (à partir du moment ou je ne dépense pas tout mon salaire, car nous devons maintenant vivre à eux sur mon salaire). Donc entre mes vacances et mon déménagement, j'ai commandé et reçu pas mal de vernis, et c'est une bonne chose que nous avons emménagé dans un appartement plus grand, il va bientôt me falloir un nouvel Helmer LOL.
Moving allows you to realize the extent of your addiction when you are a NPA. Personally I had a moment of blues as I told myself that I really had too much polish and that was completely stupid. And then my boyfriend cheered me up by telling me that it was my thing, I liked it and if it made me happy to have lots of polish, then were no worries. I'm really lucky to have someone who will not judge me for my addiction and that let me buy as many polish I want (as long as I do not spend all my salary, because we now have to both live with only my salary). So between my vacations and my move, I ordered and received a lot of polish, and it's a good thing we moved into a bigger apartment, I will soon need a new Helmer LOL.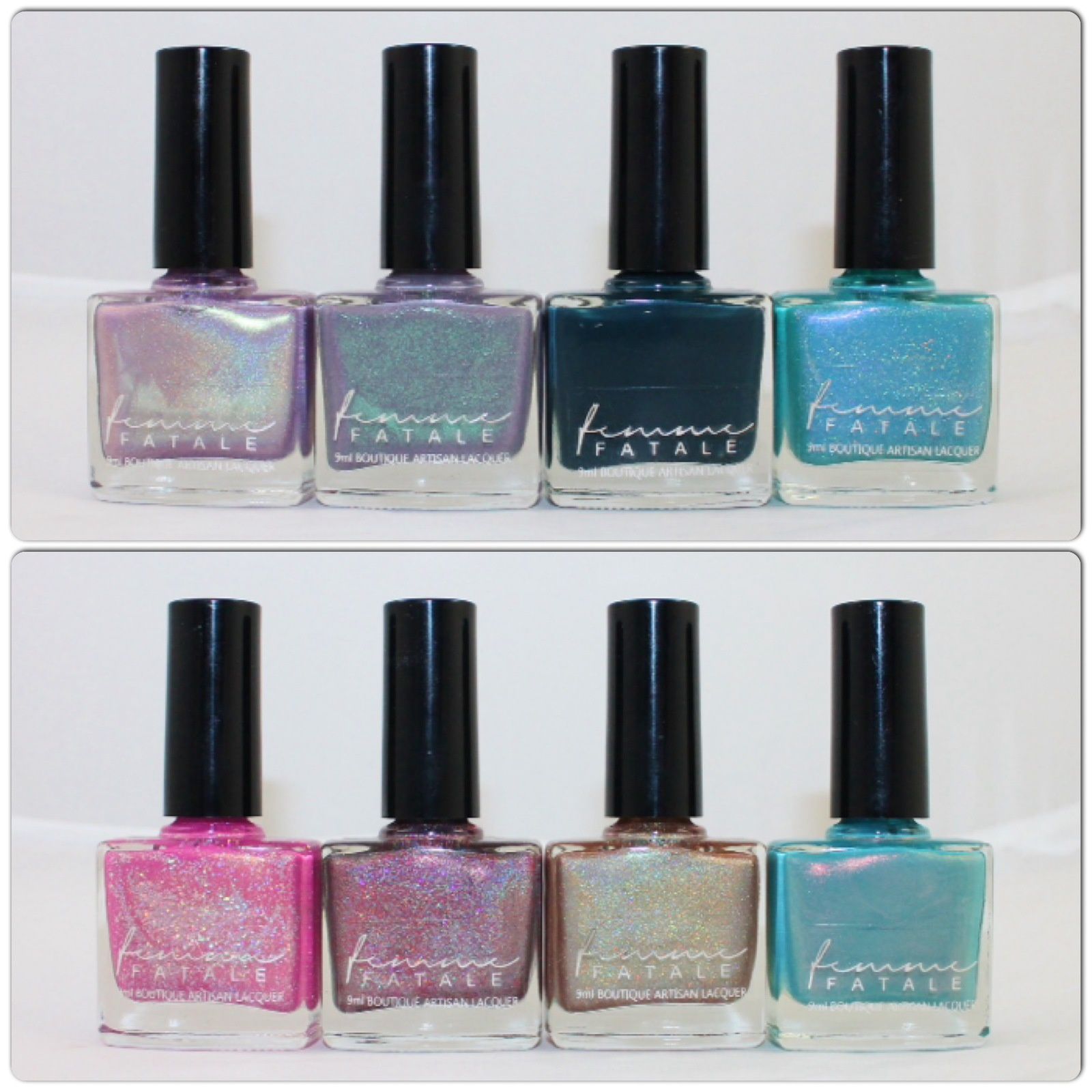 Femme Fatale Cosmetics Penrose, La Scala, Rapallo, Sky Mirror, Castle in The Sky, Rubine Veil, Ray of Golden Sunshine & La Sirène.
Comme vous avez pu le voir j'ai récemment reçu de nouveaux vernis Femme Fatale que j'ai swatché il y a quelques jours. Le trio d'anniversaire et maintenant disponible sur les sites AU et US, les collaborations sont disponibles uniquement sur le site AU pour le moment, mais devrait arriver bientôt sur le site US.
As you could see I recently received new Femme Fatale polishes that I reviewed few days ago. The Aniiversary trio and now available on the AU and US websites, the collaborations are only available on the AU website for now but are expected soon on the US website.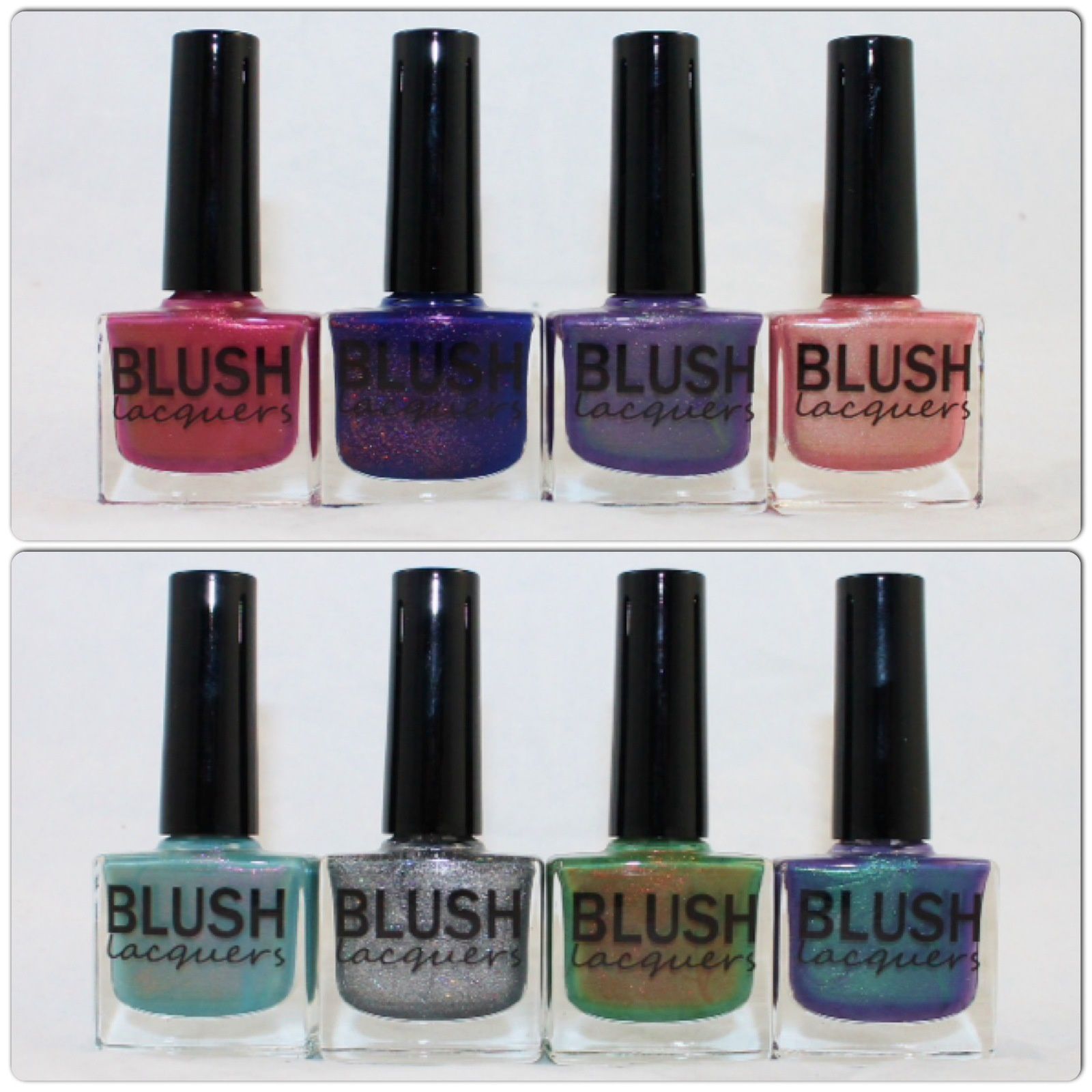 Blush Lacquers Fin Swirl, Evening Sparkler, Indigo Stinger, Atlantia Swift, Shelly O'The Sands, Platinum Sands, Nerida Singer & Marina Azure.
Il y avait une marque Indie sur Etsy sur laquelle je lorgné depuis quelques semaines, Et j'ai finalement saut le pas et j'ai commandé (il y avait une réduction pendant Labor Day). Cette marque c'est Blush Lacquers. Il y a des shimmers à couper le souffle, et vous savez moi les shimmers je ne peux pas résister.
There was an indie brand on Etsy which I had my eyes on a few weeks, and I finally jump the step and I ordered (there was a coupon during Labor Day). This brand is Blush Lacquers. she has some breathtaking shimmers, and you know I can not resist pretty shimmers.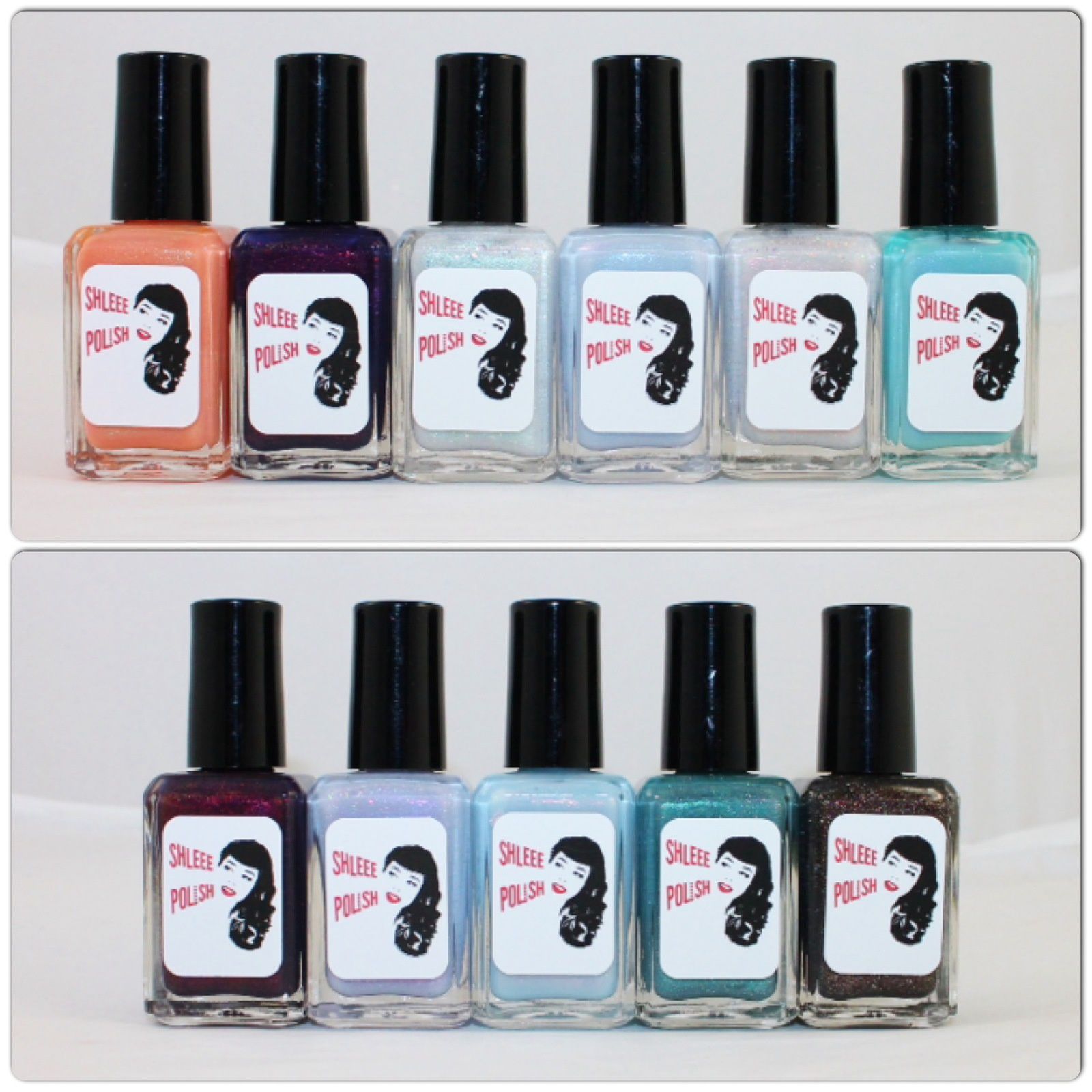 Shleee Polish Teaches of Peaches, Royal Witch, Light Opal, Neptune's Odd Moon, Fire Opal, Jewel of the South Seas, Royal Witch 2.0, Moonstone, Beach Dreams, Extraterrestrial & Eclipsed Moon Ritual.
Comme d'habitude depuis quelques mois, je commande régulièrement chez Shleee Polish. Cette marque est devenue une favorite et je ne me lasse jamais des ces vernis au reflets magnifiques. Elle restocke de nouvelles couleurs toutes les semaines le vendredi, et c'est devenu un rituel, je commande tous les shimmers !
As usual in recent months, I regularly order from Shleee Polish. This brand has become a favorite and I never get tired of these polishes with beautiful reflections. She restocks new colors every week on Friday, and it became a ritual, I order all the shimmers!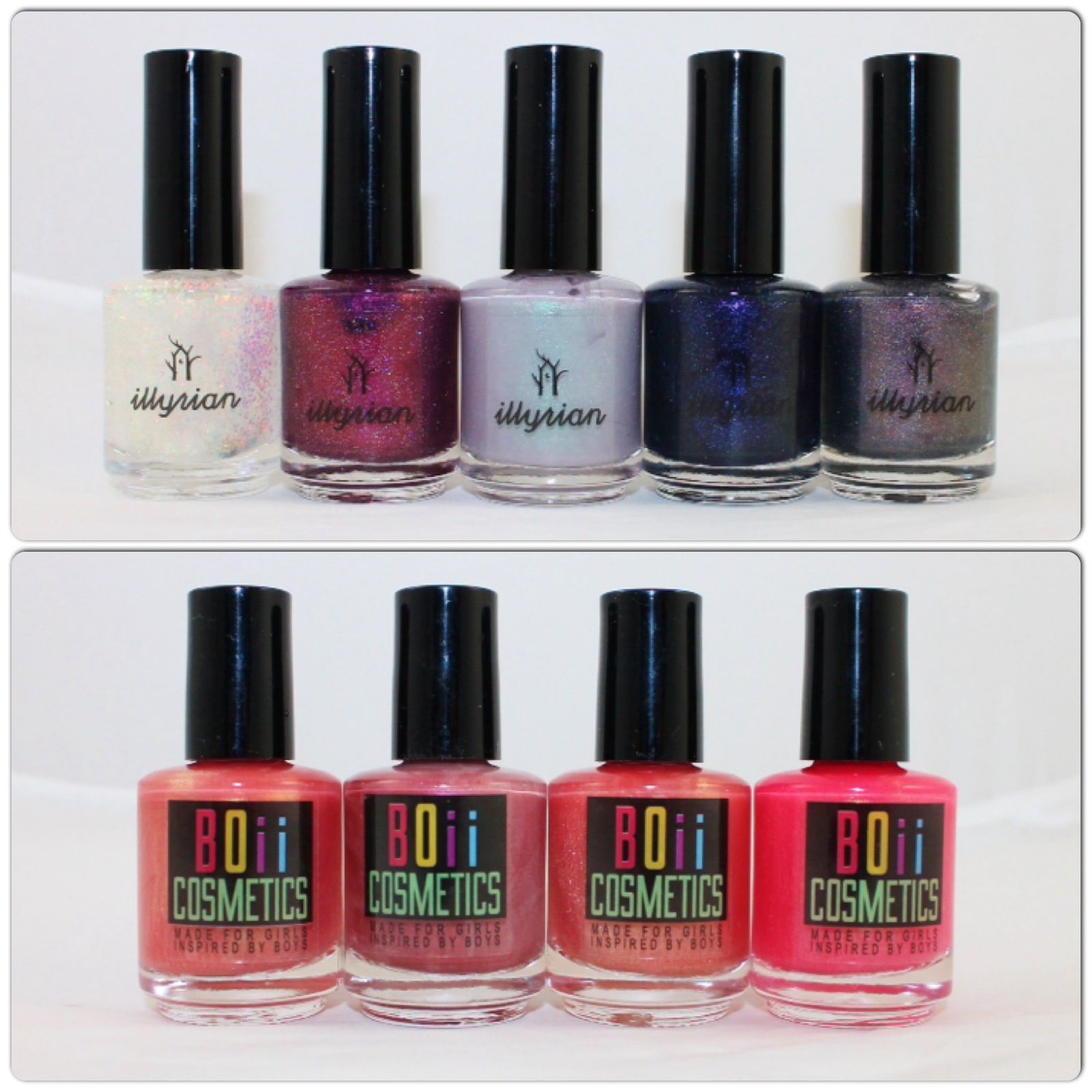 Illyrian Polish Fireflies, Mad World, Dazed, Houston & Blue Moon. Boii Cosmetics Blushing Cheeks, Pastel Ribbon Pink, Paris at Night & Girls With Pink Hair.
Une autre marque chouchou pour moi c'est Illyrian Polish. Là encore des shimmers magnifiques, et bien sur je craque à chaque fois, c'est difficile de résister de telles merveilles. Les restocks sont un peu moins fréquentes qu'avec Shleee Polish, mais c'est le même principe, je commande tous les shimmers ! J'ai aussi découvert une nouvelle marque Indie, Boii Cosmetics, et j'ai voulu l'essayer donc j'ai commandé 4 vernis qui sont vraiment jolis.
Another favorite brand for me is Illyrian Polish. Again some beautiful shimmers, and of course I flinch every time, it's hard to resist such marvels. The restocks are less frequent than Shleee Polish, but it's the same idea, I order all the shimmers! I also discovered another Indie brand, Boii Cosmetics, and I wanted to try it so I ordered 4 varnish which are really pretty.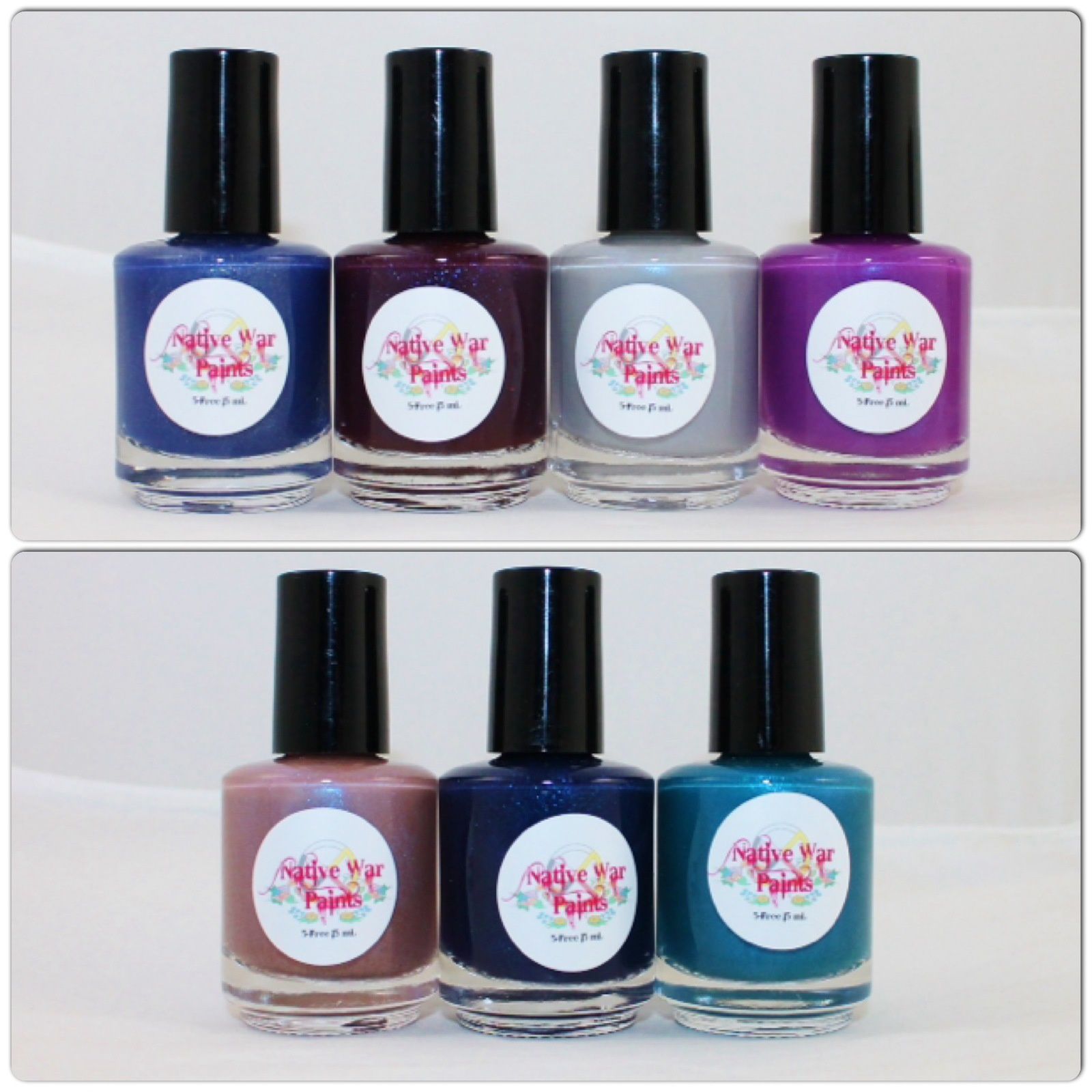 Native War Paints End of Summer, Distressed Denim, Jeans and a T-shrt, Skinny Jeans, Boots and Jeans, Denim on Denim & My Favorite Sweater and Jeans.
Là encore une marque chouchou, Native War Paint, avec là encore des vernis shimmers superbes. Je ne pouvais pas ne pas commandé la nouvelle collection Denim, qui dans principe que les collection d'automne de l'année dernière (Sweaters) est constituée uniquement de vernis shimmers. Je pense que vous commencez à comprendre, oui j'aime vraiment beaucoup les vernis shimmers.
Again a favorite brand, Native War Paint, with again superb shimmers. I couldn't not ordered the new Denim collection, which like the previous fall collections from last year (Sweaters) consists solely of shimmers. I think you begin to understand, yes I really like shimmers.
En parlant de Native War Paints, j'ai également reçu ma NWP monthly box du mois de septembre. Elle est sur le thème "Pumpkin Patch" (ici aux USA, la citrouille est l'emblème de l'automne, il ont même un parfum Pumkin Spice qui n'est disponible qu'en automne). Et j'ai aussi de nouveaux Lilypad Lacquers à ajouter à ma collection, dont 2 Beauty So Fly Exclusifs et 3 nouvelles couleurs que j'ai reçu pour review. Je vous conseille d'ailleurs d'aller faire un tour sur le site de Lilypad, Nicole a sorti de nouvelles couleurs pour Halloween qui sont à tomber.
Speaking of Native Paints War, I also received my NWP monthly box for September. Its theme is "Pumpkin Patch". And I also have some new Lilypad Lacquers to add to my collection, 2 Beauty So Fly Exclusives and 3 new colors that I received for review. I advise you to go have a look on the site Lilypad website, Nicole has released new colors for Halloween that are to die for.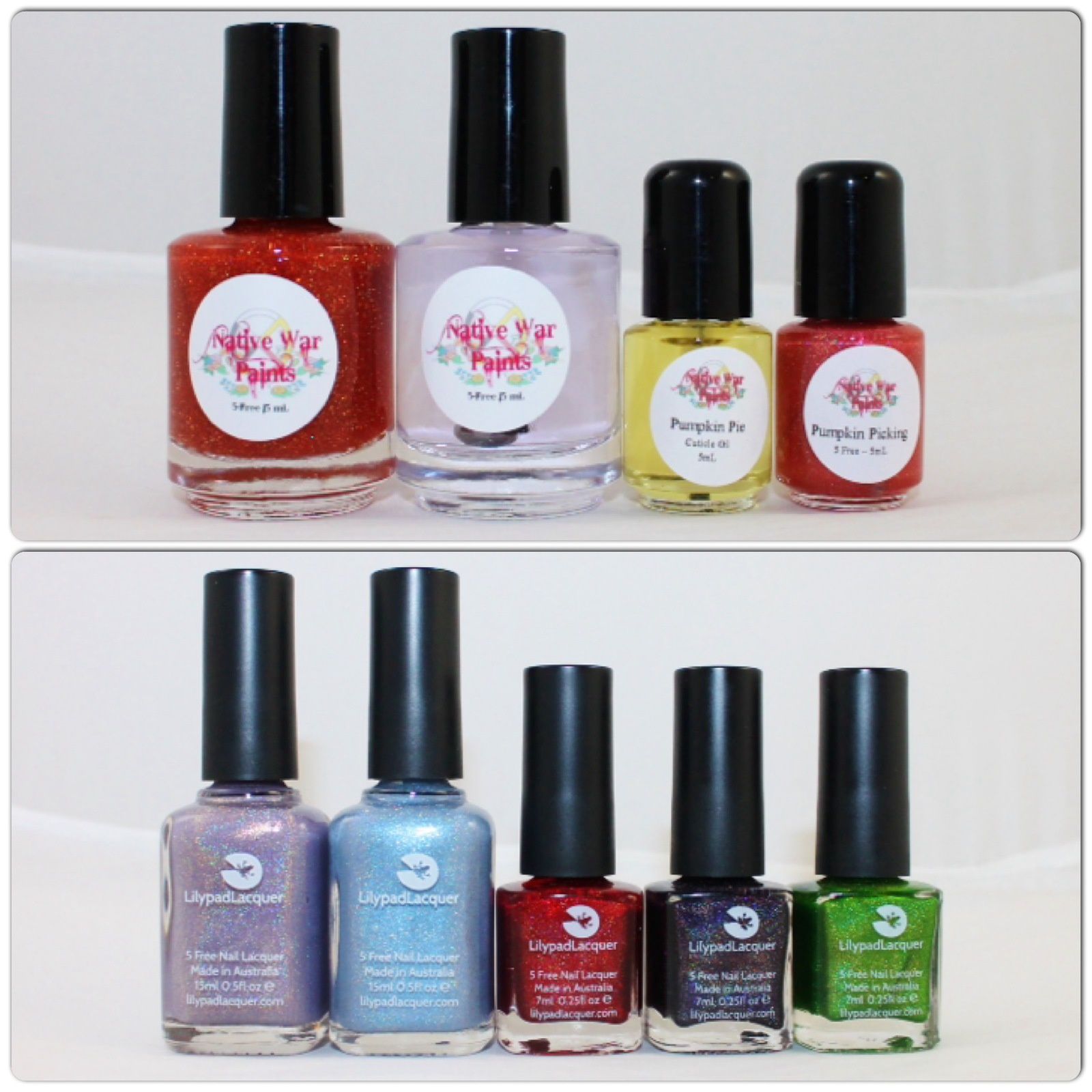 NWP Monthly Box - September 2016. Lilypad lacquer Glorious Day, Angels Sing, When Love Comes to Town, Atomic Apple & Nightshade.
Et enfin pour finir, quelques vernis commandé chez Orly, Emily de Molly, Dam Polish et bien sur mes monthlies de chez Enchanted Polish. Comme vous pouvez le vois, principalement des shimmers, et 3 vernis thermiques (Dam Polish a des magnifiques vernis thermiques que j'adore vraiment beaucoup).
And finally, some polish ordered from Orly, Emily de Molly, Dam Polish and of course my Enchanted Polish monthlies. As you can see, mainly shimmers, and 3 thermals (Dam Polish has some beautiful thermals that I really love a lot).