Aujourd'hui j'ai la nouvelle collection de Femme Fatale à vous montrer, ou tout du moins une partie de la nouvelle collection (5 des 9 vernis) inspirée par le tableau de Boticelli "La naissance de Vénus". Cette collection sort aujourd'hui en pré-vente sur le site australien de la marque, mais aussi sur leur nouveau site US (mais pas en pré-vente) (liens à la fin de cet article). Bon je dois avouer que j'adore les 5 vernis que j'ai reçu, mais ceux que je n'ai pas reçu sont également magnifiques, donc sans plus tarder voici les swatches^^
Today I have the new Femme Fatale collection to show you, or at least part of the new collection (5 of the 9 varnishes) inspired by Botticelli's painting "Birth of Venus". This collection is being released today for pre-sale on the Australian site of the brand, but also on their new website US (capped sale) (links at the end of this article). Well I must admit I love the 5 polish that I received, but the ones I have not received are also beautiful, so without further ado here are the swatches ^^
Femme Fatale Swept Across the Sea (2 coats, not top coat)
Je vais commencer par le vernis thermique de cette collection, le magnifique Swept Across the Sea. C'est un beige doré (chaud) virant au bleu vert (froid) avec des reflets vert vif. La transition plus ou moins rapide mais la formule est parfaite. J'adore les vernis thermiques de Femme Fatale !
I'll start with the thermal varnish of this collection, the stunning Swept Across the Sea. It is a golden tan (warm) to teal-blue (cool) thermal with a bright green overlay. The transition is more or less quick but the formula is perfect. I love thermal varnishes from Femme Fatale!
Un de mes favoris c'est Horae Awaits, un rose pâle très doux, légèrement lilas avec micro paillettes holographiques et des reflets bleus. Cette couleur manque légèrement d'opacité, j'ai utilisé 3 couches pour ce résultat, mais la couleur est si parfaite et éthérée que je m'en fiche.
One of my favorites is Horae Awaits, a very soft, cool-toned pale pink with scattered holographic microglitters and blue luminescence. This colour is more on the sheer side, I used 3 coats for this result, but the color is so perfect and ethereal that I just do not care.
Golden-Wreathed & Beautiful est un orange abricot pastel très doux, chaud et presque jaune doré avec des reflets turquoises très intenses. Là encore cette couleur manque juste un peu d'opacité, j'ai utilisé 3 couches pour ce résultat, mais c'est une couleur vraiment originale
Golden-Wreathed & Beautiful is a pale apricot-orange very soft, warm and almost golden-yellow tinted with an intense turquoise sheen. Here again this colour is more on the sheer side, I used 3 coats for this result, but this is a very unique color.
Arrival of Venus est un orange bronze vraiment très holographiques. Ces reflets sont vraiment très intenses et il s'applique à la perfection. Il est opaque en seulement 2 couches et pour moi c'est la couleur idéale pour l'automne (mais je ne suis pas encore prête pour ça LOL).
Arrival of Venus is a burnt orange with strong linear holographic. These reflections are very intense and it applies to perfection. It is opaque in just 2 layers and for me it is the perfect color for fall (but I'm not ready for that just yet LOL).
Et enfin Breath of Zephyros, un gris-argent holographique avec des reflets bleus et paillettes holographiques dorées. C'est un mélange très simple mais très féerique et lumineux, et malgrè les paillettes l'application aisée.
Ces couleurs seront disponibles sur site Australien de FFC (prévente de 5 jours) et le nouveau site USA (vente plafonnée) à partir du 1er Août 10h AEST (ou 31 juillet 20h EST).
And finally Breath of Zephyros, a soft grey-silver linear holographic with blue luminescence, and golden holographic glitters. It is a simple combo but very enchanting and bright and, despite the glitter, with a very easy application.
These colours will be available from FFC Australien website (5 day presale) and USA website (capped sale) from August 1st 10am AEST (Jul 31st 8pm EST).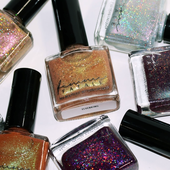 You are now on the US site for Femme Fatale. All purchases on this site will ship from our US distribution warehouse. Stock is premade and ready to ship, so please note inventory is limited. Visit ...
presale - Femme Fatale Cosmetics
Established in 2011 Femme Fatale is the leading Australian online boutique for handmade cosmetics & lacquer, plus additional beauty care items produced by small-scale businesses. We stock over 40 ...