Aujourd'hui je vais vous montrer mon butin du mois d'Août, qui n'est pas si gros que ça (par rapport à certain mois). Je voulais également profiter de cet article pour vous dire que je suis en vacances pour 15 jours, et comme c'est un peu dernière minute je n'ai pas vraiment prévu d'articles et il y a des fortes chances que je ne poste pas beaucoup. Donc ne vous inquiétez pas si le blog est calme ces 2 prochaines semaines.
Today I'll show you my August shopping haul, which is not that big (compared to some other months). I also wanted to tell you that I'm on vacation for 15 days, and as it was a last minute thing I did not really scheduled articles and there is a good chance that I will not post a lot. So do not worry if the blog is quiet for the next 2 weeks.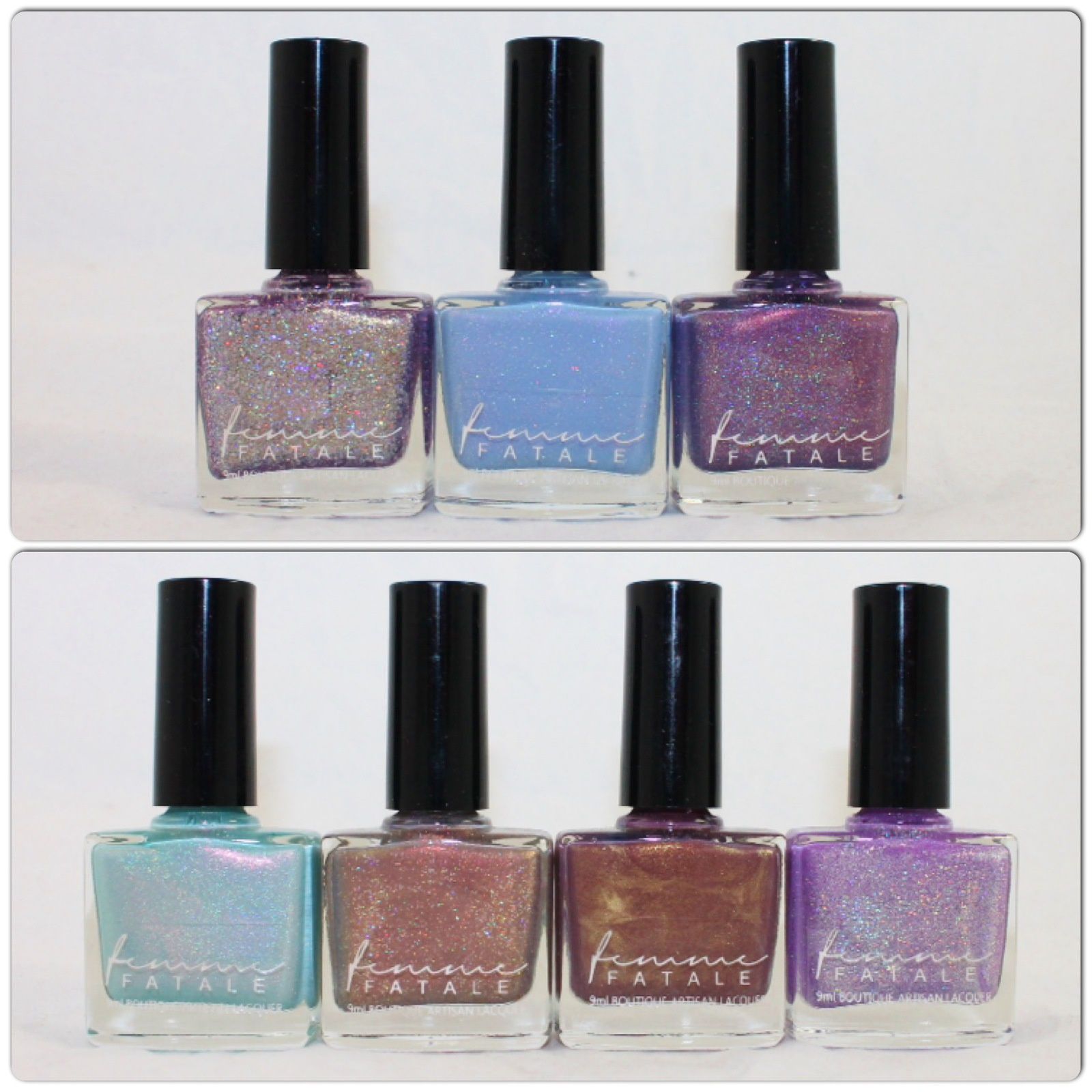 Femme Fatale Sea Glimmer, Siren Melodies, Twinkling Eve, Upon Seafoam, Renounced Crown, Burnished Ossein & Paragon.
J'ai reçu quelques Femme Fatale au mois d'Août, dont des exclus Live Love Polish et des couleurs Oops commandées chez Colors4Nails. Je vais passer commande bientôt pour plus vernis Femme Fatale surtout que maintenant la marque a un site US, ce qui est plutôt une bonne nouvelle (frais de port moins élevés, livraison plus rapide...)
I received some Femme Fatale in August, including some Live Love Polish exclusives and some Oops colors ordered from Colors4Nails. I'm going to order more Femme Fatale soon especially since now that the brand has a US website, which is rather good news (lower shipping costs, faster delivery ...)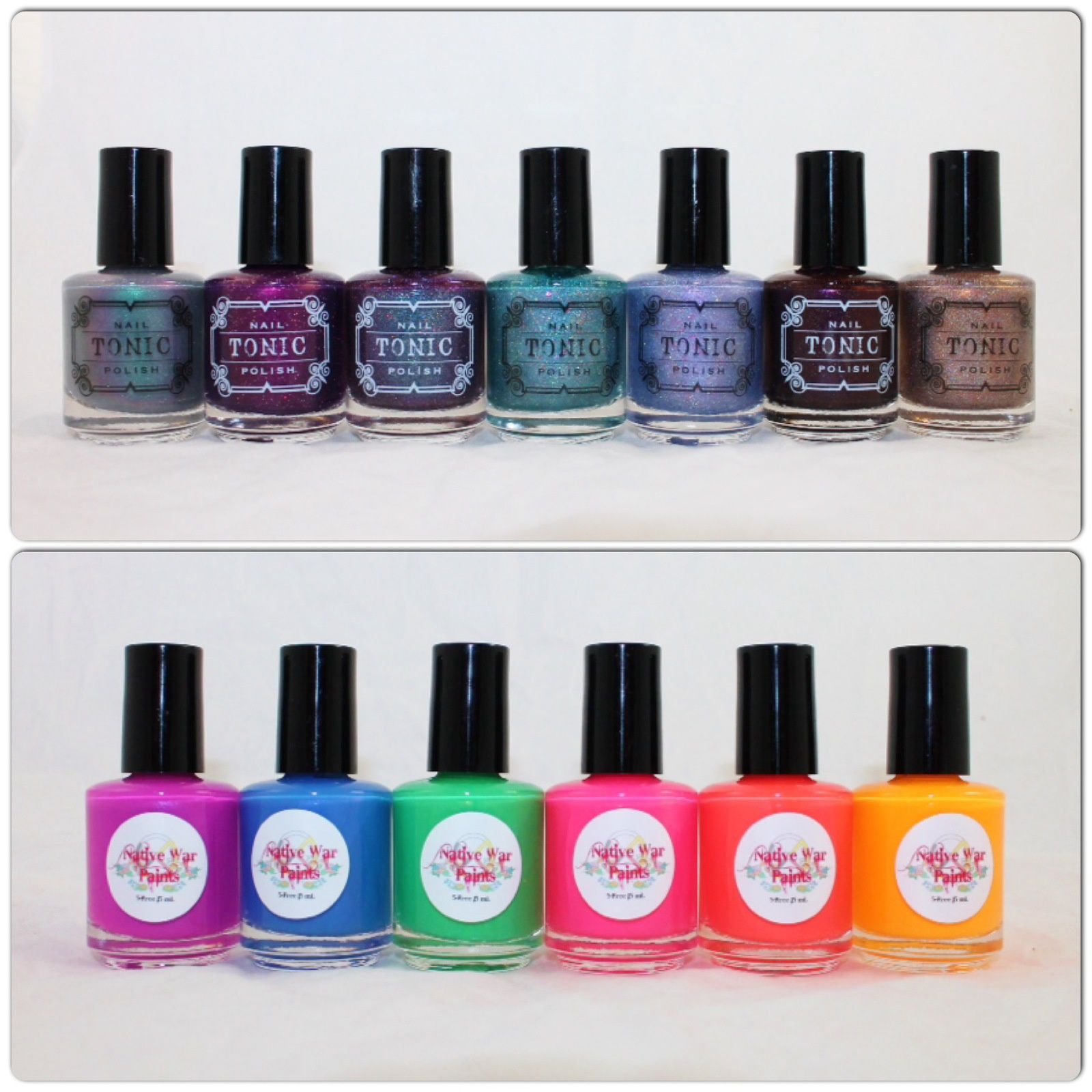 Tonic Polish Lunar Lust, Lula, Tides of Perseid, Rainbowfish, Angelfish, Suspiria, Silbylline Dreams. Native War Paint Contaminate, Explosive, Mutagen, Starlight, Red Butler & Twinkle.
J'ai également commandé plus de Tonic Polish, cette nouvelle marque Indie a des couleurs magnifiques, tellement magnifiques que je les possède tous (même 2 group exclusives). J'ai aussi bien sur commande la nouvelle collection Native War Paints Brite and Dirty, car vous le savez je ne résiste pas à de jolis fluos !
I also ordered more Tonic Polish, this new Indie brand has beautiful colors, so beautiful that I own them all now (even 2 group exclusive). I also ordered the new Native War Paints collection, Brite and Dirty, because you know me I can not resist pretty neons!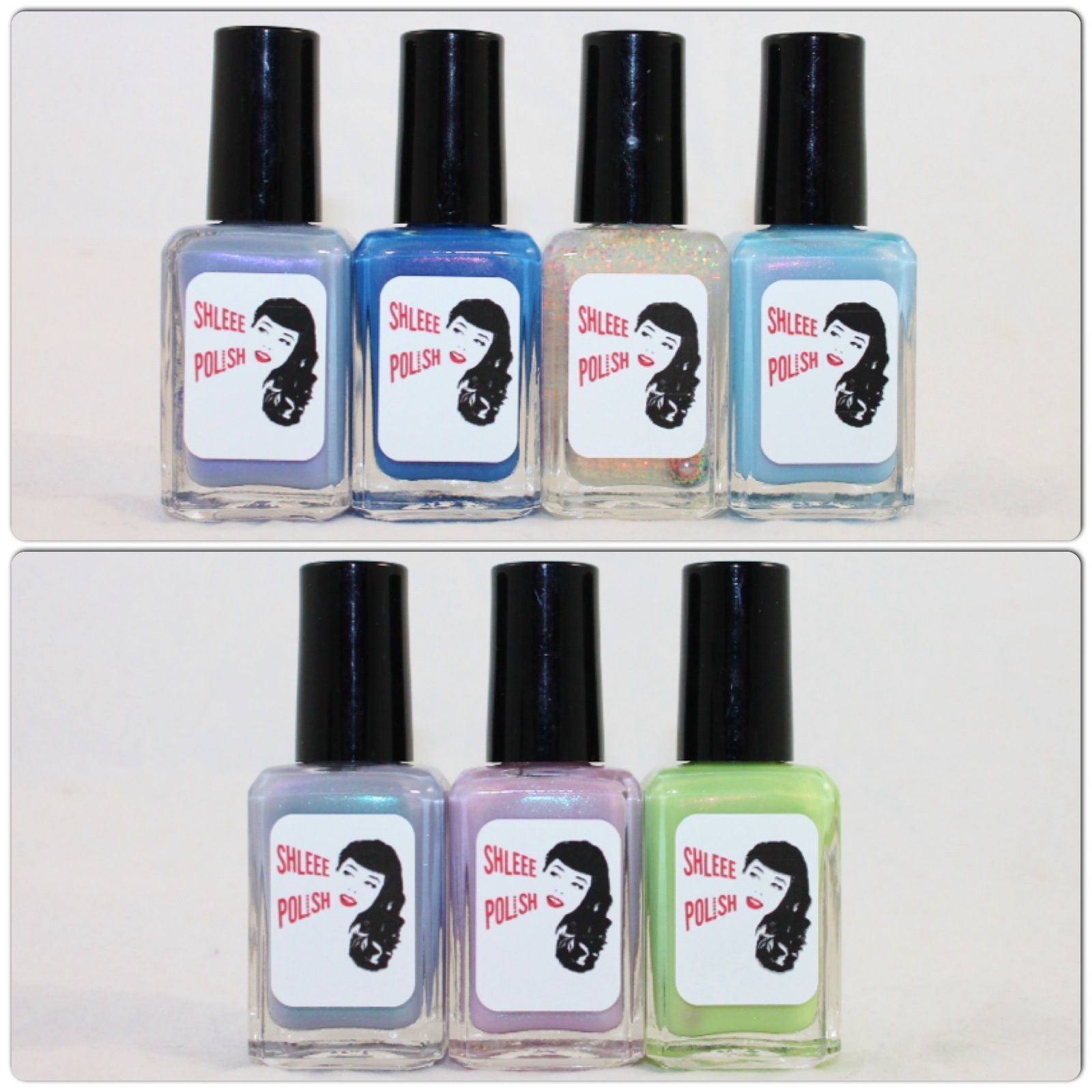 Shleee Polish Mystic Moon, Koi Pond, Light My Way, Artangels, Outer Moons of Neptune, Afterglow & Tropico.
Ce n'est plus un secret maintenant, je suis une grande fan de la marque Shleee Polish. Et comme cette marque restocke toutes les semaines, j'accumule des nouvelles couleurs tous les mois ! Et je ne résiste pas à ces magnifiques shimmers !
It is no secret now, I'm a big fan of the brand Shleee Polish. And as this brand restocks every week, I gets lots of new colors every month! And I can not resist these beautiful shimmers!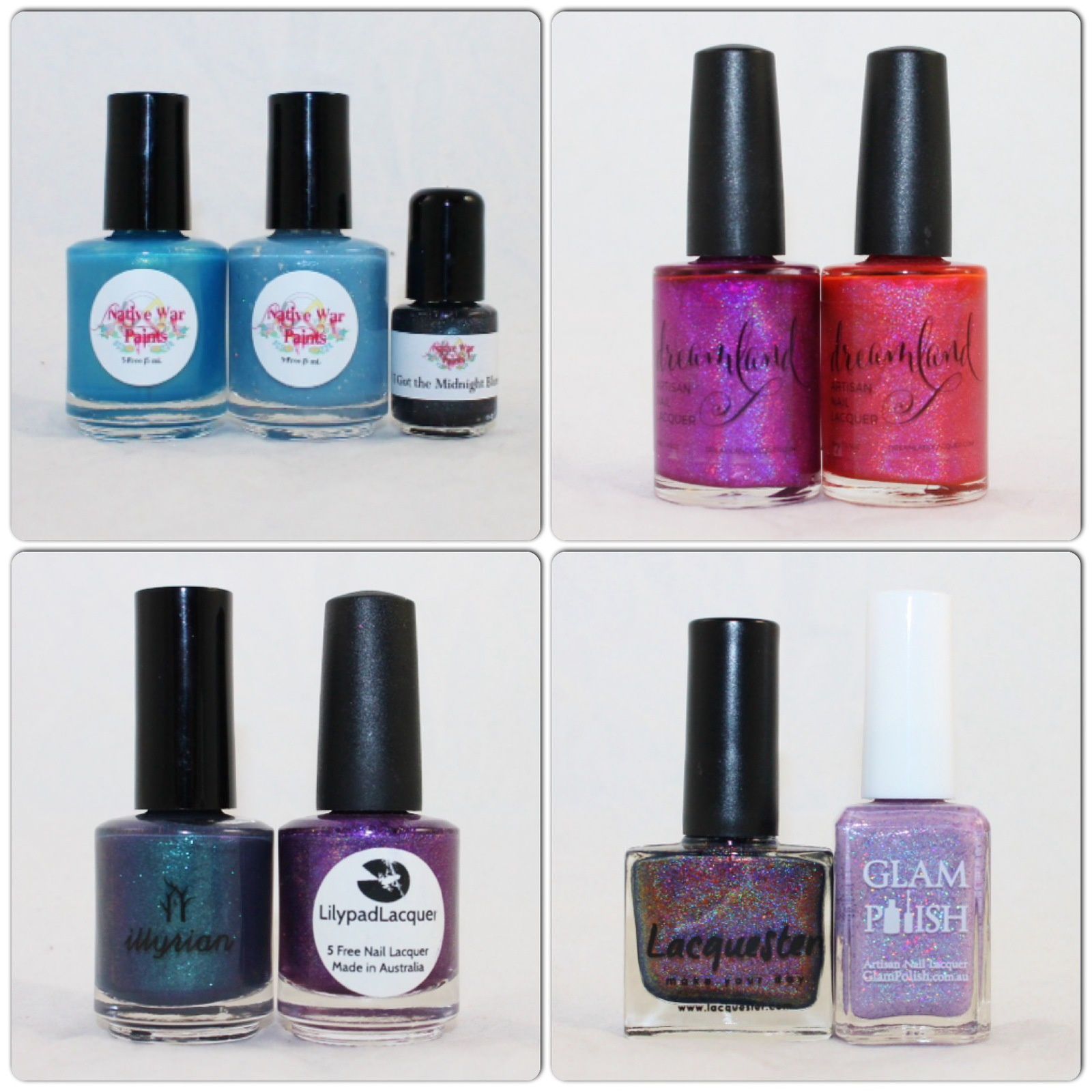 NWP Monthly Box August 2016. Dreamland Lacquer Dragonberry II & Coral of the Story II. Illyrian Polish Power Ring. Lilypad Lacquer Happy Holo-ween. Lacquester Dragon Shield. Glam Polish Ocean Air & Salty Hair.
Et enfin de nouvelles couleurs trouvées sur des blog sales, ou la dernière NWP monthly box, ou encore ce magnifique Lacquester Group Exclusive (commandé directement sur le site de Lacquester car elle livre à l'international maintenant).
And finally new colors found on blog sales, or the latest NWP monthly box, or this beautiful Lacquester group exclusive (ordered directly on the site as now Lacquester ships international).