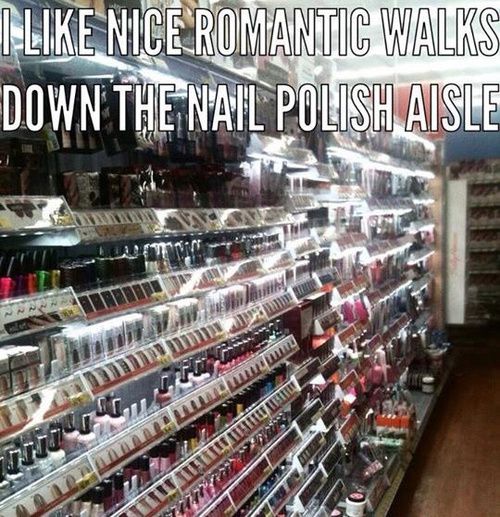 J'espère que vous passez toutes un bon été. Pour ma part je bosse (beaucoup) et bien sur pas de vacances et c'est un peu déprimant, mais bon comme j'habite en Floride et que j'ai accès à la plage facilement ça rend les choses moins difficile. Été comme Hiver j'aime toujours me balader dans les rayons de vernis des drugstore US, ça me remonte le moral quand ça ne va pas trop, et bien sur je fais beaucoup de shopping en ligne, et ce mois de Juillet a été plutôt chargé ! Pas mal de nouvelles marques, mais aussi des marques chouchou comme Shleee Polish et Illyrian Polish, bref j'ai accumulé un joli butin ce mois-ci.
I hope you have all been good this summer. Personally I work (a lot) and of course no vacation and it is a bit depressing, but since I live in Florida and I have easy access to the beach it makes things less difficult. Summer or winter I always like wandering in the polish aisle of US drugstores, it cheers me up when things are not going too well, and of course I do a lot of online shopping, and July was rather busy ! Lot of new brands, but also some favorite brands like Shleee Polish and Illyrian Polish, I have accumulated a nice haul this month.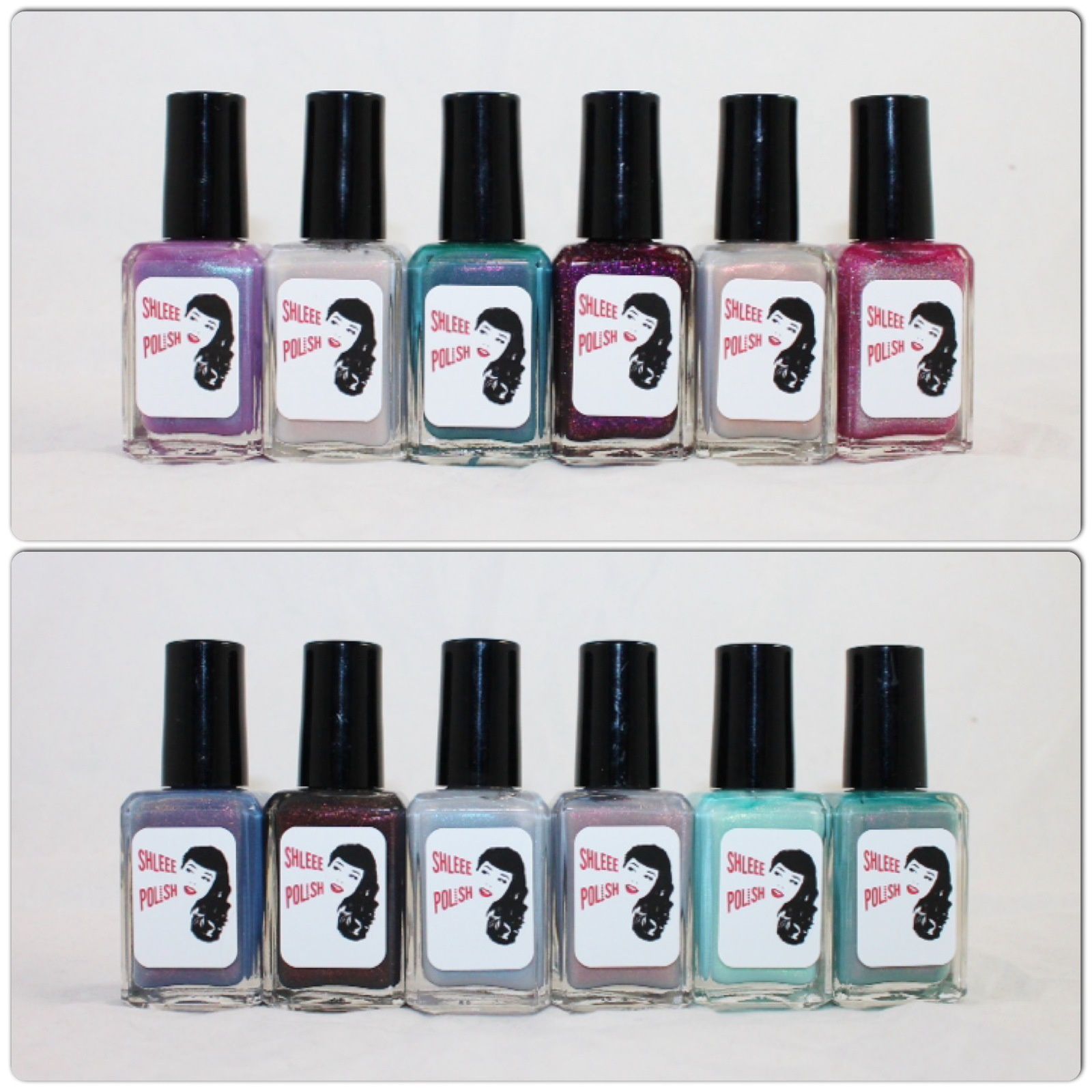 Shleee Polish Lunar Fae, Strawberry Moon 2.0, Mysticism, Horsehead Nebula 2.0, Strawberry Moon, Young Love, Harvest Moon, Eclipsed Moo, Blue Moon, Blood Moon 2.0, We Were Only Trying to Drown Her, Over the Edge.
Tout d'abord, comme régulièrement ces derniers mois, j'ai passé quelques commandes chez Shleee Polish, je ne m'en lasse pas ces vernis sont simplement magiques !
First, as often in recent months, I placed a few orders from Shleee Polish, I do not get enough of these polishes they are just magical!
Lacquester Don't Be Shy, Delial, Tan Pal, Rosington, Down the Rabbit Holo, Goomed Deluxe, Lacquerista, Is That Lipstick on Your Collar?, Mint Condition (H)
Ensuite j'ai enfin reçu ma pré commande de Lacquester que j'avais passé chez Nail Whisperer. Bonne nouvelle pour moi, Lacquester envoi maintenant à l'international donc techniquement je n'aurais plus besoin d'attendre des plombes avant de recevoir mes precieux.
Then I finally received my Lacquester pre-order from Nail Whisperer. Good news for me, Lacquester is now shippinh internationally so technically I would not have to wait for ages before receiving my precious anymore.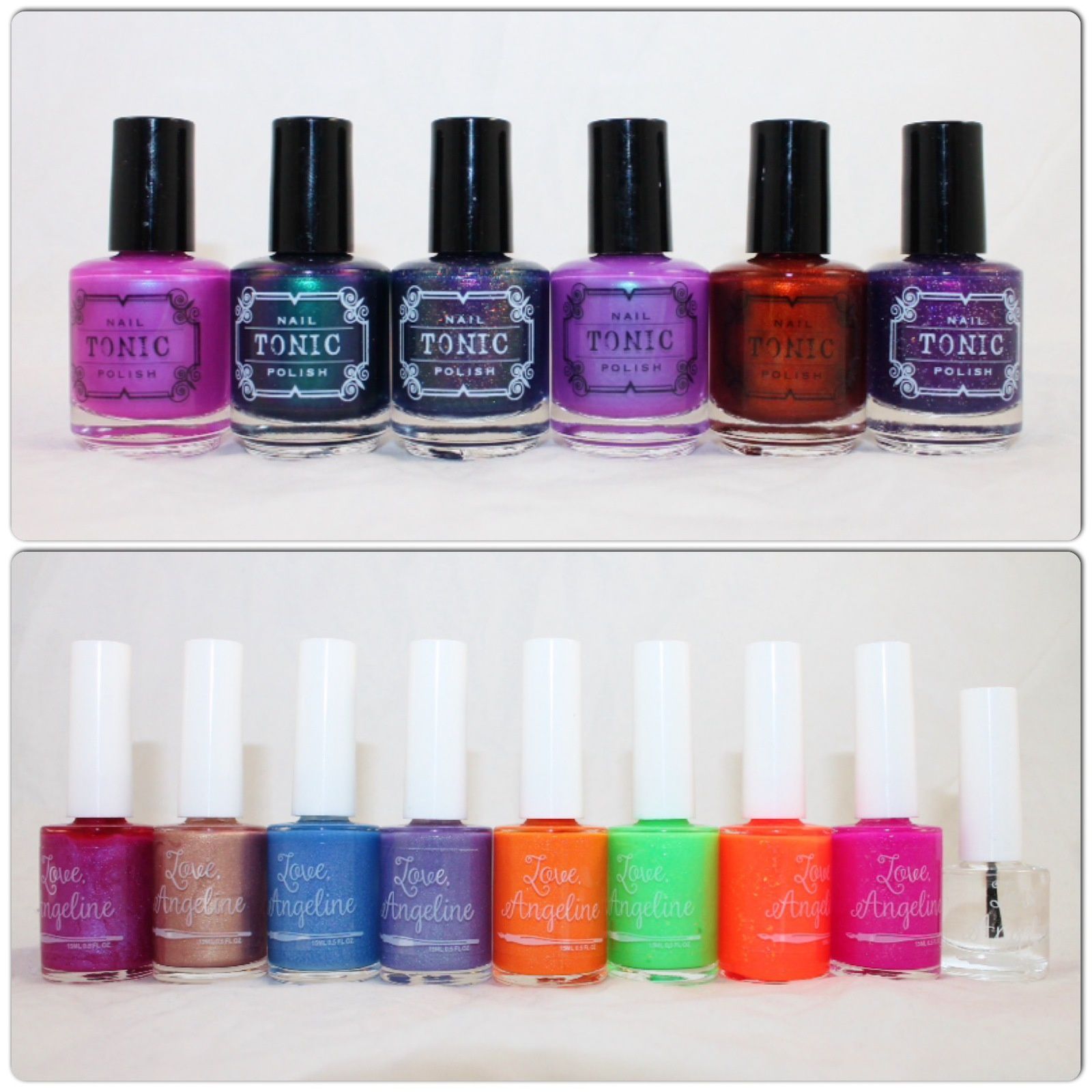 Tonic Polish Alexandria's Genesis, Dragon at Dusk, Enchanted Elixir, Light of Lyra, Lava Lust, Huckleberry Sparkle. Love Angeline Take Me Away, Cheeky Tiki, Calm Waters, Ocean Breeze, Cape Coral 2.0, Apple Blossom, Mac N Tosh, Spike's Crush, Topped With Love.
Voici 2 marques que j'ai découvert ce mois-ci. Tout d'abord Tonic Polish, une marque toute nouvelle avec des vernis à couper le souffle. Il n'y a pas toute la collection ici mais j'en ai d'autres qui arrivent bientôt ! Et aussi Love Angeline, une marque qui existe depuis un moment mais je ne n'avais jamais testé avant la PDTLIB box, et la marque avait des soldes à -50% récemment, j'en ai donc profiter une en commander plusieurs qui me faisaient de l'oeil.
Here are 2 brands that I discovered this month. First Tonic Polish, a new brand with breathtaking polishes. There is not the whole collection here but I have others coming soon! And Love Angeline, a brand that has been there for awhile but I had never tried before the PDTLIB box, and the brand recently had a -50% sale, I therefore took advantage of that to order e few I was eyeing.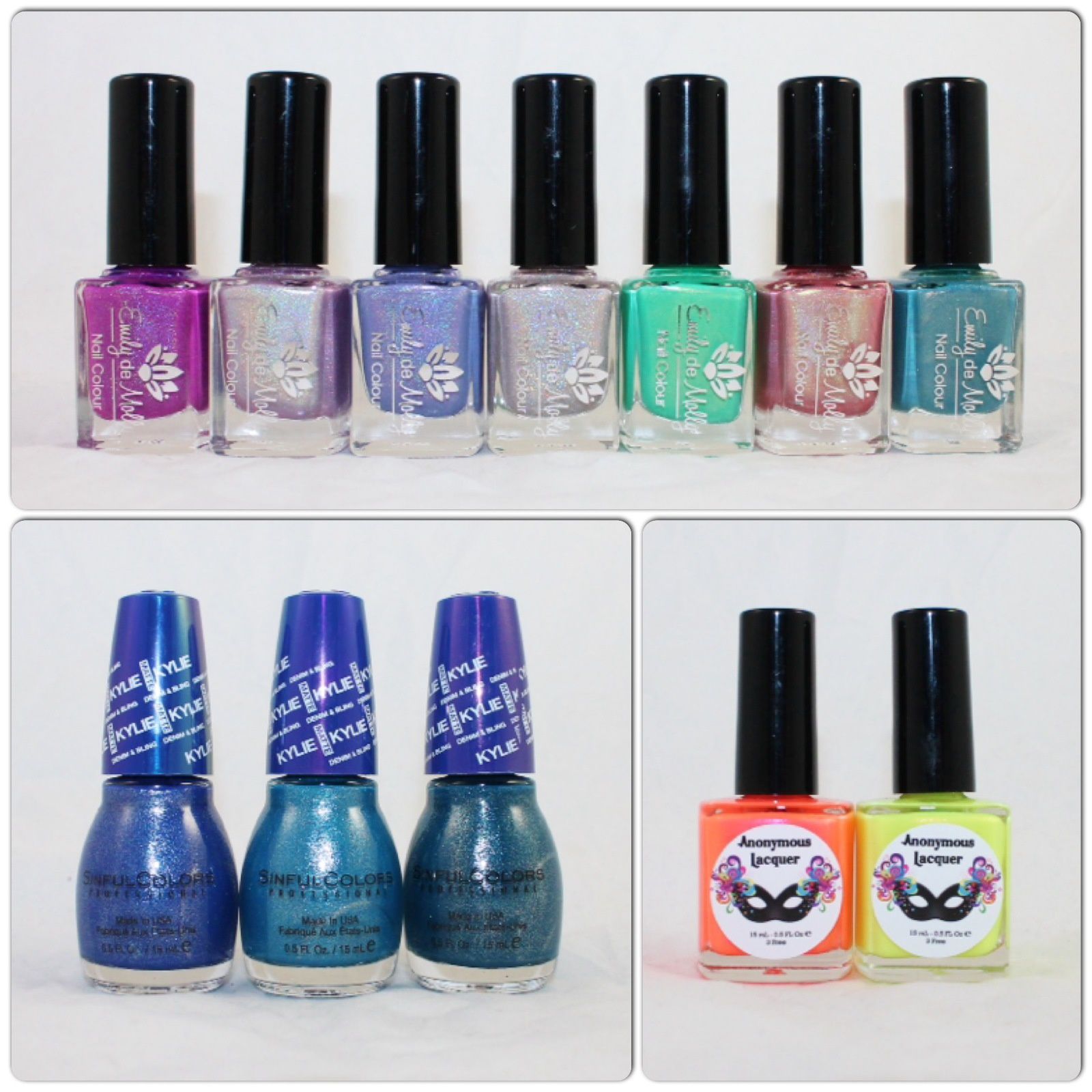 Emily de Molly Reset Button, Iridescent Sky, Beautiful Patterns, Four Weddings and a Manicure, Cubicule Gangster, Desert Rose, Damaged Bills. Sinful Colors Kobalt, Kustom Fit, Kargo. Anonymous Lacquer Orange You my BFF, Sunshine and Fun Times
J'ai aussi passé commande chez Emily de Molly, elle a récemment sortie de très jolies couleurs ! J'ai aussi craque sur 3 vernis de la collection Denim de Sinful Colors, et c'est avec joie que je suis l'heureuse propriétaire de ces 2 vernis Anonymous Lacquer de la collection de l'été dernier (je les cherchais partout et la marque les a récemment ressortis).
I also ordered from Emily de Molly, she recently released some very pretty colors! I also fell for these 3 polishes from the Sinful Colors Denim Collection, and it is with joy that I am the happy owner of these two Anonymous Lacquer from last year's summer collection (I was looking everywhere for them and the brand recently re-released them).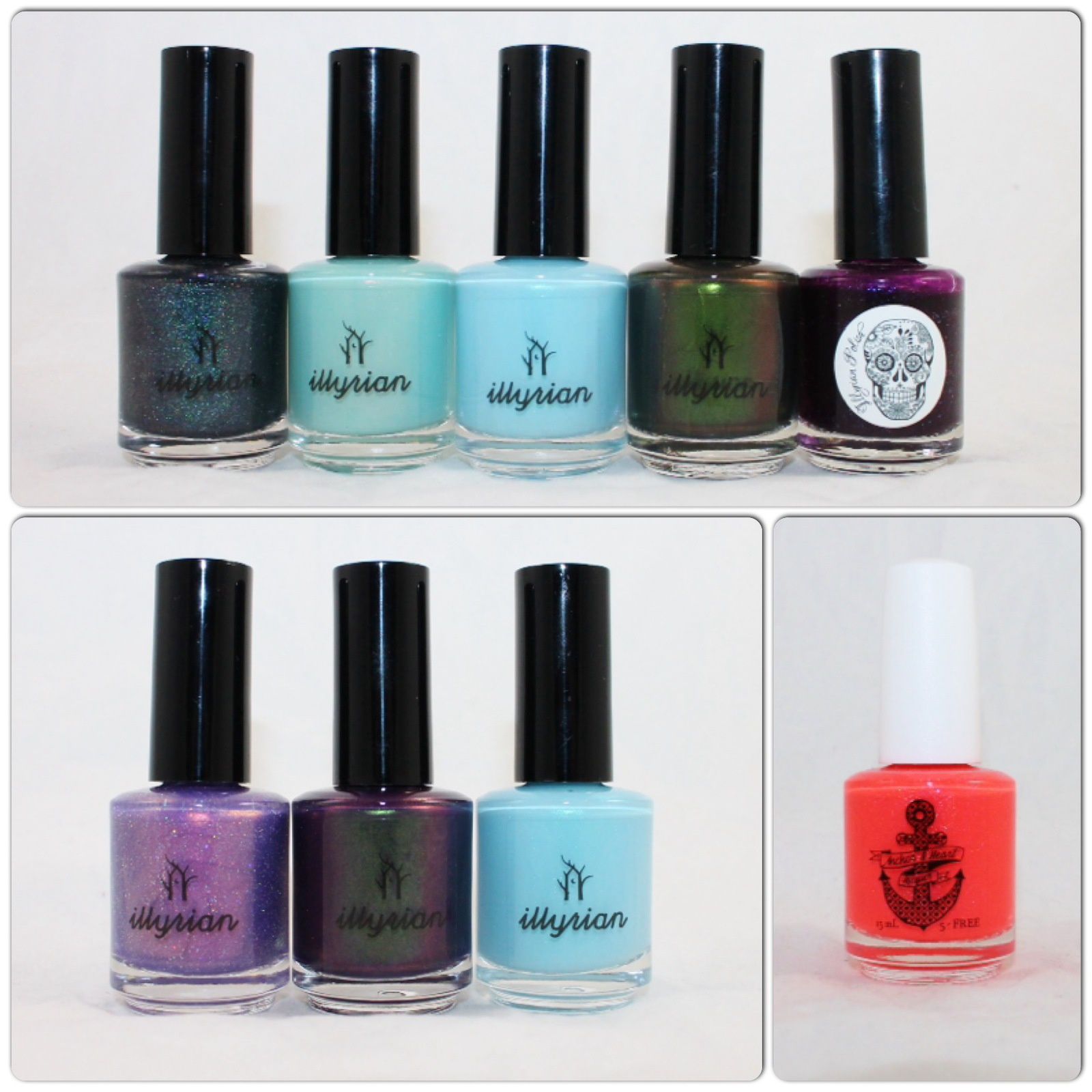 IllyrianPpolish Cosmic Moment, Dream Catcher, Astral, Talisman, Witching Hour, Awaken Your Magic, Dream Hopper, Astral. Anchor & Heart Lacquer Vacation Land.
Bien sur je n'ai pu louper la dernière restock de Illyrian Polish, encore plein de jolies merveilles (et oui j'ai commandé 2 Astral, pas pour avoir un back-up mais parce que je voulais ce vernis en version holo également donc je vais y ajouter un peu de spectraflair). Et aussi un vernis Anchor & Heart Lacquer qui me faisait de l'œil depuis des mois, mais je n'aime pas commander un seule vernis comme ça, c'est juste que les autres vernis ne me tentez pas trop, et j'ai finalement craqué et passé commande pour une seul vernis.
Of course I could not miss the last Illyrian Polish restock, with plenty of new pretties (and yes I ordered 2 Astral, not to have a back-up but because I wanted this varnishin holo also so I add a little spectrafalair). And also an Anchor & Heart Lacquer I was eyeing for months, but I do not like to place an order for just one a single polish, as I was not really in love with the other varnishes I finallyplaced an order for a single varnish.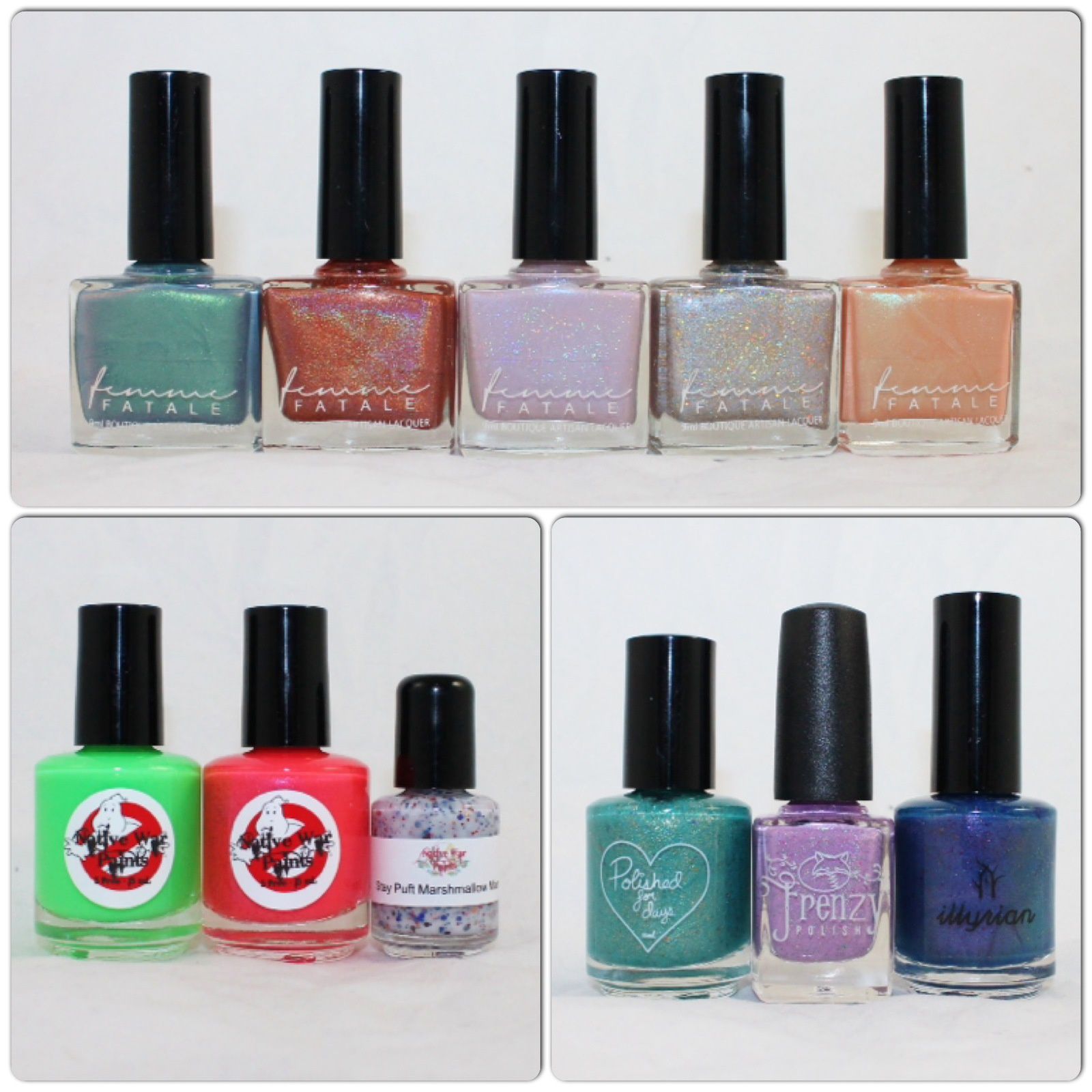 Femme Fatale Swept Across The Sea, Arrival of Venus, Horae Awaits, Breath of Zephyros, Golden-Wreathed & Beautiful. NWP Monthly Box July 2016. For The Love of Polish Box July 2016.
Et pour finir 5 vernis Femme Fatale de la nouvelles collection "Birth of Venus" qui sera disponible le 1er Août. Je vous monterai les swatches dans mon prochain post. J'ai aussi reçu ma For The Love of Polish Box du mois de Juillet (dèjà swatchée ici) et la NWP monthly box du mois de juillet également, je vous la montre rapidement promis.
Finally 5 new Femme Fatale from the new collection "Birth of Venus" which will be available on August 1st, I will show you the swatches in my next post. I also received my July For The Love of Polish Box (already swatched here) and the July NWP monthly box, that I show you quickly I promised.