J'ai récemment reçu une nouvelle VoxBox par Influenster, et j'étais super excitée par celle-ci car c'est du maquillage (et après les vernis et les chaussures c'est ma 3eme addiction) et pas n'importe quel maquillage, du Kat Von D ! J'adore déjà la marque pour leur Liquid Lipsticks qui sont fantastique, mais je n'avais jamais essayé d'autres produits de la marque. Dans cette box j'ai reçu plein de choses à tester: 2 Lock-It Concealer Crème (anti-cerne Light 5 - fair cashmere with neutral undertone et Light 11 - light blonde with neutral undertone), la Lock-It Setting Powder (poudre fixatrice) et 2 pinceaux (Lock-It Setting Powder Brush et Lock-It Edge Concealer Brush). Bref tout ce qu'il faut pour appliquer de l'anti-cerne, et personnellement je mets de l'anti-cerne quasiment tous les jours (même quand je ne porte pas de fond de teint) car j'ai tendance à avoir des yeux de panda. Donc sans plus attendre voici mon avis sur tous des produits.
I recently received a new VoxBox from Influenster, and I was super excited about it because it's makeup (and after nail polish and shoes is my 3rd addiction) and not any makeup, Kat Von D! I already love the brand for their Liquid Lipsticks which are fantastic, but I never tried other products from the brand. In this box I received plenty of things to try: 2 Lock-It Cream Concealer (Light 5 - fair cashmere with neutral undertone and Light 11 - light blond with neutral undertone) the Lock-It Setting Powder and 2 brushes (Lock-It and Setting Powder Brush and Lock-It Edge Concealer Brush). In short everything you need to apply the concealer, and personally I wear concealer almost everyday (even when I do not wear foundation) because I tend to have dark circles / panda eyes. So without further ado here is my opinion on all products.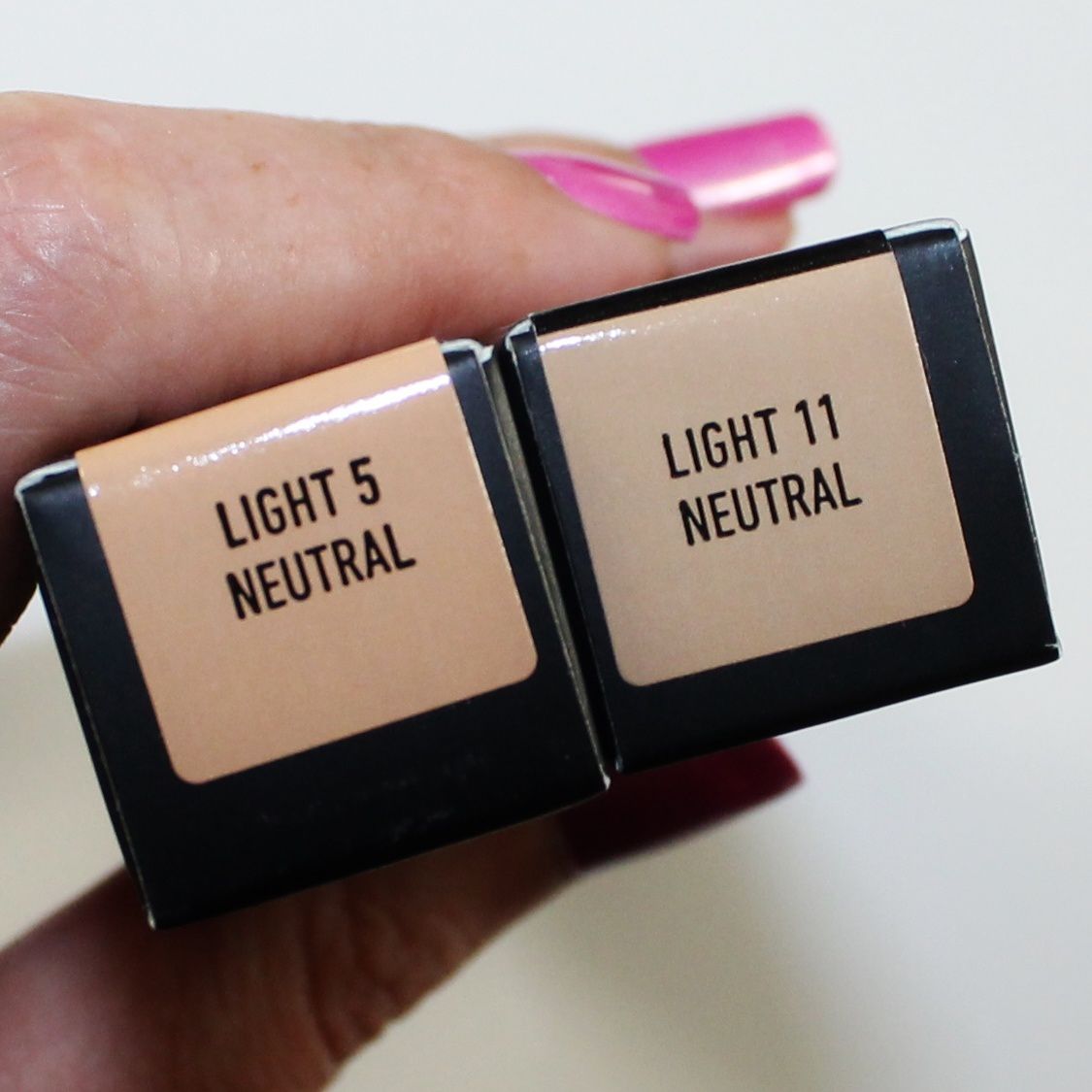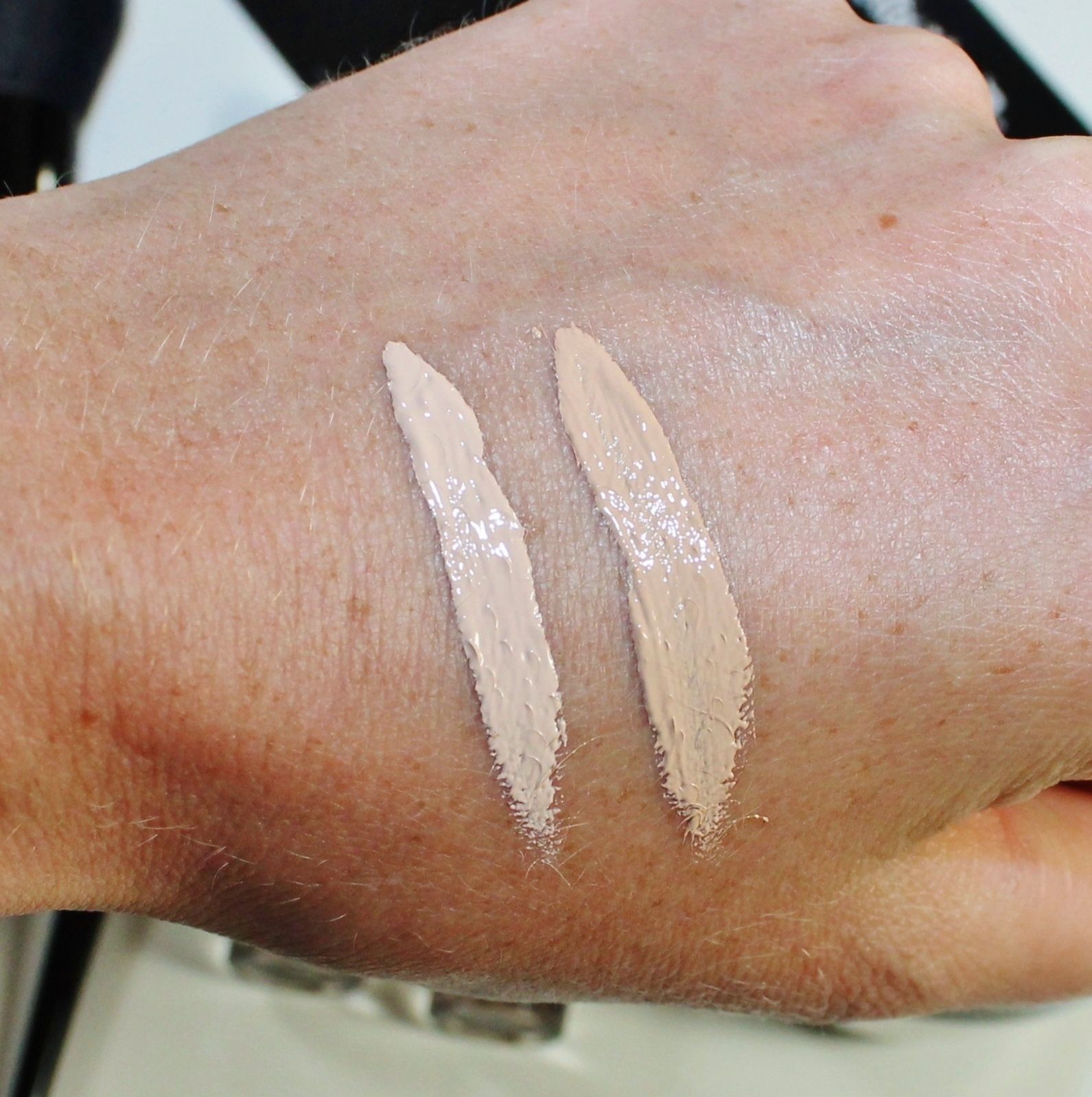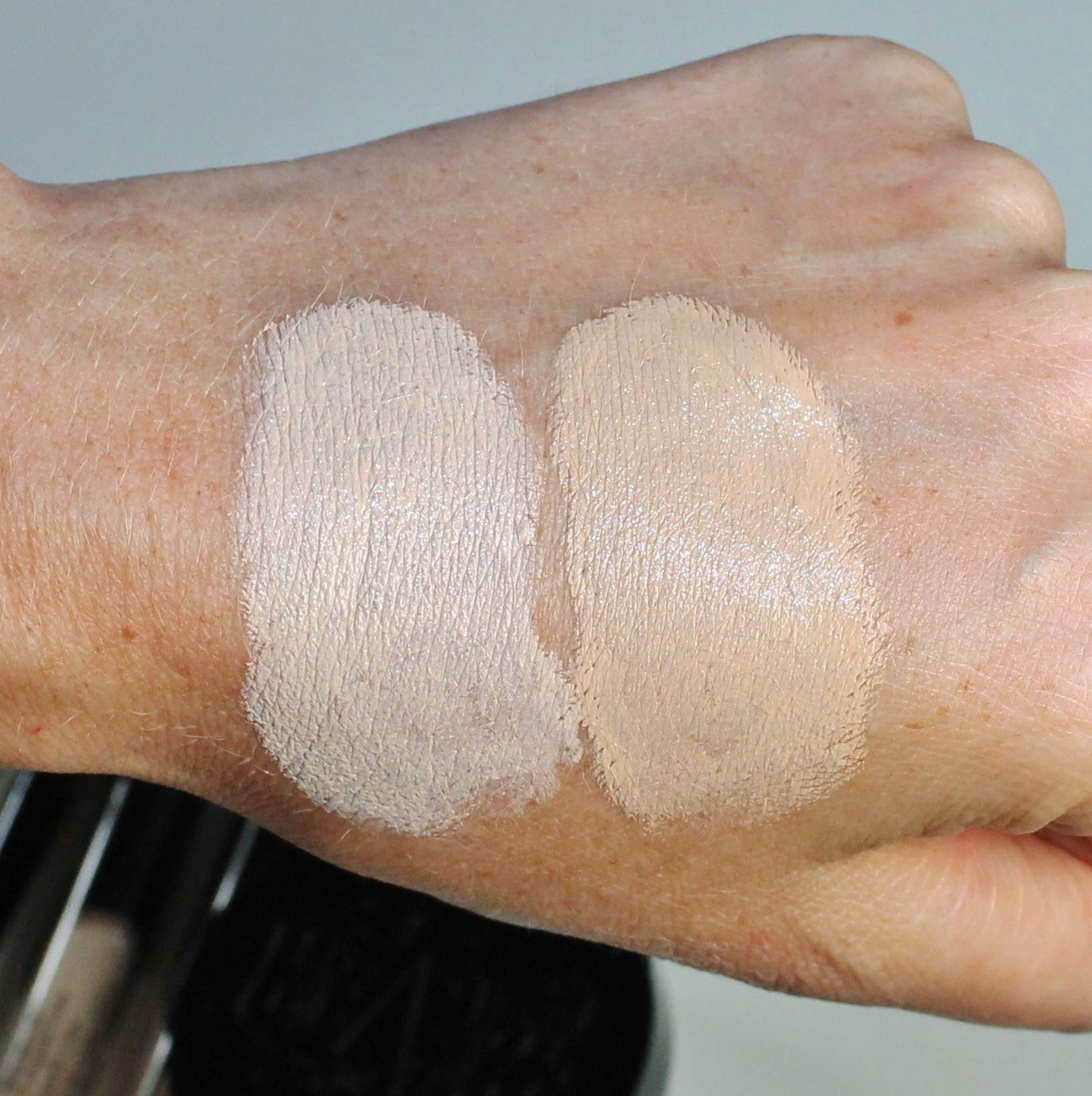 Kat Von D Lock-It Concealer Crème (Light 5 (fair cashmere with neutral undertone) on the right and Light 11 (light blonde with neutral undertone) on the left.
Lock-It Concealer Crème: Tout d'abord niveau couleurs Influenster a bien choisi (j'avais répondu à un questionnaire il y a quelques semaine pour orienté le choix des couleurs, je vous rassure ils ne font pas ça au hazard) (Pour info mais mains sont bien plus bronzées que mon visage). Light 5 est un peu clair pour moi en ce moment (je suis pas mal bronzée vu que j'habite dans la ville la plus ensoleillée de Floride) mais cette couleur sera parfaite pour cet hiver, c'est définitivement ma couleur de peau naturelle mais un peu plus claire (j'aime bien avoir un anti-cerne un peu lus clair que ma couleur naturelle). Light 11 est ma couleur parfaite pour maintenant, ou je suis bien bronzée, la couleur est un peu plus foncée que Light 5 mais toujours avec des tons neutres ce qui est parfait pour moi. Maintenant côté formule, est sont très très opaques, ce qui est parfait, et vous n'avez donc pas besoin de poser 3 tonnes pour un effet optimum, ce qui évite d'avoir l'anti-cerne qui se dépose dans les petites ridules autour des yeux. J'ai testé l'application au beauty blender et le pinceau de cette box, le beauty blender donne un résultat un peu moins opaque mais rapide et uniforme, avec le pinceau c'est encore mieux, plus opaque, mais il faut passer un peu plus de temps pour déposer le produit uniformément. Au final j'adore ces anti-cerne, mais je ne les recommande pas particulièrement aux personnes avec la peaux sèche car ils ont tendance à accentuer l'effet peau de crocodile.
Lock-It Cream Concealer: First for the colors Influenster chose well (I had answered a questionnaire in the last few weeks to help with the color choice, I can assure you they do not chose randomly) (FYI my hands are way more tanned than my face). Light 5 is a bit too light for me at the moment (I'm pretty tan since I live in the sunniest city in Florida) but this color will be perfect for this winter, it's definitely my natural skin color but a little lighter (I like using a concealer a little lighter that my skin tone). Light 11 is my perfect color for now because I'm tanned, the color is a little darker than Light 5 but still with neutral undertones which is perfect for me. Now let's talk about the formula, it is very very opaque, which is perfect, and so you do not need to use a ton for optimum effect, which prevents the concealer from settling in the fine lines around the eyes. I tested the application with a beauty blender and the brush I received in this box, the beauty blender gives a result slightly less opaque but quick and uniform, with the brush is even better, more opaque, but you have to spend a little more time to apply the product evenly. In the end I love these concealer, but I do not really recommend them for people with dry skin because they tend to accentuate dry patches.
Lock-It Edge Concealer Brush: Il est une brosse dense mais douce, avec une forme sculptée parfaite pour appliquer de l'anticernes mais aussi pour couvrir les imperfections (les bords sont très mince). J'aime vraiment cette brosse, même si je préfère généralement utiliser un beauty blender pour appliquer mon anticerne. Ce n'est pas aussi rapide à utiliser, cette brosse donne un résultat très opaque.
Lock-It Setting Powder Brush: Cette brosse est incroyablement douce. Elle est pas trop dense, juste assez pour appliquer la bonne quantité de poudre fixatrice (j'ai une tendance à appliquer trop de poudre, mais pas avec cette brosse). Je l'aime pour autour des yeux, mais aussi pour l'ensemble du visage, mais elle est également parfaite pour l'application de fard à joue. Cette brosse est sans aucun doute un must have.
Lock-It Edge Concealer Brush: It is a dense but soft brush, with a sculpted shade perfect for concealer application but also to cover blemishes (the edges avec very thin). Il really love this brush, even though I usually prefer to use a beauty blender to apply concealer. It is not as quick to use but it gives a very opaque result.
Lock-It Setting Powder Brush: This brush is so soft, it is unbelievable. It is not too dense, just enough to apply the right amount of setting power (I have a tendency to apply too much and then I look cakey, but not with this brush). I love it for the undereye area, but also for the whole face, and interestingly enough it is also perfect for blush. This one is definitely a must have.
Lock-It Setting Powder: J'ai toujours un peu peur avec les poudres parce que je ne les aime pas à matte ou avec trop de reflets, et souvent les poudres sont cakey sur moi. Une bonne poudre doit bien fixer le maquille car ici en Floride, vous pouvez facilement sentir votre maquillage fondre sur votre visage avec la chaleur. Eh bien, j'ai été agréablement surprise avec celle-ci. Elle n'a pas de couleur (elle est translucide), elle n'est pas totalement matte, et il a de très légère particule réfléchissante, mais elle n'a pas trop de reflets. Et le meilleur c'est qu'elle n'est pas sèche ou crayeuse, elle diminue les imperfections et donne un résultat très naturel, ce qui est tout simplement parfait en particulier pour la zone autour des yeux. Ceci est mon produit préféré de la boîte parce qu'il est si difficile de trouver une bonne poudre fixante, et celle-ci est fantastique!
Lock-It Setting Powder: I am always a bit afraid of setting powders because I do not like them too matte or too shimmery, and some setting powders can look cakey on me. Plus it has to have a very good setting power because here in Florida you easily have your makeup melt on your face with the heat. Well I was pleasantly surprise with this one. It has no color (it looks like it but it is translucent), it is not flat matte, and it has some very slight reflective particle but it is not shimmery at all. And best of all it is not drying or chalky, it blurs imperfection and looks very natural, which is just perfect especially for the underete area. This is my favorite product of the box because it is so hard to find a good setting powder, and this one is fantastic!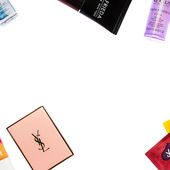 Influenster | Product Reviews, Q&A, News, and Exclusive Offers
Influenster is a community for social media hotshots to share news, products, and reviews. Join now and flex your influence for rewards!
Sephora: Kat Von D : Lock-It Setting Powder Brush : face-brushes-makeup-brushes-applicators-makeup
Shop Kat Von D's Lock-It Setting Powder Brush at Sephora. It has a perfectly rounded shape and long, tapered bristles to apply Lock-It Setting Powder.
Sephora: Kat Von D : Lock-It Edge Concealer Brush : eye-brushes-makeup-brushes-applicators-makeup
Shop Kat Von D's Lock-It Edge Concealer Brush at Sephora. Its sculpted shape conforms to the smaller parts of the face to dispense all-over coverage.
Sephora: Kat Von D : Lock-It Concealer Crème : concealer
Shop Kat Von D's Lock-It Concealer Crème at Sephora. It conceals imperfections and provides full coverage for 24 hours.
Sephora: Kat Von D : Lock-It Setting Powder : setting-powder-face-powder
Shop Kat Von D's Lock-It Setting Powder at Sephora. It smooths imperfections, locks in your makeup look, and creates a velvet-matte finish.