Dans la catégorie des box Indies qui ont attiré mon attention récemment, il y a de joli Quartet "Peter Rabbit" par Ever After Polish et Literary Lacquers. Ce n'est pas une box mensuelle mais plutôt une collaboration entre les 2 marques Indie. J'étais surtout attirées par les Ever After Polish mais les Literary Lacquers sont relativement jolis. Ma seule déception de cette box c'est que les 4 vernis manquent un peu d'opacité, j'ai posé 3 couches à chaque fois et avec certains on peut encore discerner le bord libre de mes ongles.
In the category of Indie boxes that caught my attention recently, there is this pretty "Peter Rabbit" quartet by Ever After Polish and Literary Lacquers. This is not a monthly box but rather a one-time collaboration between two brands. I was especially attracted to the Ever After Polish but the Literary Lacquers are relatively pretty as well. My only disappointment is that the 4 varnishes all lake a bit of opacity, I used three layers each time and with some you can still discern the free edge of my nails.
Mon favoris c'est Ever After Polish Cotton Tail, un joli violet fuchsia avec des reflets rouge/dorés. C'est une couleur relativement vive et ces reflets sont très intenses. C'est également le plus opaque des 4 vernis de cette collaboration (mais en 3 couches quand même).
My favorite is Ever After Polish Cotton Tail, a pretty purple fuchsia with red / gold highlights. This is a relatively bright color and these reflections are very intense. It is also the most opaque of all 4 of this collaboration (but still 3 layers).
J'avais beaucoup d'espoir pour Ever After Polish Peter Rabbit. Je pensais que cela être une couleur fabuleuse, un bleu vif avec des reflets roses, j'en rêvais. Malheureusement c'est le moins opaque des vernis de cette box, il aurait bien mérité une quatrième couche je pense,et les reflets ne sont pas très intenses, donc j'étais un peu déçue.
I had high hopes for Ever After Polish Peter Rabbit. I thought it would be a fabulous color, a bright blue with pink highlights, I dreamed of it. Unfortunately this is the least opaque of the 4, he would have deserved a fourth layer I think, and the reflections are not very intense, so I was a little disappointed.
Comme je le disais plus haut je n'étais pas très attirée par les Literary Lacquers de cette box, mais Flopsy m'a fait changé d'avis. C'est un joli rose vif avec des reflets bleus et des micro flakies iridescentes bleues également. Les reflets sont très intenses, la formule vraiment agréable à appliquer, et si il était un peu plus opaque il aurait été mon favoris.
As I said earlier I was not really into the Literary Lacquers from this box, but Flopsy changed my mind. This is a nice bright pink with blue reflections and iridescent blue micro flakies. The reflections are very intense, the formula really pleasant to apply, and if it was a little more opaque it would have been my favorite.
Je suis très difficile en terme de vernis verts, vous ne serez donc pas étonnés que Literary Lacquers Mopsy ne soit pas mon favoris. C'est un joli vert pomme avec des reflets un peu rose et des micro flakies dorées. Tout comme Flopsy les reflets sont très intenses et la formule est bonne, mais il manque un peu trop d'opacité à mon goût.
I am very picky when it comes to green polish, you will therefore not be surprised that Lacquers Literary Mopsy is not my favorite. This is a nice apple green with come pink hues and golden micro flakies. As with Flopsy, the reflections are very intense and the formula is good, but it lacks a little too much opacity for my liking.
Indie Nail Polish Makers. Custom made polishes created by two friends who are inspired by everything around them.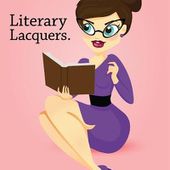 Literary Lacquers by LiteraryLacquer
Browse unique items from LiteraryLacquer on Etsy, a global marketplace of handmade, vintage and creative goods.